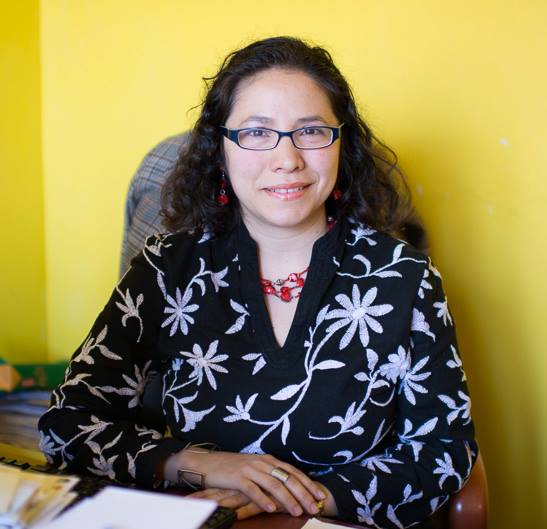 The Voices
August 2023
"Every day and everywhere is a learning experience and a moment of teaching,"
says the photographer Sandra Belitza Vázquez
, with a long trajectory and fascination for Mexico, whose photo of Matilde taken during the Atlixcayotl dance festival illustrates this month's August cover of La Voz.
Simon Mercer writes
this month in the Opinión section: "I have to take myself by the hand and do this. I like the phrase; it implies self-discipline and work done more for physical and spiritual health than for actual results."
"To begin with, the structure of the United States university system is quite different from that of other countries,"
reflects Elizabeth Liotta
in her note inspired by a sociological university thesis, "What do we know about international students?"
"The benefit is not only for the child but also for the woman: it reduces the possibility of ovarian cancer, breast cancer, maternal diabetes, high blood pressure, maternal obesity. In children, breastfeeding reduces childhood obesity. There are many reasons why it is beneficial, and obviously, the psychological aspect of the mother and child,"
explains Dr. Mónica Brito
in the note in the healthy living section about breastfeeding.
María Puentes Flores writes
, "Of all the questions on the face of this planet, there is one that all cultures of the world have asked themselves: How was the earth created, and how were humans created?" and tells us the tale of "The humans of the corn," according to the
Popol Vuh
.
"Many nursing homes face special challenges with patients with dementia who speak several languages in addition to English,"
points out Eddy Mwamba
in his interview with Michelle Feller, assistant administrator, and program manager of the Arch Center program for memory care at the Ferncliff Rehab Nursing Home.
"Addiction can also apply to behaviors such as playing in casinos, gambling, watching certain types of movies, video games, watching pornographic movies, collecting objects, among many varieties of activities that can become addictions,"
warns holistic psychologist Dora Inés Grosso
García
in the first part of her note about addictions in her column El poder del amor.
Teacher Olga Maritza Salazar
, in her column Ser padres, talks this month about how to prepare our children who are about to start kindergarten. "The social, emotional, and behavioral skills of each student are very important for good performance in school, and it has been proven that in many schools in the United States, a large number of children start kindergarten without having developed these characteristics."
"Currently, the Rhinebeck composting program is facing development issues due to public concerns, while Saugerties and the City of Beacon offer similar composting initiatives, albeit on a smaller scale and with a cost for residents. Kingston, on the other hand, has decided to implement it voluntarily and free of charge,"
details Nohan Meza
in his note on composting in the city of Kingston.
Anita Campion and Toby Campion explain
what the infamous Hernán Cortés's letters of relationship actually were: "The Probanza de Mérito was a document of Iberian origin that the Crown requested from the navigators sponsored by it after completing their missions of exploration, invasion, and colonization. They were used rigorously from times before Columbus and were consolidated from 1492 to 1521. For example, they were required to arrive at already settled populations and report if there were precious metals in the locality. The navigators were also asked to include their requests for rewards, positions, titles, and stipends. All of this forced the authors to exaggerate their own deeds and ignore those of the many Africans and indigenous people involved."
I hope you enjoy everything these voices of La Voz has to tell us on the following pages in the month of August. If you like what you read, share it, and if you have ideas, questions, comments, or notes for the magazine, write to us at
[email protected]
and make your voice heard!
Mariel FioriDirector
*Translated from Spanish by Karen Ruiz León.
La Voz, Cultura y noticias hispanas del Valle de Hudson
Comments
Sorry, there are no comments at this time.