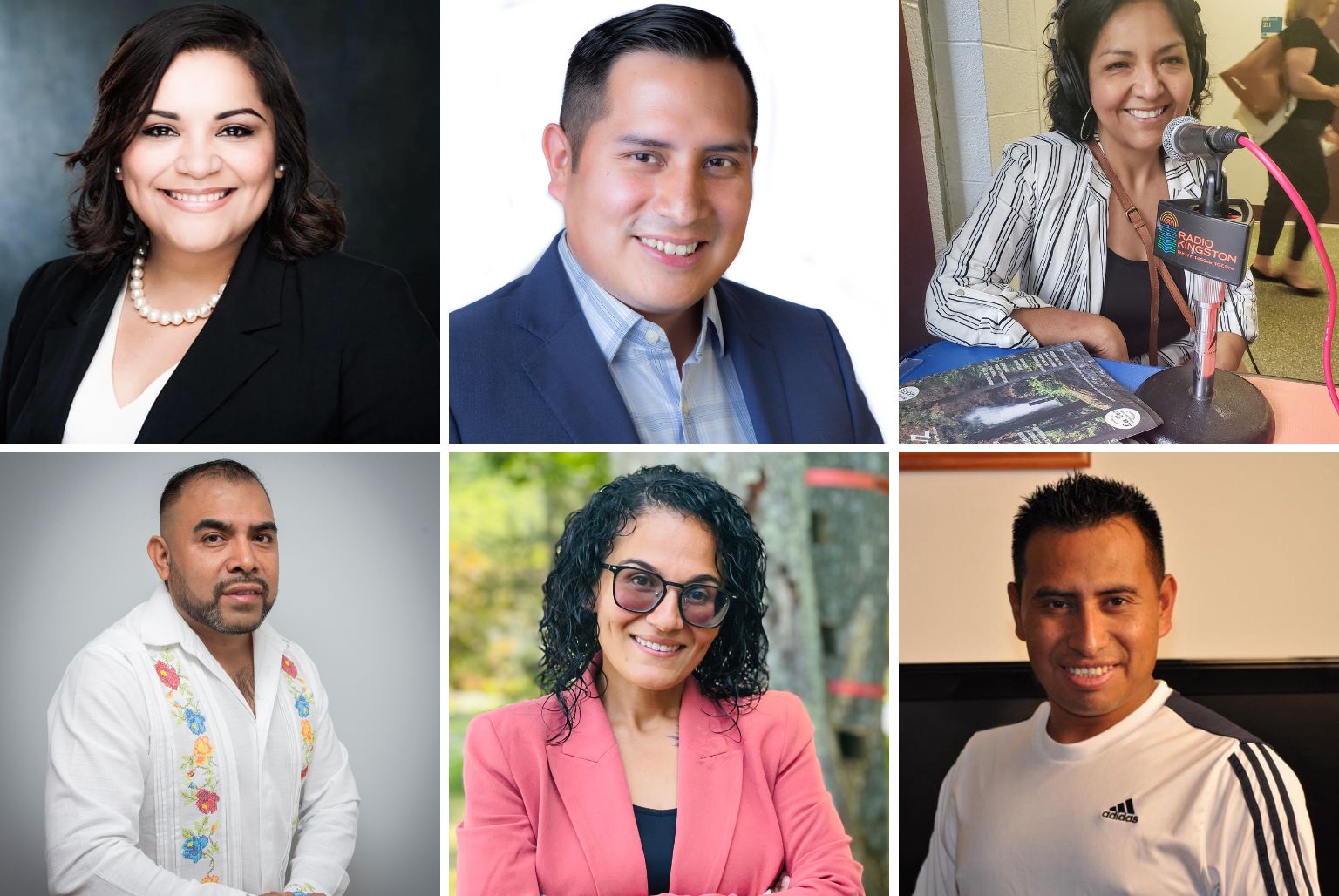 18 years of La Voz at Bard College
And acknowledgments to community members
October 2022
EN ESPAÑOL

TICKETS

Did you come to La Luna de la Cosecha by La Voz and have a good time? Did you miss it? Don't miss this last opportunity to celebrate the 18th anniversary of La Voz. Enjoy some Tango and Argentine Folklore with Eduardo Parra, who will be performing as well as will be teaching us how to dance tango. We will also have Veracruz traditional music Son Jarocho performed by the group Ameyal de Maria and Mateo. Of course, there will be food and karaoke! Join us if you would like.

6:00 - 9:00 PM at the MPR in Bard College. Tickets are $20 on lavoz18enbard.eventbrite.com. And most importantly: we will publicly recognize several members of the community who have been nominated by their peers for their dedicated service to the Hispanic immigrant community of the Hudson Valley: Claudette Aldebot, María Cabrera, Víctor Cueva, Adelio Ramírez, Felipe Santos and Joan Ruiz Werkema. It will be an unforgettable night. Learn more below.
The Hudson Valley is fortunate to count the musician and dancer as its own Argentinian
Eduardo Parra
, a multifaceted artist, singer, composer, performer, and tango teacher, based in Kingston 31 years ago. Parra studied music at the National Conservatory of Mar del Plata to then dedicate himself to composition, interpretation, singing, and improvisation. As a high C tenor, Eduardo traveled the world with the United Nations Choir in 2009 singing in more than 20 languages. In addition, he performed many times as a soloist, spreading his love for opera, folklore, ballads, boleros, and tango music. As a tango instructor, Eduardo focuses on the musical aspect of the dance by incorporating the expressions of composers to dance. On Friday, October 21st he will perform for the celebration of the 18th anniversary of La Voz magazine.
The
Son Jarocho
, that musical genre that is heard in the Mexican states of Veracruz, Oaxaca and Tabasco, which is like sung poetry, can also be seen on Friday, October 21st, with Maria Puente Flores and Mateo Cano, representatives of the Ameyal group in the Hudson Valley. The community organization Ameyal of Mexican culture shares the art, music, dance, language, and tradition of Mexico and Latin America. The work of Ameyal started in Miami, Florida in 2015, and it now expands through the Hudson Valley to share with new communities.
The nominees, in alphabetical order
Claudette Aldebot
Dean of Inclusive Excellence in Bard College, was born and raised in Tegucigalpa, Honduras, and moved to New York in 1995. She holds a degree in Spanish and studies of gender and sexuality of women and a master's degree in educational studies of social justice with a focus on diversity and inclusion from SUNY New Paltz, Aldebot is currently pursuing her doctorate in Organizational Leadership with a Social Justice Focus from Northeastern University. Her professional experience has mainly been focused on higher education, where she worked in areas of residence life, student development, access to college, teaching, diversity, belonging, equity and inclusion. Also, she has spent time working and volunteering in legal sectors, corporate, and non-profit, in addition to being a diversity consultant. This has allowed Claudette to bring an intersectional perspective to everything she does. She leads with a holistic leadership approach. Aldebot believes in building and strengthening spaces for equitable and inclusive for students, faculty, and staff. As a first generation college student, she truly believes that education is the greatest equalizer and that it is our shared responsibility to guide our youth towards a more equitable and inclusive future.
Victor Cueva
Originally from Lima, Peru, Cueva is the Managing Attorney for Immigrant Rights and Anti-Human Trafficking Practice at the Center for Security and Change, where he leads the immigration team in representing immigrant survivors of crime of the Hudson Valley. For 2021, he was appointed as Legislative Counsel to the Ulster County Legislature. Previously, he was a Pro-Bono Supervising Attorney at Catholic Charities, where he advised volunteer attorneys during the course of their representation of immigrant clients. He was also a staff attorney at the New York Workers Justice Center, where he focused on providing direct representation to Hudson Valley immigrants in a variety of complex immigration legal matters.
Victor began his legal career as a member of the Immigrant Justice Corps at Catholic Charities Community Services. Cueva was selected as a 2017 Rising Star by the Hispanic Coalition of NY, Inc. and is a frequent presenter and expert on immigration in the Kingston area. Victor Cueva uses his own personal immigration experience, as an immigrant from Peru who settled in Kingston, New York at a young age, to provide quality representation to those who need it most.

Felipe Santos
Originally from Oaxaca, Mexico, Director of the Grupo Folklorico de Poughkeepsie, which represents the ancestral Oaxacan dances, and one of the main organizers of the Festival la Guelaguetza de Poughkeepsie. Santos is also the founder of the community radio station Revolution Radio, an online Hispanic media outlet that broadcasts from the Hudson Valley, with participation in community projects that share relevant information in Spanish on educational, news and entertainment topics. Santos is a community leader and organizer from Poughkeepsie, who during the contingency of the COVID-19 pandemic was one of the allies of the Mexican consulate and other organizations to coordinate the main delivery of food and those affected. At the end of 2021, in collaboration with Elva Margarita Corbatón of the Poughkeepsie Library, they requested a community plaza to help adults learn to read and write. In addition, he collaborates with Poughkeepsie City Hall, Poughkeepsie Library, and has organized meetings with the Poughkeepsie Police to call for safer streets. Felipe is a father of four and a husband.
Adelio Ramírez
Was born in Guatemala, in the home of a family with limited economic resources, which is why he migrated to the United States in 1999. His first job was in the agricultural fields of Tivoli. Adelio managed to graduate from a Dutchess Community College program. In 2012 the church he attended on Barbarosa Lane in Kingston decided to start a soccer program for the amusement of the parishioners. In 2013, a soccer home run was formed on a field on Sawkill Rd, named Campo de Fe. From 2013 to 2019, Ramírez was Director and Promoter of the tournament and during the last tournament, in 2019, 16 teams participated. Due to the pandemic, Latino amateur soccer was stopped. Until, in 2022, he returned to promote Latino soccer, with a new concept, and a new image, with the name of Fútbol Plus (it is not only soccer but something else). The 2022 summer tournament was held at Kingston's Dietz Stadium. Adelio is currently the president and founder of Fútbol Plus, and he holds Soccer Tournaments at various sports facilities, such as the Dietz Stadium in Kingston, and the Lorenzo Ferrari at Bard College, where this month the Soccer Days are played on Sundays, in which eleven teams participate.

María Cabrera
Arrived from Puebla, Mexico, at age 15 and was reunited with her parents and four younger siblings a year later. Growing up in a small clothing factory, Maria watched her mother make her own patterns. As a child, Maria thought that sewing machines, fabrics, lace, sequins, and glass beads were part of everyone's life. It was natural for Maria to fall in love with this trade. Maria began working for Robert Tonner at the Tonner Doll Co. in 1998. Soon after, Tonner sent Maria to Parsons School of Design in New York City, where she completed a Certificate Program in Fashion Design. In 2016, she finally decided to open her own sewing studio, María Cabrera Alterations & Tailoring in Kingston, which she runs with great success so far, catering to bridal and other special occasions. In 2020, she was named a community champion by the Ulster County Executive for sewing thousands of masks for essential workers during the first year of the pandemic. "The concern I had about keeping my business faded and was replaced by a new concern that goes further. Now it is collective," said María.

Joan Ruiz Werkema
Was born in Ponce, Puerto Rico, and migrated to New York City at the age of five. She spent her formative years in the foster care system where she learned the importance of self-advocacy and community. Her experiences have allowed her to give back to the Orange County community in many ways. Her passion is creating a better space for those suffering from disparities and mental health issues. She holds various degrees including an Associate and Bachelor of Science in Criminal Justice from Monroe College, a Master of Science in Clinical Psychology with a concentration in Counseling, and a Doctorate of Philosophy from Walden University. Joan has served as a member of the National Society for Leadership and Success, one of the nation's largest leadership honor societies for students and professionals. Currently, she is the Manager of Community Engagement and Social Programs for the Mental Health Association of Orange County, Inc. She also serves as co-chair of the Orange County Geriatric Mental Wellness Alliance. She empowers others to advocate for themselves and understand the importance of being that change in the community.

Join us in publicly honoring all of them with La Voz this October 21!
$20 tickets are available at lavoz18enbard.eventbrite.com.
Thank you to the sponsors of our anniversary celebrations:
Luna Llena Level Sponsors: Hudson Valley Credit Union, Radio Kingston, Ulster Savings Bank, St. Catherine Center for Children
Cosecha Level Sponsors: M&T Bank, Nuvance, Sun River, SUNY Ulster
Comunidad Level Sponsors: Hudson Valley Hospice, RUPCO
La Voz, Cultura y noticias hispanas del Valle de Hudson
Comments
Sorry, there are no comments at this time.