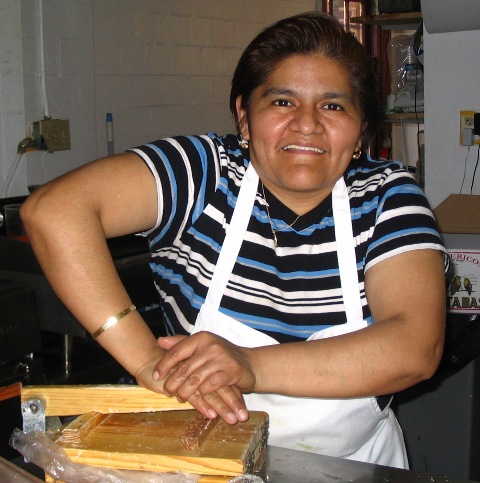 "It's a miracle that we are even here"
The Crossing of Reina Cuevas
May 2006
Reina and I share a table at a restaurant in Poughkeepsie. Neither she nor I were born here, but this story is not mine, it belongs to her. Just a year and a half ago, Reina (38 years old) still found herself in Oaxaca City.
Soon, she would embark on a journey that would take her to the other side and allow for a better life for herself and her sister. The crossing would not be what she expected and the most difficult trials would await her on the other side of the fence in Arizona. On the other side, she would run for hours, she would jump the gate of a house and she would hide underneath a mattress while Immigration officers circled around her. The next morning, having gotten no sleep, someone would pick her up and take her to a hotel room in the nearest city. But by then, the previously agreed upon price would have gone up and a man would make her his prisoner until she could pay what he demanded. She would borrow money and be driven across Denver, Illinois, Minnesota... The car would get a flat tire, it would also get pulled over by the police, but she would finally make it to New York. Reina had also not expected that shortly after arriving at her final destination, her sister, still in Oaxaca, would stop walking. Reina would return to Mexico to take care of her. However, she would not stay in Mexico indefinitely. Reina would try to cross again.
The second time was even worse than the first. She boarded a truck with 25 other Mexicans who like her, were trying to get ahead in life. The truck was driven by a fourteen year-old boy who sped across the terrain with the help of the drugs he had ingested. An Immigration helicopter found the truck. At the same time, a Mexican police car approached them by land. After exchanging signals, the Mexican police car made the helicopter retreat, pointing out that they were still on Mexican soil. For the following 15 days, Reina tried to cross the border, always with no success. When she finally did cross, Immigration officers entered the house where she and the 25 other Mexicans were hiding. Reina slipped into the backyard and hid underneath a table as she watched her companions being escorted back to Mexico. From her hiding spot she prayed. "The Virgin saved me," she says. When she came out, she was practically alone for she was in the house of strangers whose language she did not speak. She tried to let them know that she needed to make a phone call and they agreed to let her make one for the price of 20 dollars. With Reinas's $20 they bought beer. Reina never got her phone call. When the beer started to take its effect on the strangers, Reina knew it was time for her to leave. She knocked on the door of every house but no one would open. Reina says that once more, the Virgin came to her aid. She arrived to a house where she was offered water, food, and a bed for the night. When Reina woke up the next morning, she found that the house had filled with other Mexicans, also waiting for transportation. Once again, she paid to be taken to New York, but as Reina says: "They keep taking your money and nothing of what they promise you is true. Just lies." After having paid a total of $2,300, they only took her to New Jersey.
Today, Reina lives in Poughkeepsie, where she takes English lessons, receives affordable medical treatment, has access to computers and has improved her standard of living and that of her sister. She discovered that Americans aren't as bad as she had been told. In fact, she feels that the American community has been very helpful and supportive.
Reina ends her story with a piece of advice for her countrymen and women who may be thinking of crossing: "Don't risk your life, especially if you have family, family unity is worth much more. It's a miracle that we are even here."




back to top
COPYRIGHT 2006
La Voz, Cultura y noticias hispanas del Valle de Hudson
Comments
Sorry, there are no comments at this time.