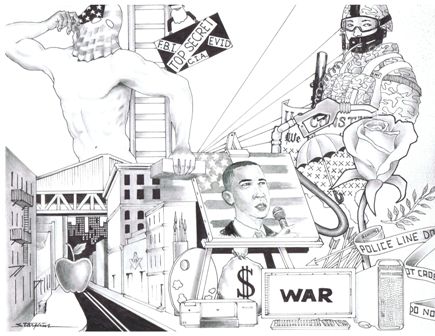 El Malabarista
December 2008

El Malabarista
Él es un malabarista.
Tira al aire ─una bola, dos bolas, tres.
El espectáculo entero da vueltas entre sus manos.
No sabe cuánto tiempo debe jugar al juego.
No le importa.
Juega día y noche, y con un rezo sigue, aunque ha empezado a caer la nieve, aunque están cayendo bombas.
No hay desesperación.
Él es un malabarista.
Una bola, dos bolas, tres.
Y mientras juega, nacen y caen naciones.
Bajo algún Torquemada los hombres se doblan o se rompen.
Y en un instante están de pie, libres y altos.
Durante siglos, lo ha visto todo.
Hace malabares con bolas.
Traducción de Rosana Zarza
Juggler
Narrated by David Torres
Legally Blind
He is a juggler.
Up into the air – one ball, two balls, three.
The entire show is spinning through his hands.
He does not know how long to play the game.
He does not care.
He plays it day and night, and with a prayer he keeps it going even though the snow has started falling softly, even though the bombs are falling.
There is no despair.
He is a juggler, one ball, two balls, three.
And as he tosses, nations rise and fall.
Under a Torquemada men may bend or break.
Then in a flash they're standing free and tall.
For centuries, he's seen it all.
He juggles balls.
He'll be here in the end.
COPYRIGHT 200
8
back to top
COPYRIGHT 2008
La Voz, Cultura y noticias hispanas del Valle de Hudson
Comments
Sorry, there are no comments at this time.