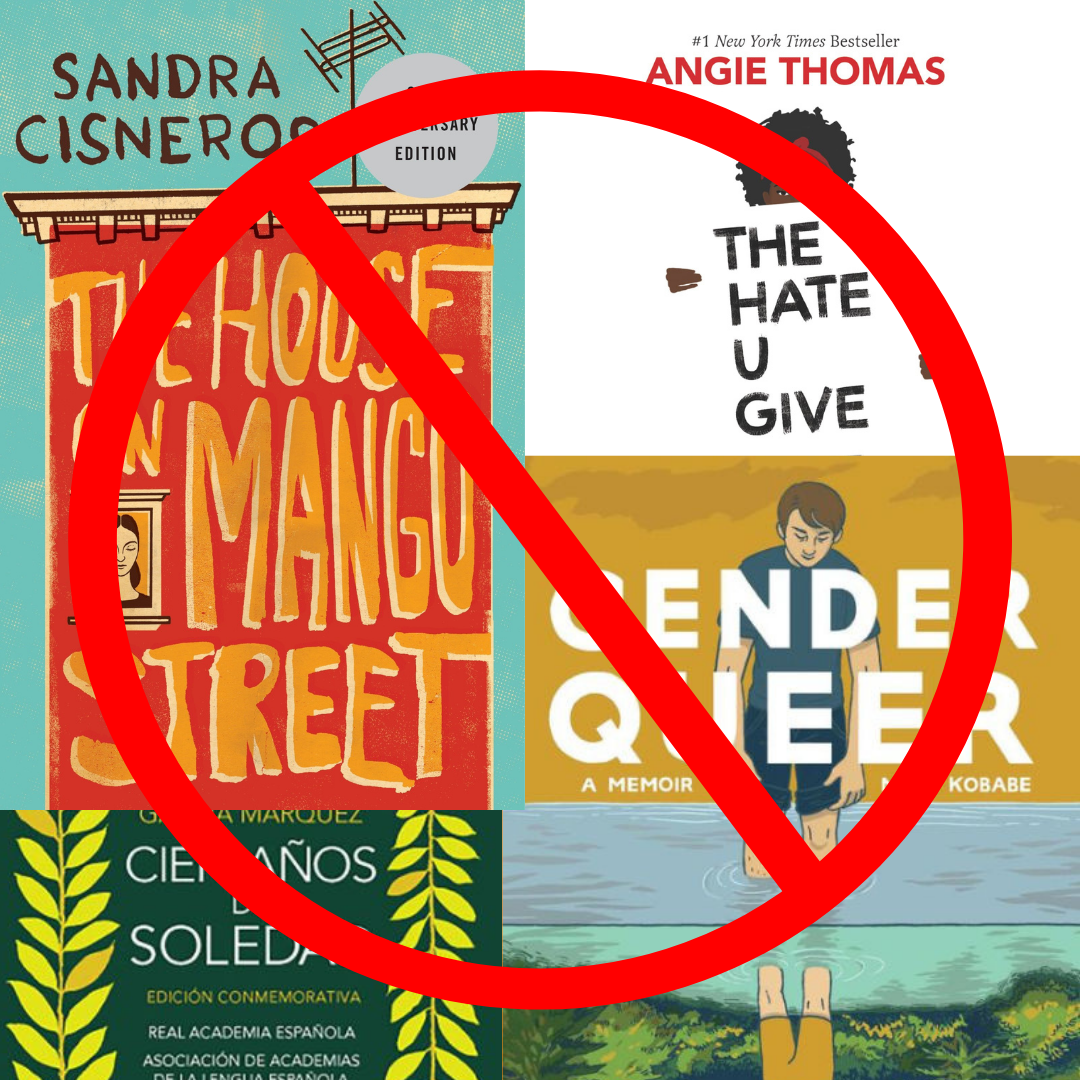 Banned Books in the Hudson Valley
June 2022
Throughout the course of this year, several school districts across the country have seen a new wave of "banned" books due to complaints from some parents about what they consider to be appropriate content for their sons and daughters. Unfortunately, many of these books tend to be narratives about minority groups suffering from social problems of systemic racism or intolerance.
In 2012,
the state of Arizona
launched an educational campaign seeking to ban "anti-American" content. Among the banned books were titles that for many served as optimal examples of the Spanish-speaking experience, such as One Hundred Years of Solitude and The House on Mango Street. In response, Tony Díaz created the Librotraficante movement through which they distributed the same prohibited books for free throughout the South of the United States.
Since then, the country has seen several waves of book bans. In March of this year, the Wappinger Falls school district voted to remove a book called
Gender Queer: a Memoir
after receiving only one claim that the book contains explicit images.
In a report by the Highlands Current
, Gary Stallings, a father and professor of medicine, endorsed the book's content since he is actually teaching it to his students so they can appreciate the risks of LGBT identity and the psychological problems it can cause, even leading kids to suicide because, "they had nothing that represented them." Over the course of the past year,
the American Book Association reported
729 attempted bans on 1,597 individual titles.
Sandra Cisneros, in a joint interview conducted by Mariel Fiori and Dinaw Mengestu at Bard College, commented on her own experience with The House on Mango Street: "Yes, it is true that they banned my book. But that's because they were scared that Mexican students would wake up and remember their rights. Because remember that when they bought Arizona in the Gadsden Purchase they were going to respect the culture of Mexicans and their language, and they broke that treaty. But they don't know that." During the heyday of the Librotraficante movement, Sandra even traveled with the caravan and adds that the prohibition of books can also ironically create a vocalization in defense of books: "The board of directors realized that this was something very silly and now they accept my book—but all this gave me a lot of publicity! And publicity when they ban books is something you can't buy."
That's not to say that as a community we shouldn't focus on the freedom of speech while ensuring cultural representation is egalitarian in nature. During an interview in April of this year in La Voz with Mariel Fiori, Professor Eva Woods Peiró spoke about how parents can be more involved. "Everyone has the right to come to the meetings and should go to their committee meetings. Each school district has this body of elected and paid members, if I may add. They are working for us and this governing body has a lot of power." Eva also adds that there are two public comment periods in which parents can make their voices heard.
In response to these local bans, the New York Public Library created the
Books For All
initiative in which they give free access to all banned books (and many more) in digital format.
Finally, it is important to remember that the available literature found in schools is not random. Tom McMahon, president of the Mahopac Teachers Association, commented in an interview with the Journal News: "These books are chosen by professionals who have years of training and experience in how to create a balanced library based on the needs and interests of students and they should be given confidence that they are capable of doing the job for which they were trained and hired."
Translated from Spanish by Nohan Meza
Sources:
What school district do you belong to and what is your board of directors
Interview with Sandra Cisneros
Booktrafficking Movement
United against the ban on books
Books 4 All
Partners Against Racism in the Arlington Central School District
Banned Books, Youth Jobs, and the Menstrual Collection
back to top
COPYRIGHT 2022
La Voz, Cultura y noticias hispanas del Valle de Hudson
Comments
Sorry, there are no comments at this time.