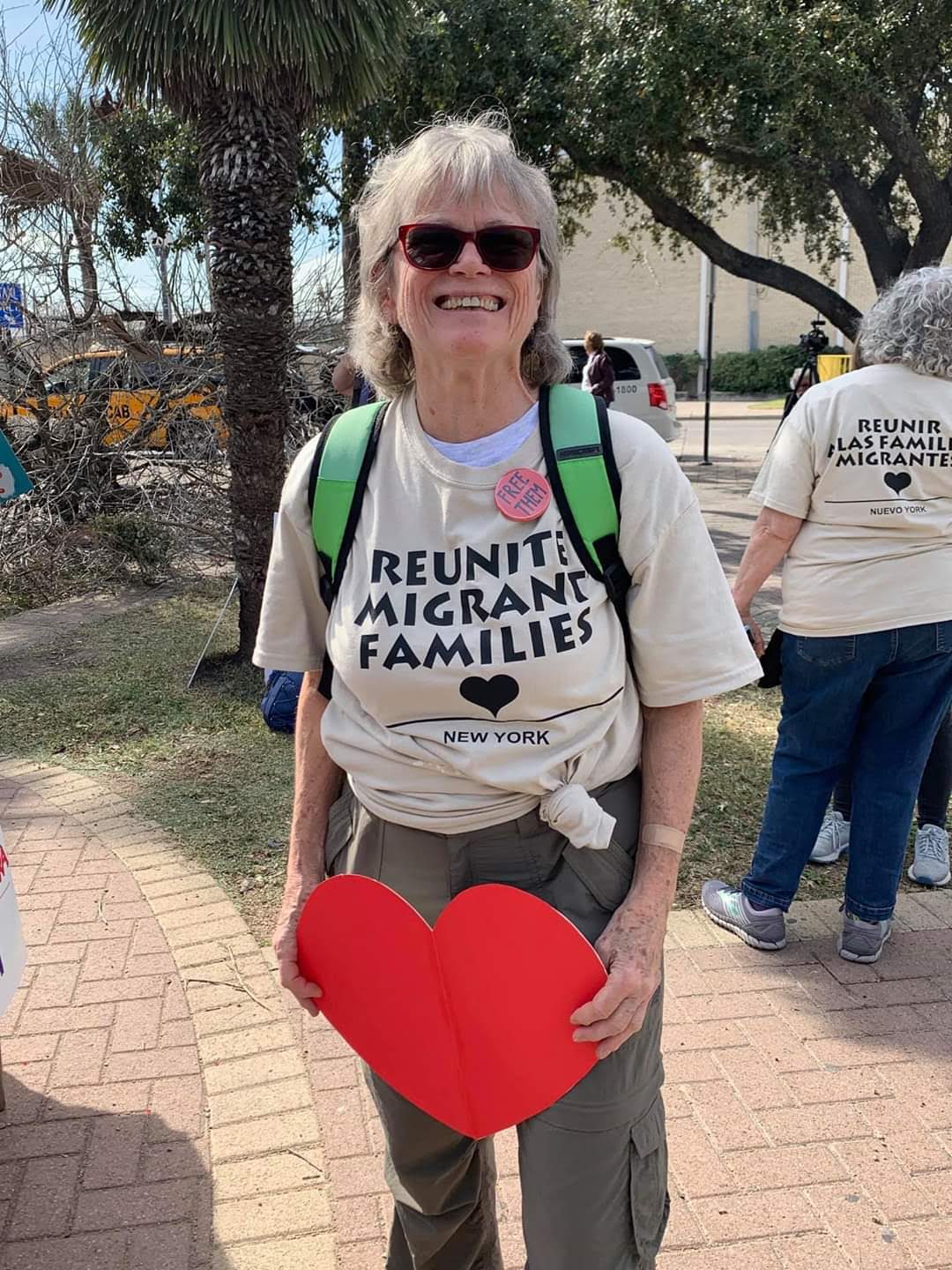 Sueño americano
Valerie Carlisle's Heart of Solidarity
December 2021
Valerie Carlisle, a retired Poughkeepsie school teacher, is part of basic grassroots organizations like Grandmas Respond and Reuniting Migrant Families, protesting against unfair immigration policies and helping immigrants at local and national levels. An example to follow. Here, Valerie talks about her path of activism and how readers can help in these cases.
Sebastián Barreto: May you introduce yourself?Valerie Carlisle:
I was a school teacher but I retired. I taught for 33 years at Poughkeepsie and loved it. When Trump became president, I became more involved in immigration issues. In 2016 I joined the DPAA (Dutchess County Progressive Action Alliance) and joined the sanctuary action team. In that team, we wanted to make Poughkeepsie a sanctuary town where I.C.E. (immigration police) cannot enter to deport people. We started by going to the city council meetings and met a group called Dutchess United. In 2018 came Trump's policy, where my friends and I felt the indignation of seeing children in cages. So I got involved in two different groups. One was a spontaneous group in Poughkeepsie with whom we began to protest weekly. We eventually called this group the Reunite Migrant Families (RMF). In 2018 I also got involved with a group called Grandmas Respond. We traveled to the border to protest, visit and witness what was happening there. We drove from Beacon, New York to McAllen, Texas, and also across the border to Juarez.
SB: What do these two groups, Immigrant Families Together and Grannies Respond do?VC:
When COVID-19 hit we decided to do things locally. We partnered with Gabriela Vega Matthews, and we got in contact with six predominantly hispanic churches to better direct help. We wanted the priests to identify necessities, because we wanted them to be a link. For example, the priests would find a family with a member with COVID-19 and we would get them a little bit of money to help them with rent or food. We're a small organization without a lot of money, we don't have a management board. We have a steering committee that has become a good group of friends. If you ask us and we have some money, you don't have to go through forms and policies, and we all think pretty alike, so we don't have much discussion. Through the priests, we learn about the needs of newly arrived families. Recently, that has become our focus. We want to develop a plan to help newly arrived families; what are some of their initial needs, which often includes the rent for the first month and maybe some clothes. Something that can help them while they find a job. We have been trying to get different grants and then we distribute the money as quickly as we can to whoever needs it. And many times I have said to the pastors, it really doesn't seem like much what we're giving them, but they tell us that a little helps a lot if you don't have anything. We're not trying to solve every problem, but were trying to help with what can be done right now.
SB: How can people be involved?VC:
We need more Spanish speakers with the time to make calls and help our newly-arrived families, need people who can help with legal advice, find places to live, find and write to get grants, or deliver food, etc. We would love for people to join us on Thursdays from 12 noon to 1 pm on Route 9 in front of the Marist to protest family separation. Our contact information is
[email protected]
or
[email protected]
. For donations you can go to granniesrespond.org and choose Hudson Valley from the drop down menu.
back to top
COPYRIGHT 2021
La Voz, Cultura y noticias hispanas del Valle de Hudson
Comments
Sorry, there are no comments at this time.