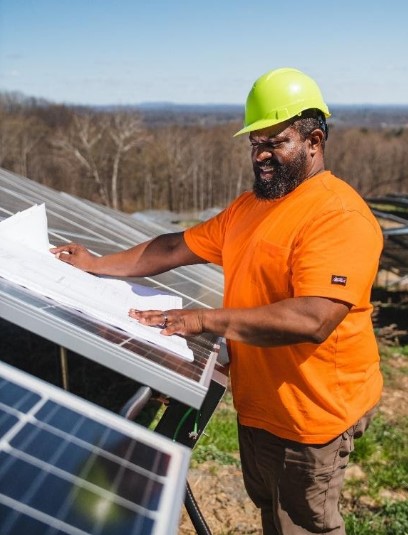 Scenic Hudson" />
Medio ambiente
Green Careers
May 2021
The statistics are impressive: by 2030, more than 24 million new jobs could be created globally
by shifting to a greener economy, according to the International Labour Organization. But what
actually are those jobs, and what do they take?
La Voz and ScenicHudson.org's HV Viewfinder both envision a sustainable, inclusive future for the Hudson Valley, so we teamed up to get insight into green careers through the eyes of four local people who hold exciting roles. Not only do these leaders feel challenged, but they also say they're contributing to revitalizing the area both today and tomorrow.
Susie Ximenez
Outreach Community Director, Citizens for Local Power
What do you do? I work for Citizens for Local Power, a nonprofit organization based out of Ulster county whose mission is to help communities in the Mid-Hudson Region transition to locally-based, clean energy.
What are your daily work activities? My main focus currently with Citizens for Local Power is working on the Central Hudson Rate Case and State-wide Utility Debt Forgiveness as well as The Energy Affordability Act.
How does your work make an impact? I demand language justice from utility companies and more transparency on information being presented to the Latino community on issues such as green energies. Covid hit a lot of communities and residents hard and many of them are terrified of receiving final termination notices and having their utilities shut off. We have to find alternative solutions to these issues such as investing in Community Choice Aggregation.
What could someone interested in this career do? Know there is space for you. At times I might felt as I didn't belong in these spaces and it took me a while to realize as a woman of color working in this industry and having grown up undocumented here in the Hudson Valley, my experiences offer a unique perspective in the work I do.
Miguel Alvarado
Conscious Builder and Retrofit Contractor, Equinox Construction Group
What do you do? We're working on the Radio Kingston green retrofit, a 5,000-square-foot project. I agree with the idea of repairing rather than using new land to construct something when there is plenty of real estate that can be restored.
What are your daily work activities? I'm in charge of procuring materials, getting subcontractors on schedule, making sure the tools and machinery are in working order. I'm troubleshooting constantly. If the plans depict certain things but in the field those parts don't fit, we have to find a solution.
How does your work make an impact? I believe there's already enough infrastructure around. There are a lot of underappreciated buildings out there, so if we can retrofit them and make them even more energy-efficient without having to claim more real estate, we'll help out the environment.
What could someone interested in this career do? I recommend reading Fine Home Building and other construction magazines, as well as the local paper. Talk to people. And get education in general, no matter what the career.
Zeke Fleming
Solar Construction Manager, Nexamp
What do you do? I'm in control of safety. On top of that I have to know everything that is going on from start to finish, in order.
What are your daily work activities? I'm measuring, videotaping, taking pictures, communicating with our project manager. If we're falling behind, how are we going to make that time up? I have a solution for anything that happens at the site.
How does your work make an impact? I've been in energy for 25 years. Before, I was a residential energy auditor. I've always been interested in how do we make the planet better, how do we get greener, how do we lower emissions? With residential, we did it house by house. With solar arrays, we're doing it by megawatts.
What could someone interested in this career do? A NABCEP [North American Board of Certified Energy Practioners] certification will get you hired in solar.
Serena Padilla
Newburgh Program Manager & Garden Educator, Land to Learn
What do you do? I teach garden-based education classes (SproutEd) to all Kinder-2nd grade students in both schools and manage/ maintain the school gardens. Our lessons are rooted in gardening, food, community, health, and ecology.
What are your daily work activities? Teaching 3-4 garden-based lessons in-person to Kinder-2nd grade students, playing outside and digging in the dirt, gardening with community members, cooking with various ages of youth, organizing and coordinating with teachers and administrators, and developing curricula.
How does your work make an impact? I love this question! I think this work has a long term impact in the way that young people approach new things and feel connected to nature. The school gardens are peaceful spaces for youth from diverse backgrounds to understand ecosystem dynamics, to explore the generosity of nature, and to understand that they are an integral part of the world.
What could someone interested in this career do? Get involved in the community - listen to community needs, volunteer in community growing spaces, learn from folks and elders that have been involved in food justice work. Always take an intersectional approach - consider how work connected to education and the environment intersects with race, class, gender, mobility, and requires a critical lens.
back to top
COPYRIGHT 2021
La Voz, Cultura y noticias hispanas del Valle de Hudson
Comments
Sorry, there are no comments at this time.