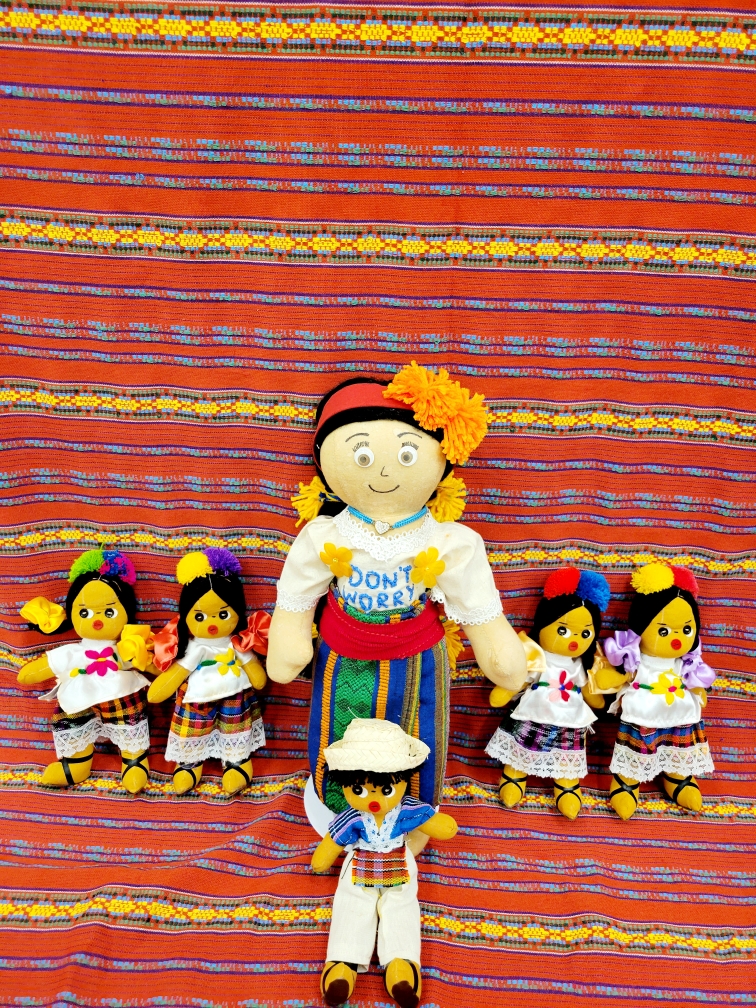 Buen Gusto
The Worry Dolls Come to Kingston
May 2021
During 3 Sundays in June, Kingston's Multicultural Festival will bring live music and dance performances to T.R. Gallo Park's Market of Fresh Products in the city of Kingston and will teach the participants to make their worry dolls from the Guatemalan tradition. Already since the month of April, hundreds of children and adults from two Kingston public schools began to make their dolls, thanks to the collaboration from the Reher Center for Immigrant History & Culture, Cornell Creative Arts Center, Arts Mid-Hudson, and La Voz magazine. You can make yours too!
This afternoon, Ximena appears to be restless and stressed. Her mother asks her what is wrong. Ximena tells her mother that she is afraid because she cannot go to school, the masks scare her, and Ximena has also noticed that her father is obsessed with the news. How come doctors around the world have not found a cure yet? She would like to see her friends.
Ximena's grandmother listens to her and tells her that her worries are far too big and out of her control. Waiting is the only thing that can be done in these moments, but her grandmother has a solution. Ximena's grandmother tells her a story about very powerful dolls. A long time ago, the sun gave princess Maya, Ixmucane, a very special gift, the people would bring their worries, and in return, she would give them a solution. When she was a girl, her mother would teach her and her sisters how to make worry dolls. "Tell your doll what worries you, and you will see that you'll feel much better",
That night, the family stayed seated at the table after dinner, and with a couple of pieces of yarn and wire, and together they made a worry doll. The family shared stories until they finished making 4 adorable dolls. Later that night, Ximena told her dolls she was worried, as her mother instructed her. She slept peacefully, knowing that the princess would bring a cure very soon.
This year, Kingston's Multicultural Festival will focus on the traditional Guatemalan worry doll, a project for everyone with instructional videos available in Spanish, English, and Q'eqchi' (one of the Mayan languages of Guatemala), on their webpage.
The worry dolls come from a tradition that originated in the region of Central America. They are small dolls made from pieces of yarn, wool, and wire. Typically, children use them to express their concerns and problems. Then, they are placed under the child's pillow before they go to sleep, for when they wake up they will feel better, or until they have a solution to their problems.
The big news this year is that the Kingston Multicultural Festival will take place during three Sundays on June 6, 13, and 20, between 11AM in the morning and 1PM in the afternoon in the T.R. Gallo Park, at 30 Rondout Landing, Kingston. In previous years the event was made during a single Sunday for many hours, and last year it was only a virtual event. Mariel Fiori, director of La Voz magazine, will be the master of ceremonies on Sunday, 13 of June. Every Sunday, there will be traditional music and dances from different regions that represent the diversity of Kingston and food vendors.
The Guatemalan, Andrea DelCid, one of the organizers of the event explains how the idea started from the need to take care of the mental health of the community. "The Reher Center and the Center Cornell Creative Arts are collaborating on this great project. The idea for the event was born out of the pandemic. Children also have anxiety and worry just like adults. When schools were closed, many students lost their support networks and their friendships. When great global anxiety about the pandemic began to be felt, we understood that removable dolls are the perfect project."
Julieth Núñez, a sociologist with a Master's degree in Social Work, talks about the impact that dolls have on the emotional process of children. First, "Children learn these domains of development through play! Making a doll out of a boy or girl is a great opportunity to model appropriate forms of communication. Wearing a wrist remover can hardly help learn that it is okay to express negative feelings and how to do it. In addition, it provides an opportunity for the child to process those feelings by acknowledging that they are not permanent."
More importantly, it allows time and space for children to recognize that there is a person available to listen to their feelings and concerns. "While they make the doll, parents can express to their children that they are available just like the doll as will listen to their concerns and provide support. The presence of play in children's development is so important as the presence of their caregivers. Parents, other family members who take care of the child, teachers and any other adults in the girls and boys support system can use worry dolls as a teaching tool skills to overcome difficulties," explains Núñez.
Toys and art seem like hobbies, but historically in times of crisis, art provides a kind of support as a form of expression. In what other ways do our cultures and art help us during difficult times? Send us a message to
escribalavoz
@yahoo.com and make your voice heard!
back to top
COPYRIGHT 2021
La Voz, Cultura y noticias hispanas del Valle de Hudson
Comments
Sorry, there are no comments at this time.