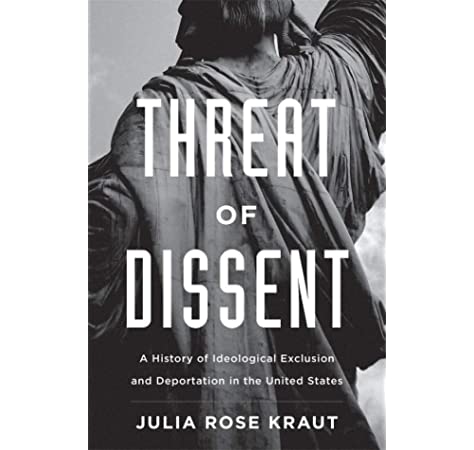 Perpetual Persecution
November 2020
In a country that prides itself on the values of inclusion and freedom, how is the increase in hostility towards immigrants that we are now seeing explained? Author Julia Kraut tells us the long history of persecution of immigrants in this country and reminds us that, in reality, this has always been the case.
Julia Kraut, lawyer and historian, recently published her book
Threat of Dissent: A History of Ideological Exclusion and Deportation in the United States
. In this feature Dr. Kraut guides us through this country's long history with the Immigration Law and how it has promulgated exclusion by means of contradicting the law.
The text retells memorable cases of various famous people who also were subjected to deportation due to their ideologies or political associations. Among these are Carlos Fuentes, Gabriel García Márquez, Charlie Chaplin, and John Lennon, who was critical of President Nixon while he was up for reelection. Dr. Kraut also comments the difficulty she faced in retrieving these cases. She let us know that despite the Freedom of Information Law that allowed her to get these documents, a large part these legal documents' text is censored for matters of "national security", in spite all of all of the people involved being dead. Is this still freedom of information?
In a recent talk at Bard College Dr. Kraut explained to us how the United States has found creatives ways to carry out the Immigration Law to repress dissidence and freedom of speech. In her opinion, migration, deportation, and exclusion are ways for the government to control the proximity of international dissidence, but in regards to national threats, they simultaneously use the compilation of data, privacy, and access to regulated information. In a conversation about her book, Dr. Kraut mentions as an example the fact that some visa applications ask for the individuals social media information. She affirms that, although technology has changed, the threat of dissension hasn't.
Dr. Kraut also reminds us what many don't know: The Immigration Law is not backed by the constitution! The government frequently uses the argument that the Immigration Law is part of the regulation of foreign trade, part of sovereignty, self-preservation. But it is a subject of discussion whether the laws really try to communicate these principles.
Then, we arrive at the argument that emerges throughout the book, that maintains that by insisting upon exclusion and the suppression of those with diverging beliefs to the principal political authority, the United States is promulgating its need for power instead of attacking legality.
Now, while long-standing laws change and while we can restructure the legal systems to better reflect our desires of inclusion and freedom, it's up to us to redefine the values that we think this country preaches. It is hard for me to adhere to this reasoning that we live in the land of the free, knowing the history that insists upon the persecution of the foreigner.
More information:
hup.harvard.edu/catalog.php?isbn=9780674976061
nytimes.com/2020/07/30/books/review-threat-dissent-julia-rose-kraut-separated-jacob-soboroff.html
back to top
COPYRIGHT 2020
La Voz, Cultura y noticias hispanas del Valle de Hudson
Comments
Sorry, there are no comments at this time.