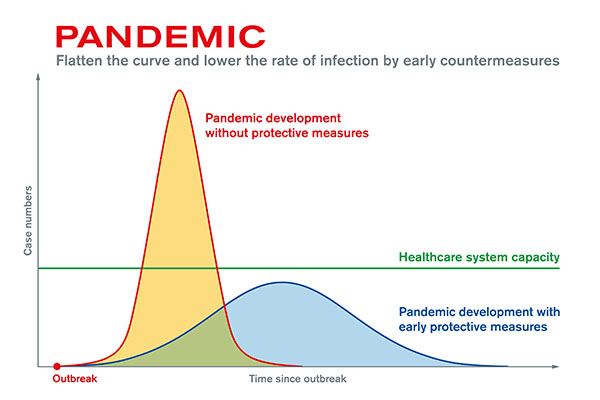 Flattening the curve: Essential Preventive Information Against COVID-19
April 2020
Knowledge is power, and in these times we have to be better informed than ever before. There is a lot of false information on social media and online, and before panicking it is better to understand the situation and take preventive measures to flatten the curve. What is flattening the curve? It is to slow down the spread of this infectious illness so the health centers can handle the amount of cases as they accumulate. La Voz presents this guide as an essential resource to inform our readers.
What is COVID-19?
Coronaviruses are a big family of viruses that can cause diverse affections, from the common cold to more serious illnesses, as it happens with the coronavirus that causes the Middle Eastern Respiratory Syndrome (MERS-CoV) and the coronavirus that causes Severe Acute Respiratory Syndrome (SARS). The New Coronavirus (2019-nCoV) is a new strain of coronavirus that had never been found in human beings before. It comes from the family of viruses that can cause diverse affections.
What are the symptoms?
There are habitual symptoms, like fever, sore throat, and coughs. The general indicators of COVID-19 are difficulty breathing, fever, cough, having travelled recently to an area highly affected by the virus or having been in direct contact with a person that has been diagnosed. In the most severe cases these infections can cause pneumonia, SARS, kidney failure, and even death. People above 60 years old and people with previous severe health conditions, like heart disease, lung diseases or diabetes are at a higher risk.
What is the treatment?
At the moment there isn't a specific treatment against COVID-19, but there are treatments to alleviate the symptoms. Like with any cold, rest, dinking a lot of liquids, and vitamin C. Depending of the patient's clinical status, treating the symptoms of the infected can be effective, like using acetaminophen pills (Tylenol) to lower the fever.
What to do if you have symptoms?
If you show symptoms, call your health provider for a tele-consultation and a possible COVID-19 test, and stay home. Home isolation is recommended for at least two weeks if you don't meet the criteria for hospitalization. The strategy of home isolation helps to reduce the risk of infecting other people. It lets the patient stay in their own home during the infectious phase of the illness, monitored by a qualified health physician.
What is to flatten the curve?
This popular term, flatten the curve, refers to the need and hope of being able to spread out the number of those infected through a longer period of time. The objective is to prevent the total collapse of the healthcare systems in the area. The slower the virus spreads, the better the reaction of our healthcare systems will be. Because of this, if we have to remain calm, we also have to take strong preventive measures.
Preventive measures
Washing your hands: It is important to wash your hands often for at least 20 seconds with water and soap. To avoid touching your face, eyes, nose or any orifice without having washed your hands.
Physical distancing: A safe distance to interact with others is at least six feet or two meters of distance between each other. This helps for the virus to not spread through the air. Not to shake hands, say hello from a distance without touching.
Social distancing: To prevent that the virus spreads exponentially and to flatten the curve, it is really important to reduce social contact in general. The state of New York has declared itself on pause, and has ordered that 100 percent of non-essential workers (essential are sanitary, security, food, and postal) must stay home. Gatherings of any kind and for any motive are prohibited. You should avoid travel.
Clean and disinfect: It is important to disinfect daily the surfaces that are often touched. This includes tables, doorknobs, cellphones, tablets, computers, handles, desks, toilets, faucets and sinks.
If you are sick
Use a mask when you are near other people and before entering any public place or hospital center. If you cannot use a mask, then you must do everything possible to cover yourself when coughing and sneezing, and the people that come in contact with you should use masks.

If you are NOT sick: You should still wear a mask, as there's no knowing what kind of bacteria you may be introducing into the air when breathing, speaking, or coughing.
Resources
You can receive medical attention in New York state, regardless of your immigration status or your ability to pay.
People that do not have a doctor's order to get tested for COVID-19 can call New York state's COVID-19 line, that answers 24 hours the seven days of the week, at 1-888-364-3065.
There is a special inscription on the healthcare system for uninsured New Yorkers. People can sign up through New York state directly at 1-855-355-5777, or through the insurers from now until April 15 for the coverage to be effective by April 1rst. This special period of inscription hopes to dissuade people from avoiding COVID-19 tests or the medical attention for fear of the costs. More information here nystateofhealth.ny.gov
Children If your child feels scared or anxious, talk to them, ask them questions, listen, and assure them that they are safe and loved. You can also walk, watch movies, make art, follow routines to help to reduce stress. For more advice, visit the website Astor Services for Children and Families, astorservices.org, or call Astor's direct COVID-19 line to 1-866-ASTOR01.
Mental health: New York state has established an emotional support line for COVID-19 that offers mental health counseling, 1-844-863-9314
For those who have worker's permits and are eligible, you no longer have to wait 7 days to apply for unemployment benefits (labor.ny.gov/unemploymentassistance.shtm)
Immigrants in Ulster County can call with questions to the Ulster Immigrant Defense Network line at 888-726-7276 or to Ulster County's COVID-19 line, 845-443-8888.
Spectrum offers free internet service to non-client homes with students in K-12 and college. This free connection is available in any level up to 100 Mbps (megabits per second). To subscribe call (844) 488-8395. The costs of installation will not be applied to homes with new students.
See more resources in this month's Resource Guide.
Social Consciousness
It is extremely important in this moment to make an act of social consciousness. What does this mean? That each one of us has a civil responsibility to do everything possible to slow down the spread of the virus. It is considered that every person infected by COVID-19 will be responsible for infecting 3 more people. Even though we have to separate to prevent the spread, we have to work together to beat the pandemic.
The facts are changing constantly. You can keep yourself informed through La Voz's page created with the goal of providing pandemic-related news in the Hudson Valley, here:
https://lavoz.bard.edu/covid-19/
.
This is a guide to face the upcoming months in an active and conscious way since our community belongs to all of us and we are all responsible for protecting it.
Sources
coronavirus.health.ny.gov/home
https://covid19.ulstercountyny.gov/
espanol.cdc.gov/enes/coronavirus/2019-ncov/prepare/prevention.html
mspbs.gov.py/publico-general-covid19.html
nyic.org/our-work/campaigns/responding-to-covid-19-new-york-united-campaign/covid-19-community-resources/
Translated from Spanish by Nohan Meza
back to top
COPYRIGHT 2020
La Voz, Cultura y noticias hispanas del Valle de Hudson
Comments
Sorry, there are no comments at this time.