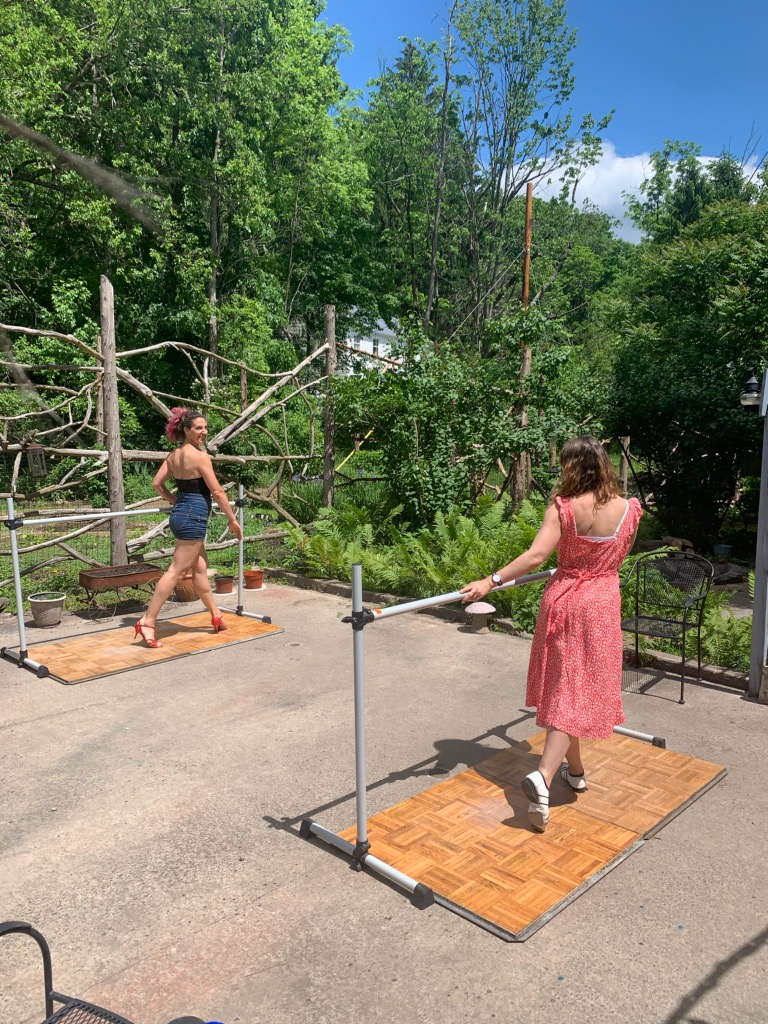 The show must go on
Artists reinvent themselves during the pandemic
July 2020
The arts are often underestimated, ignored, or put to the side; but knowing the experiences and points of view of the following five artists during this stage of isolation and social distancing leaves no doubt about the importance of the arts at this time. For some, the arts represent an outlet, for others a source of energy and inspiration, but for all it is a necessity. The need to reinvent yourself, to grow, to create, to heal; because art also heals, and in times of a pandemic, we should pay a little more attention to it.
"Music must not stop"
Andrés Rivas is the assistant director of the Bard Conservatory Orchestra and The Orchestra Now, groups that obviously had to stop their activities with the arrival of the coronavirus. But despite the fact that it is practically impossible to rehearse with a virtual orchestra, Andrés says that, "We have resorted to ensembles through videos, where video editors become the new conductors."
Musical groups, like orchestras, are based on the communal idea of ​​making music together for the delight of an audience and oneself, and that idea did not end with the pandemic. "Many of our musicians, Bard students, have recorded videos playing. We share them on our pages to spread a message of union, hope and resilience. Music must not stop, music connects. Let the world know, we are still here," explained Andrés. It should be noted that musicians from the Bard Conservatory and The Orchestra Now have held virtual concerts to benefit local organizations such as the Ulster Immigrant Defense Network, UIDN, promoting solidarity and sharing the art that fulfills them.
Andrés mentioned that musical activities are likely to continue in a chamber music format. If there is no other choice but working with an orchestra made out of 10 musicians, they will do it. "We've had to reinvent ourselves. Given the case in which meetings of 80 or 90 people are allowed, we would have normal rehearsals, but the concerts would be streamed over the internet. There is also this project of doing outdoor concerts, concerts that you can see from your car or broadcast on the radio" he said. "The idea is not to stop making music; for us and for everything that is happening. Music is a tool for healing, transformation or whatever you want to call it, but we cannot stop spreading its effect. As Maestro Abreu said: 'Nothing can transmit a message like music does.'"
On the other hand, Andrés emphasized that, "This process also depends on the sincerity of the government's support for the arts. We can have all the necessary answers to be able to return to the stage, but we depend on the consideration of the authorities and the policies dictated by the state." At the end of June, Governor Cuomo explained that Phase 4, often understood as the final phase of the reopening, would not include the entire artistic and entertainment part. He specified that in this reopening phase the art and entertainment industry could operate outdoors and indoors, but only involving low-risk activities, which leaves the orchestras and other musical groups adrift.
"It is not just doing a choreography"
Maia Martínez, of the Dojo Dance Academy, spoke about how the situation was handled in her academy. "In April we started virtual classes and made some changes: we cut prices in half and created the scale payment option, which allows anyone who wants to take the class to pay the amount of money they can pay at the moment." For Maia and her academy, supporting the community was a priority during this period: "Although classes were our main and only financial income, we understand that our work is always community-based."
Dojo Dance Academy recently started with outdoor classes, with a small group of people. "There were a lot of emotions: when we returned to teach the class, I got goosebumps and we cried. It was very moving to meet and to share the art again." During the interview, Maia stressed that all the support she has received from the community has been vital and genuine. "We have been very busy even though we thought we were not going to be. There is a very good relationship with the community; there is an understanding that we all help and accompany each other. There were people who bought packages of classes in advance: they came, they left us the payment and said it was 'for when we return,' and this is a very nice gesture, because, perhaps we are one of the businesses that will take longer to open and return to normal activities.
"When human beings do not have something to feel passionate for, or strive for a meaning, something to fight for, a path; they feel incomplete," Maia explains. "It is not just doing choreography or painting a picture, it is all that implies connecting with oneself and precisely, that connects with the idea of ​​self-love." Regarding the reopening process, she commented that, "Art connects, liberates and expresses, and for this reason it was very difficult for me to understand that the art businesses will be the last ones to open, when it is one of the things that people need the most," adding that the arts do not have any loan or benefit from the government, "One feels that the government forgets about us."
On the other hand, Anna Mayta from Mayta Fusion Dance, also a dancer, says: "I started teaching virtually, even having presentations, which was strange at first, it is a very different way of reaching out to the public." However, despite the crisis caused by the pandemic, Anna offered events to benefit other organizations so that the community could access art, which is so necessary. "Art is at the service of the world, to inspire. It touches the heart," said Anna, who also commented that the quarantine has not prevented her from planning future projects and participating in activities sponsored by Vassar College.
"For painters, work is somewhat different from that of other artists"
The story of the artists Joan Belmar and Pilar Jiménez is quite similar: the quarantine was not an obstacle to continue working. "Throughout all my life, it has been very clear for me that I want to dedicate myself to art, so basically I kept going to the studio every day, following my normal routine," says Belmar, "but it did affect me on a psychological level: you start to question yourself, and it is very complex. For painters, the work is somewhat different from that of other artists: one locks oneself in a space only with one's mind; then it is very easy to get lost a lot".
For Pilar, the psychological impact was also important. "The emotional part is very heavy. I believe that art in all its dimensions: music, painting, dance, and literature are the salvation of mankind, art gives people a little moment of peace" says Jiménez, who during this quarantine painted about six pictures that reflect the thoughts and emotional phases that she has experienced throughout the quarantine, including uncertainty, confusion, and hope."
Joan Belmar stressed that, "Art is important because it is the only thing that stays, everything else goes, disappears. People do not understand it, they think that art is something you put behind the sofa, but art has a power that transcends time and it is our responsibility as artists to capture a little of our world to create something unique and original, which was born in a certain moment."
Fortunately, galleries will be able to open, with restrictions, in Phase 4, but there isn't much information on when concerts or dance classes will be able to come back in confined spaces. Meanwhile, it's time to reinvent oneself and find a way to keep on creating.
Translated from Spanish by Nohan Meza
back to top
COPYRIGHT 2020
La Voz, Cultura y noticias hispanas del Valle de Hudson
Comments
Sorry, there are no comments at this time.