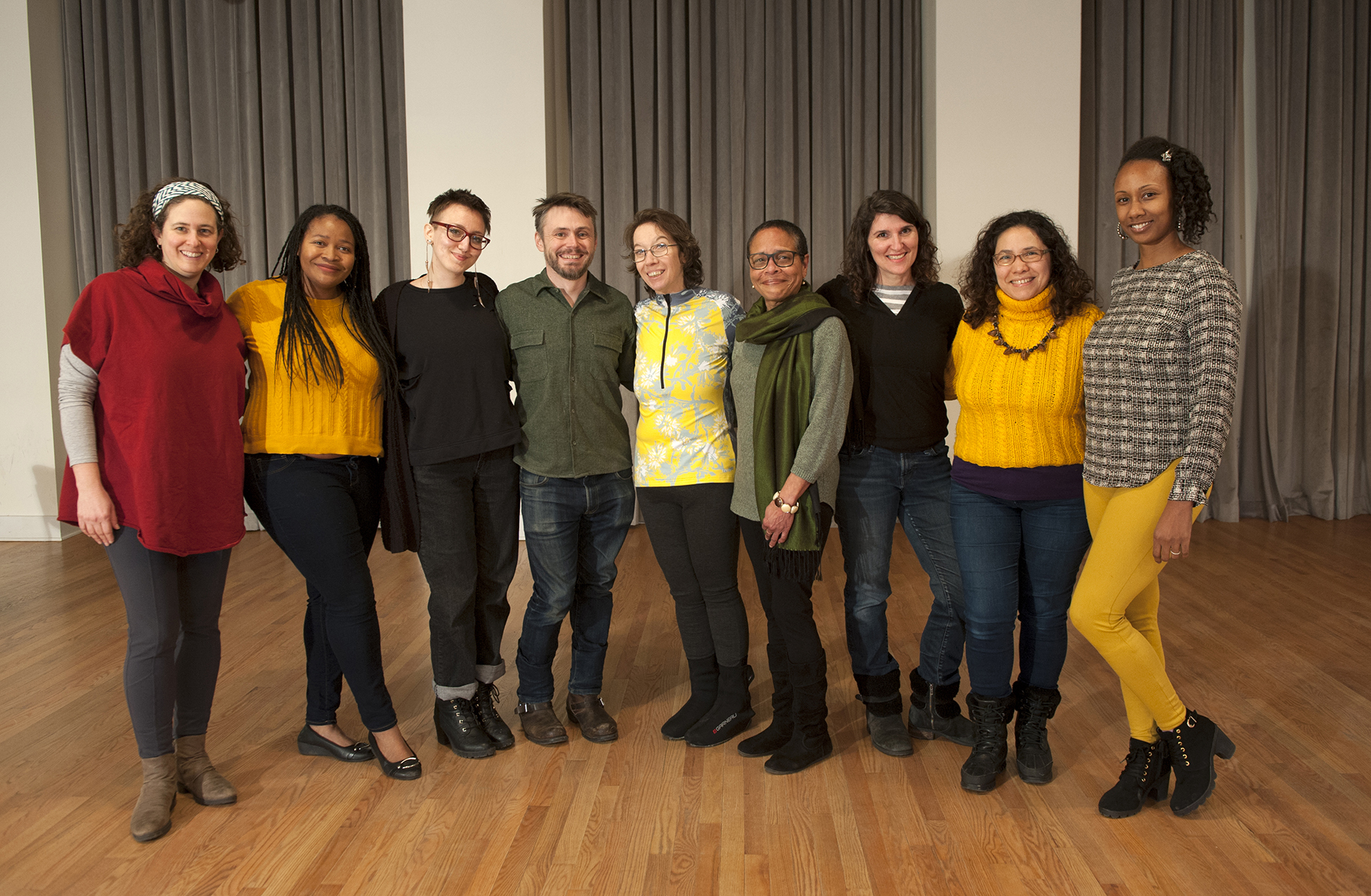 Women's History Month Comes to Kingston
For the second year, a showcase of horizontal leadership
March 2020
At a Kingston Black History Month (BHMK) party at Church House on Hasbrouck Avenue in December 2018, BHMK's main organizer, Frank Waters made an offer: connect three women interested in organizing the History Month of women.
Shaniqua Bowden was planning a Nubian Café; Sally Bermanzohn organized events for the AJ Williams Myers African Root Center on Gill Street in Ponckhockie; and Hillary Harvey was inspired by BHMK. Harvey created a Facebook page and, at Waters' suggestion, called it Kingston Women's History Month (WHMK). For the short period of time between the party and March 2019, the women decided that it would be ideal if different organizers each planned individual events, connected as a series under the WHMK umbrella.
This idea became something much bigger. Co-sponsorship applications began arriving on Facebook, and the first celebration in the entire city of Kingston of Women's History Month in March 2019 featured 23 events in the city. It was the beginning of an organizational style that would remain.
Last summer, a group of volunteers who had participated in WHMK 2019 met to form a Steering Committee with Shaniqua Bowden representing Café Nubio and Kingston Land Trust, Troy Ellen Dixon of the AJ Williams Myers Center for African Roots, Brent Felker of ASK Mariel Fiori de La Voz, Ewelina Gasior of Peace Nation, Hillary Harvey as WHMK Coordinator, Jess Meyer of Idea Garden, Rose Quinn of the Kingston Cycling Women's Festival, Jamie Sanin of CelebrateWomxn845 and Rashida Tyler of YMCA. In just a few meetings, the WHMK Steering Committee established a structure to support a flourishing community collaboration.
Why Horizontal Leadership?
Horizontal leadership is where equals work together to achieve mutual goals. It is a democratic approach to organization that prioritizes new ideas, equality and impact. An alternative to vertical leadership (from top to bottom), the non-hierarchical organization is representative and directed by the community it serves.
And, as demonstrated by the WHMK Steering Committee, it is also very efficient. In a digital world, it is easy to use social technology to know, track and make decisions in groups. A different leadership style makes sense. "We use a horizontal leadership model for three reasons," says Hillary Harvey, WHMK Coordinator. "Ensure that Kingston Women's History Month is a true realization of community needs and desires; support our volunteers to not overload us too much and make our work sustainable; and preserve the spirit of empowerment that is at the heart of the Women's History Month Celebrations. "
Why do we need to celebrate women's history?
History is filled with stories of women who were ignored, forgotten, or whose discoveries, strength, or labor were rendered invisible to societal memory. The most cited example is that of Rosalind Franklin, a British chemist and X-ray crystallographer, who made an X-ray photograph of DNA at Kings College in London in the 1950s. One day, unbeknownst to her, Franklin's colleague, Maurice Wilkins, another senior scientist, shared her photo and research with his friends, molecular biologists James Watson and Francis Crick, who were developing a DNA model at Cambridge University. When they published their findings in Nature in 1953, they wrote, "We have also been stimulated by a knowledge of the general nature of the unpublished results" of Franklin and colleagues at King's College, but their sexist dismissive attitude towards Franklin was documented in Watson's autobiography where he described her as a "belligerent, emotional woman unable to interpret her own data." Franklin died of ovarian cancer when she was just 38, four years before Watson and Crick won the Nobel Prize for a discovery where Franklin's work was critical.
This is not an isolated event. In telling the story of the Civil Rights movement, we often forget to mention Gloria Richardson, a fearless activist, leader of the movement alongside her friend Malcolm X, and one of the founders of the Cambridge Nonviolent Action Committee in Maryland. Richardson was pivotal in bringing equality to her town, which was literally segregated by a road called Race Street, and she advocated for voting and economic rights for African Americans in her Maryland County. Because though she was from the black upper-class in Maryland, Howard University-educated, and divorced, Richardson was unemployable as a black professional in the 1960s, and even for menial jobs.
Even in talking about the practice of wet nursing, we tell the story of middle class English merchants who shipped their babies off to the country, praying they would survive their first year. But how many of us consider the enslaved women of African descent who nursed the children of plantation owners while their own babies were starved to death?
"Women's contributions to society have often been overlooked and underrepresented, particularly women who don't fall into the cis gender, white, middle/upper class, Christian 'norm,'" says Jess Meyer, co-owner of the idea garden on Broadway in Kingston and a member of the Women's History Month Kingston (WHMK) Steering Committee. Meyer has worked for decades in team and executive development with leaders in the STEM fields, where there are still significant gaps in the population and acknowledgement of women's contributions. She says women in the field are increasingly ensuring they get a seat at the table, and they're calling explicit attention to it when they don't. Meyer feels that working towards a broader attitude of embracing all talent is precisely why we celebrate Women's History Month. "Our rights and the issues we care about are actively being dismantled, and acknowledging the many who have come before us matters.'
Why do we value some stories more than others?
In the late 1970s, the Education Task Force of the Sonoma County (California) Commission on the Status of Women set out to remedy the lack of representation of women in history books with a project for schools called "Women's History Week" in 1978. It was to be held during the week of International Women's Day (which was established on March 8th, 1911). It was devoted to the study of female history-makers – both the famous and the little-known. It grew to be a month-long exploration of women's innovations, leadership, sacrifice, and daily contributions. March has been proclaimed Women's History Month by every President of the United States since 1995.
As with Women's History Month, Black History Month and Pride Month are efforts to correct an incomplete societal narrative. It's a time to examine why we leave out key components of our heritage, and why we forget to mention the events that helped get us here.
When WHMK Steering Committee member Ewelina Gasior, immigrated to America from Poland, she was surprised to find that Americans often hadn't even heard about International Women's Day – a major holiday in Europe. "These are civil rights issues," says Gasior, who points to, not only the many women around the world are still not treated with basic liberties, but the stats in American/Western society on wage inequality and the struggles of single parents working multiple jobs with no government assistance. Gasior cites the prevalence of domestic abuse and the fact that one in three women is sexually assaulted in her lifetime as staggering. "Women's History Month is a time to honor our ancestral mothers - to highlight the many great activists, scientists, and suffragettes who fought for the rights we have. But most importantly, it's our time to gather, connect, and empower each other in sisterhood."
In March 2020, Women's History Month Kingston-goers will get to experience art events that highlight the voices of black women, femme, nonbinary, and student creatives, lectures on historic figures and historic campaigns of the women's movement, performances by Kingston's youth, readings by contemporary writers, film screenings, an open mic, and workshops to empower women in business, celebrate the sacred feminine, and role model healthy boundaries and consent.
There are several events which will bring renowned women from all over here to Kingston, New York: MacArthur Genius Fellow Valeria Luiselli will be presenting at Rough Draft Bar & Books on March 2nd; Brown Bike Girl Cello Williams will speak about her advocacy and cross country tour at the Kingston Women's Bike Fest on March 8th; Farming While Black author Leah Penniman will be in conversation with the community at the YMCA on March 13th; and Americas Cup Skipper Captain Dawn Riley will be keynote at the Women's Sailing Conference at the Hudson River Maritime Museum on March 28th.
WHMK will also, for the first time, honor women who have made indelible contributions to local history, but have as of yet been little recognized. At the Herstory Party at the Church House on March 15th, Vera Van Dyke, a Civil Rights Activists and wife of Kingston's first black Alderman will be honored by her daughter, Renee; Irene Lawson, Kingston's first African-American nurse, will be honored with a film by Ethan Scott Barnett; Sally Bermanzohn, a Civil Rights activist, will read from her book about the KKK attack she and her husband survived in Greensboro; and venue host, Andrea Shaut, will say a few words as Kingston's history-making first female President of the Common Council.
For more details on WHMK's community collaboration, and to RSVP for any events, visit WHMK.org
back to top
COPYRIGHT 2020
La Voz, Cultura y noticias hispanas del Valle de Hudson
Comments
Sorry, there are no comments at this time.