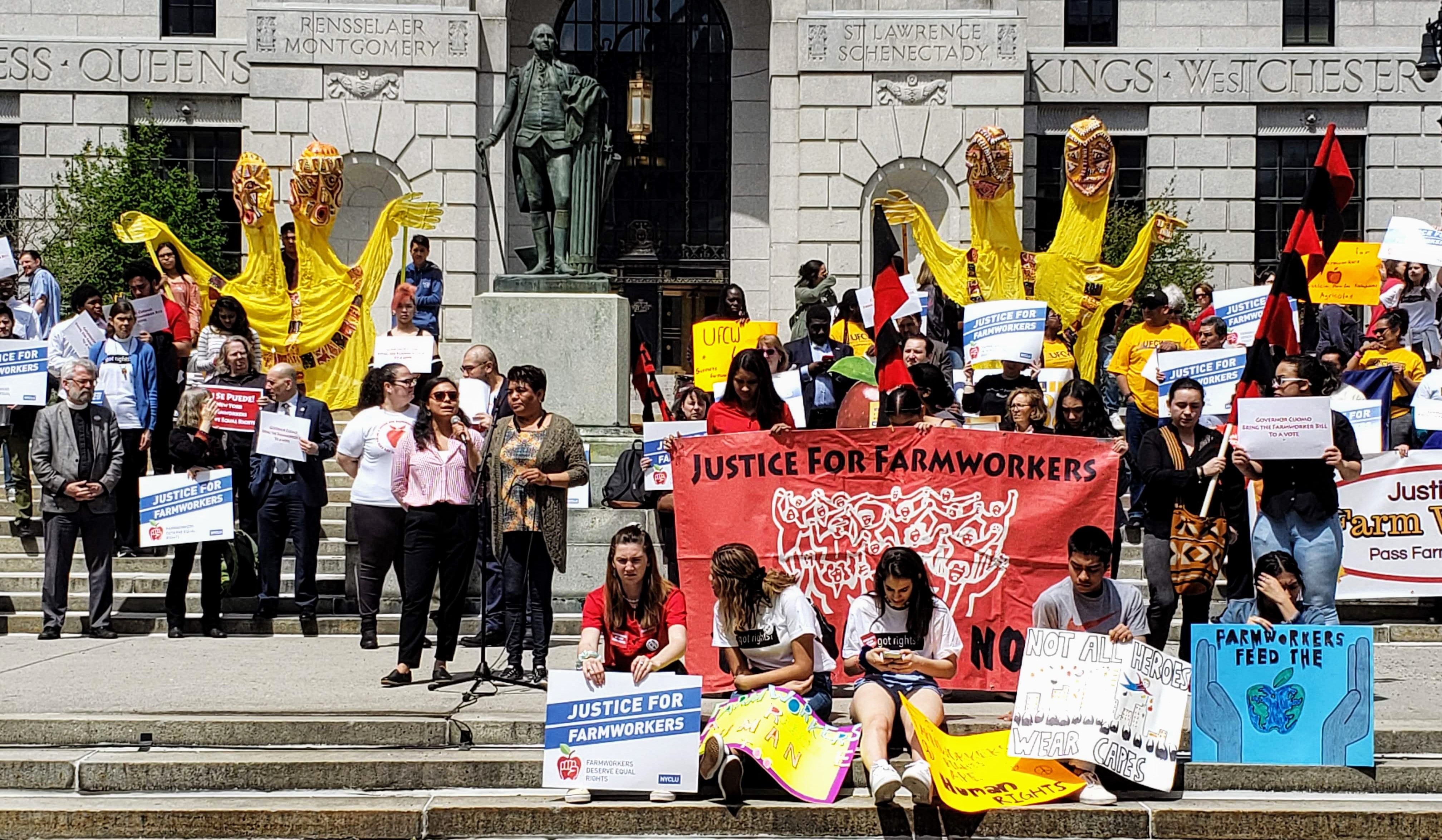 New Rights for Farmworkers
September 2019
On July 17th, Governor Cuomo signed the Farmworkers Fair Labor Practices Act (FFLPA). This new law grants New York state agricultural workers the right to overtime pay, the right to a day of rest, and collective bargaining protections. This was a major legislative victory, however, there are still some stipulations. For example, overtime pay goes into effect after a 60-hour workweek, not 40; and, while workers can organize and bargain, they cannot strike, or engage in a work stoppage or slow down.
For more than two decades, organizations such as the Rural and Migrant Ministry, the New York Civil Liberties Union (NYCLU), AFL-CIO, the Worker Justice Center of New York, the Worker Center of Central New York and many more have been organizing to advocate on behalf of farmworkers. This year things were different. The New York Senate was majority Democrat for the first time since 2009 (and the second time in more than 50 years). In addition, in May, a New York court declared that farmworkers had collective bargaining protection. This not only drew attention to the bill, but also brought the New York State Farm Bureau to the negotiating table.
The case resulted from Crispin Hernandez and Saul Pinto being fired from a Marks Farm, a dairy farm in Lowville, New York. In August 2015, they had invited Rebecca Fuentes from the Workers Center of Central New York to meet with them on the farm and they spoke about requesting an English language tutor and appropriate safety gear. A farm supervisor, unhappy that the meeting was taking place, called the police. The police separated the workers from Fuentes and questioned them. This intimidation tactic was successful in scaring some of the workers. The following week, Hernandez and Pinto went door-to-door to tell their coworkers they had done nothing wrong by having this discussion since farmworkers are allowed to have guests of their choosing even if they live on a farm. They were fired as a result.
The NYCLU, representing Hernandez, sued New York State and Governor Cuomo, alleging that the exclusion of the state's farmworkers from the right to collectively bargain violated the New York State Constitution. The court agreed in a 4-1 decision.
The case arose due to grassroots organizing on farms. The Worker Center of Central New York and the Worker Justice Center of New York had been conducting outreach to the state's dairy farms for a few years. Workers were eager to address their concerns, particularly about health and safety because dairy is so dangerous. Between 2006 and 2016, there were 69 deaths on New York dairy farms.
Farmworkers are difficult to organize. They are isolated from local communities, without public transportation and farms are spread across rural areas, sometimes at a great distance from where organizers live and work. In addition, so many are undocumented.
The job of the organizer is challenging as they have to drive long distances to meet workers and because it takes time to build trust. Andrea Callen, of the Workers Justice Center believes organizing is at the crux of these movements. "Workers have to decide on their own, what kind of directions they want to go in order to further their own self-determination. Organizing is crucial to give the voice back to the workers who have been silenced because of societal and economic pressures, silences that exist precisely because they are low-wage," said Callen.
It's clear that organizing was important for the passage of the FFLPA, yet more work is needed to ensure that the law is fairly implemented. Erin Harrist, Senior Staff Attorney at the NYCLU, noted, "We need to put the proper tools in place to implement this, including educating farmers, employers, and the state. There is so much that needs to be done."
back to top
COPYRIGHT 2019
La Voz, Cultura y noticias hispanas del Valle de Hudson
Comments
Sorry, there are no comments at this time.