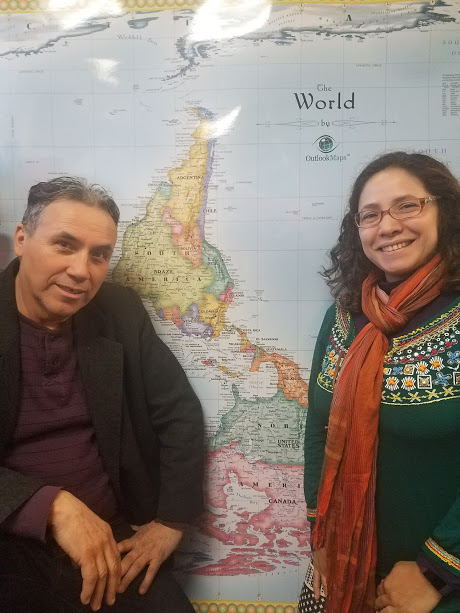 La Voz Launches Daily Radio Show in Kingston
February 2018
I don't know if you noticed, but there's a new radio show completely in Spanish on a Kingston station. Don't miss it!
It includes music, news, entertainment, humor, and, above all, voices from the community. And all of this without having to bear long sessions of commercials that advertise things that often you don't need.
The show is called La Voz and is broadcast Monday to Friday from 10 to 12 a.m. at WKNY Radio Kingston, which can be found at 1490 kHz, AM, in the TuneIn app and online at
RadioKingston.org
.
The show is co-produced and co-hosted by seasoned journalists Mariel Fiori and Antonio Flores-Lobos. Fiori, who was recently recognized by AAUW and NAACP among others, is also known for being co-founder and editor of monthly magazine La Voz, published by Bard College for the Hudson Valley area. Flores-Lobos, yours truly, is a nationally-awarded columnist who for years was editor of Las Noticias, a weekly newspaper published by the Kingston Daily Freeman until 2013.
For more than six years, both journalists produced and hosted the weekly show "¿Qué Cocinaré Hoy?" (QCH) [What to Cook Today?], which was broadcast all through the Hudson Valley on several stations, including WGXC 90.7-FM, WHDD AM 1020/FM 91.9, WBSL 91.7 FM, WLHV 88.1 FM (Robin Hood Radio), Vassar's WVKR, and R-volución Radio online.
And although QCH and La Voz share a similar format, La Voz goes out live five days a week, Monday to Friday, and for two hours daily, the audience is encouraged to call and participate. QCH was a weekly one-hour show that was pre-taped.
The show's quality and content caught the attention of Radio Kingston, which had been recently bought thanks to a subsidy by the Novo Foundation to transform a commercial English-language music station focused on "Oldies But Goldies" songs, into a vibrant nonprofit station whose mission is to "bring the many voices of the Kingston community to the city, to pull Kingston through the speakers," says Radio Kingston Executive Director Jimmy Buff.
And to create community in a city as diverse as Kingston, the renascent station made a point of securing a special place in its programming for the Hispanic community through the La Voz show, which, Buff said, is one of the anchor shows of the station.
La Voz is a different kind of show, with a programming that reflects the diversity of our region's Spanish speakers, who come from 22 countries where the language of Cervantes is spoken. The show may be in Spanish but it includes a variety of accents starting with the hosts, as Fiori speaks in Argentinean "porteño" [from Buenos Aires] and Flores-Lobos in "norteño" [northern] Mexican.
Undoubtedly, La Voz arrives at a crucial moment, as the immigrant community wages an uneven battle against the Department of Homeland Security, that is, "La Migra." Deportations, family separation, DACA, TPS and immigration issues will always be present in the different segments, be it with testimonies and personal stories, or practical information on hearings, forums and workshops.
La Voz's Radio Kingston debut took place on Monday, Jan. 22. Among the guests that stood out that day were Mayor Steve Noble; Peruvian reporter at the Kingston Daily Freeman Iván Lajara; José Villa, owner of Casa Villa restaurant; Humberto Rodriguez Maya, founder of online radio station La Super Latina FM, and Emma Kreyche from the Worker Justice Center. The show's production assistant is Manuel Blas. You can hear the podcast of the
first
show in full, and the next ones to come,
here
.
The hosts vow to dedicate every show to such diverse issues as business, wellness, politics, health, family, education, entertainment, environment, immigration and culture. More information on
this Facebook page
.
*Translated into English by K. Casiano, for Voices of NY
back to top
COPYRIGHT 2018
La Voz, Cultura y noticias hispanas del Valle de Hudson
Comments
Sorry, there are no comments at this time.