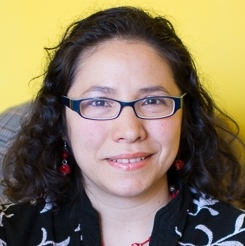 Editorial
Making a path
February 2018
I have been asked on many occasions if I had always known I wanted to be a journalist, other times if I am fulfilling my American dream. The short answer: yes. Now the longer answer, in the hopes that this information may serve as a guide to others who are about to search their own paths in life.

As poet Antonio Machado wrote it, and as Joan Manuel Serrat sang so nicely: Caminante no hay camino, se hace camino al andar (
Walker, there is no road, the road is made by walking
). This implies that there is not a predetermined or written destiny. I believe that we are far from the times in which women and men were destined, forced in a way, to continue in the same social, economic, and educational stratum of their parents. Not all are roses, of course, and roses have thorns, but nowadays education helps to open many doors. I am not only talking about a college degree, of which I have three (journalism, literature, and business), but to look for opportunities to learn on a daily basis, by reading!, and asking questions!
Since I was very young I loved to read, and I am grateful to my mother for teaching me the joy of reading at four years of age. I will also take the opportunity to thank my whole family, grandmas, uncles, and friends of my parents, for having gifted me so many books on every Christmas and on every birthday. So many books! Oh, how nice it was to sit on my bed with a green apple in one hand and a book in the other! Even though I do not have as much time today to spend hours laying belly up, reading, I try to find gaps during the day, especially at night. My bedside table knows it, with the stacks of books it has on. To disconnect from the little screen, instead of checking my email or Facebook for the thousandth time, I leave my cellphone outside my room and entertain myself with a book. There are tons of interesting topics.
Asking questions is also relevant. One asks questions to learn, because in reality: no one is born knowing anything. Maybe some are born more curious than others, or feeling less embarrassed to go around the world talking to everyone, asking the necessary questions, and the unnecessary ones too, to keep moving forward in their own path. However, these qualities can be learned and practiced repeatedly until the fear is lost. That is why, for example, I took acting classes the two years I lived in Galicia, Spain, and my first year living in New York, in order to lose the fear of speaking in public, and even in another language. Thus, in recent years I have been invited to participate in forums, to moderate panels, give speeches in English and even broadcast La Voz on the radio everyday (see the article this month by Antonio Flores-Lobos for more details).
I was always interested in learning and communicating what I know. Did I know when I was a teenager that I was going to get where I am now and who knows where else? Of course not. What I learned was that passion alone is not enough, we must put in the hours, and the years of effort and dedication. Practice makes perfect, or to repeat another saying: it is 95 percent sweat and 5 percent inspiration.
I stand on the shoulders of giants, as they say in English. Today I thank my family, my parents for having taught me that education is the only inheritance they would leave me, and what great value! I also thank all the other authors who came before me and put in writing their own wisdom and teachings that have lifted me. I also of course thank all the people of flesh and blood who have crossed my path and have been teaching me, giving me the experiences I have acquired in more than twenty years in the profession of journalism and in the world of communication.
At La Voz we begin this year with renewed hope that the information we bring each month will help our readers navigate their lives here in the Hudson Valley, ad fulfill their own versions of the American dream.
One more year walking together!
Mariel Fiori
Managing Editor
back to top
COPYRIGHT 2018
La Voz, Cultura y noticias hispanas del Valle de Hudson
Comments
Sorry, there are no comments at this time.