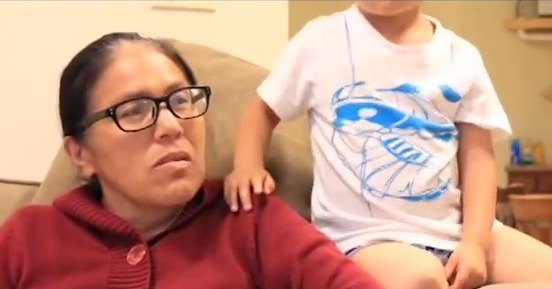 Sueño americano
'If I Had Papers, I Would Like to Work in a Daycare'
May 2015
In the summer of 2014, two college interns at the Rural & Migrant Ministry – Lisa Ponce and Steven Ory – traveled from Long Island to the Finger Lakes region to collect stories from farmworkers in New York state. The final short films can be found on RMM's WITNESS blog. They contain personal stories and sincerely call for labor equality for the people who harvest our food. Written testimonials for La Voz also emerged from these interviews. Below is the second installment.
María was born in Mexico and has been living in the United States for the past five years. Six weeks ago, she began working on a ranch in the Finger Lakes region near Rochester in New York. She and her husband work amidst apple trees, with María checking that the trees "have binding so they don't fall" and her husband "cutting the apples," she explains. Before this they packaged onions in another place and before that they were in New Jersey, picking blueberries, in Florida picking oranges, and in Delaware and Georgia, picking watermelons.
Of all the places they have worked, they like their current location the most, "because I didn't like North Carolina and New Jersey. The fields are very dirty for the workers, quite abandoned. And here we get water and there are bathrooms." On the apple ranch in northern New York where she lives, they get Sunday off, which María takes advantage of to go to church, though she would like "to have a place to play basketball." She shares a house with another family and two single men, but "everyone has their own room and we only share the kitchen. The bathroom is for two families…I would say the bathroom is good. It has two washing machines and a dryer."
A typical day.
"Well, I get up at 5:30 a.m., make my lunch, and change my baby because he goes to daycare. At 7 a.m. the car comes for him and I leave for work. I leave at 4:30 p.m. because that is when my son arrives. The break is at 10 a.m. for 15 minutes, lunch is at noon for half an hour, and at 3 p.m. we get another 15-minute break."
Life in Mexico.
When she worked there, it was different "above all because they pay less. You make about 1000 Mexican pesos a week. And the whole week it's 7 a.m. to 7:30 p.m. for 1000 pesos. The situation is critical there. In Mexico, I only finished high school, but was given the opportunity to work as an accounting clerk at my first job. I worked there for nine years. And my second job was assembling pieces for Olivetti typewriters. I also worked there for eight years."
Coming to the United States.
"Later, a friend invited me to complete my paperwork at the Mexican consulate and I went to Canada. But they were just for periods of three months and you had to come back to Mexico. I came to Canada twice to work at a peach packing plant, but on my way back the second time, I became pregnant with my daughter and no longer asked for permission from the consulate. I lost my opportunity to go to Canada.
Then, after that, my son was about to finish high school and said to me,
I want to further my studies in college.
So I was desperate because, how was I going to give him the chance to go to college? One of my brothers in Georgia asked me,
Do you want to come here?
And I said yes. My brother told me:
I am going to help you. My wife and I will help you.
They paid for my trip to the United States. And here I am."
Her dreams.
"Well, because there are no other possibilities for someone who doesn't have a degree, right?
If I had papers to be able to work in the United States, I would want to work in a daycare. I like children."
Translated into English by Maryanna Breytman from Voices of New York, https://voicesofny.org/2015/05/if-i-had-papers-i-would-like-to-work-in-a-daycare/
back to top
COPYRIGHT 2015
La Voz, Cultura y noticias hispanas del Valle de Hudson
Comments
Sorry, there are no comments at this time.