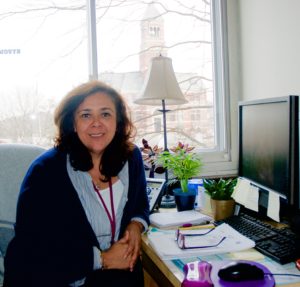 Sueño americano
Tatiana Rojas: Bringing Two Worlds Together One Student at a Time
March 2017
Tatiana Rojas' official position at four Kingston City School District schools is "bilingual family worker." However, with the number of activities she performs for the students, parents, faculty and administration, it would take several paragraphs to describe what she does.
From her Kingston High School main office, Tatiana has become the voice of those parents, guardians and students unable to communicate in English with teachers, psychologists, social workers, nurses or the management in general.
Tatiana is an ambassador or diplomat of sorts, as she plays a crucial role in the mutual understanding of two peoples and two cultures. Undoubtedly, helping parents, students and schools closely directly ends up benefiting the greater society.
Although back in her native Honduras, Tatiana was a pharmaceutical chemist teaching in college, she accepted the job at the Kingston schools despite it only requiring a bachelor's degree, being bilingual and being able to write in English and Spanish.
The truth is that Tatiana was mostly interested in being in a position from which she could assist the neediest. In fact, she had previously been a volunteer and board member for the nonprofit and NGO People's Place. From there, she informed people about benefits available to the community. "It pains me when people do not know what types of assistance are out there for them," she said.
In the last few years, she has seen the arrival of many youths in need, particularly from Guatemala and El Salvador. Some schools in the Hudson Valley have had to take in this new wave of unaccompanied minors, a challenging task to fulfill without bilingual professionals such as Tatiana. These teenagers, she said, are merely children who have survived a tough journey that began when they were forced to leave their countries due to economic or violent conditions.
When they finally make it to Tatiana's office, some of them show signs of trauma or depression stemming from having to face a reality without their loved ones that includes having to go to school while working to pay rent, the expenses of their trip and the lawyer who is regularizing their immigration status, or simply to send money back to their families.
Thus, when one of these students fails to advance the way he or she should, or suddenly starts to skip school, teachers, psychologists and social workers ask Tatiana to contact parents or guardians to find out what is going on.
That is when the bilingual worker finds out what kind of problems the student is facing at home or in his or her new life.
"I am not a psychologist or social worker," said Tatiana, "but I am a mother, and I can advise people from that point of view while I find them the professional help they need."
Her guidance is not only directed toward students, but also to parents or guardians who must sort out their difficulties understanding the newcomers.
In our Hispanic culture, it is common to see parents sending youths who are not doing well in school to work to help the family, instead of encouraging them to graduate. "That breaks my heart," said Tatiana, "because, in this country, although there are more opportunities, the law says that school is free and mandatory until the age of 18. If parents do not comply with that, they could get in trouble with the authorities."
Some days are frustrating and Tatiana takes the sadness home with her, feeling powerless to be able to solve a problem for another human being. However, other times she goes home glowing with happiness, knowing that her work made easier the communication and the lives of students, parents and the schools for which she works, one student at a time.
back to top
COPYRIGHT 2017
La Voz, Cultura y noticias hispanas del Valle de Hudson
Comments
Sorry, there are no comments at this time.