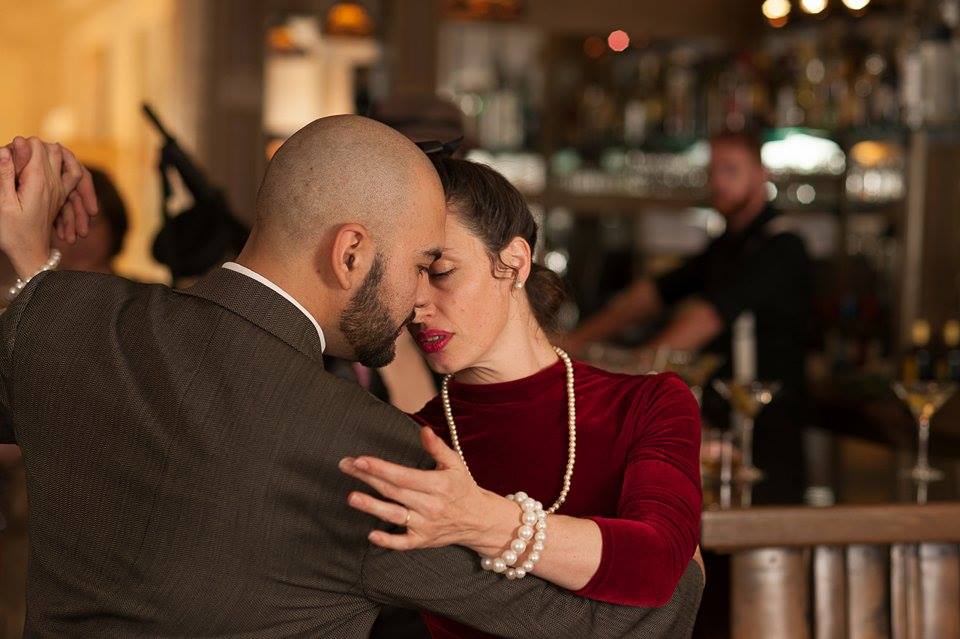 Buen Gusto
First Tango Festival Arrives in Hudson Valley
May 2017
They say it takes two to tango, but an entire community of tango dancers was required to organize the first Hudson Valley Tango Festival that will take place on Memorial Day weekend in Kingston.
According to Dojo Dance Company tango instructors Maia Martínez and David Salvatierra, from Argentina, the Hudson Valley tango community joined forces to create the event, to be held at three different venues over the course of three days. The lineup will include three internationally-known tango dance couples.
The festival, which will keep lovers of the passionate and sensuous dance style eating and breathing tango for an entire weekend, will feature performances, milongas (dance parties), and more than 20 workshops for beginners to take their first steps and advanced students to refine their technique. Both groups will be able to put their new skills into practice every night during the festival.
Many people see a tango show and admire the sophistication of the steps, such as the "ganchos" – "hooks" – which have the woman wrap her leg around the man's and vice versa, or the "molinetes" – "windmills" – and "boleos" – "leg whips" – done at the end, a sort of kick into the air performed when the music takes on a nostalgic and passionate tone. Still, enjoying a good show and dancing are two different things. For that reason, many refrain from even attempting to learn to dance the tango.
It does not have to be that way. As Maia puts it: "If you can walk, you can tango." While she admits that "yes, it can be intimidating," she adds that tango is simple enough that, after one class, people are able to dance, improvise and improve gradually until they feel comfortable and start enjoying it.
In addition to dancing the tango, there is the camaraderie and the sense of community that develop during the milongas. The festival will host a number of them, and bringing a dance partner is not required. Martínez said with a smile that, at milongas, aspiring tango dancers will find a community that will welcome them with open arms as new members of the family.
Her husband, instructor David Salvatierra, says that the love for tango has been growing in the Hudson Valley for years. For that reason, he says, among the over 200 people the festival is expecting, attendees will be able to see "la crème de la crème" of the local tango scene, including Ilene Marder – also known as "La Rubia del Norte," or "The Blonde of the North" – considered the pioneer of tango in the Valley. She will also be the DJ for the event.
Tango lovers will not want to miss the luxury of watching personalities such as Junior Cervila and Guadalupe García take the dance floor. According to Salvatierra, the couple is one of the best in the world and they have performed their show in Europe, Asia and Latin America's most prestigious stages.
Dancers Fabián Salas and Lola Díaz will also be there. In the 1980s, Salas began creating new steps that are now considered essential in modern tango.
Another main event will be the presence of Guillermina Quiroga, better known as "The Queen of Tango." She will be accompanied by Maestro Mariano Logiudice.
Because tango is also folklore, culture and tradition, the event would not be complete without Argentine empanadas and
alfajor
pastries.
For those planning to attend, the festival has posted admission prices and schedule on their website. Guests may purchase a package granting them access to every event for the duration of the three-day festival, or buy
à la carte
, selecting the shows, milongas or workshops they wish to attend.
The venues where the festival will take place are:
Cornell Street Studio (168 Cornell Street)
Center for Creative Education (15 Railroad Avenue)
White Eagle Hall (487 Delaware Avenue)
For more information, visit the festival's
website
.
Translated into English by K. Casiano from Voices of New York, https://voicesofny.org/2017/05/first-tango-festival-arrives-in-hudson-valley/
back to top
COPYRIGHT 2017
La Voz, Cultura y noticias hispanas del Valle de Hudson
Comments
Sorry, there are no comments at this time.