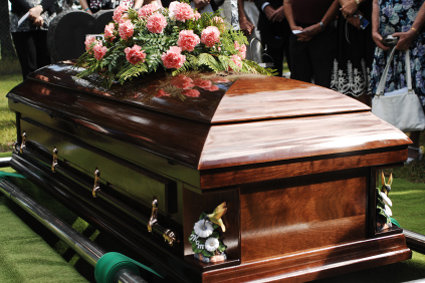 Su Dinero
Yes, we talk about it
Hispanics and the preparations for death
May 2016
It is said that there are two things guaranteed in life: taxes and death. Of the former there has been much discussion lately, especially in these past few months, but regarding death, who is talking about it? One Sunday morning in November, I attended a gathering in Woodstock named Death Café; coordinated by the organization Circle of Friends for the Dying (CFD). I entered a room filled with senior citizens, and the director told me, "You won the prize", "For what?" I asked. She responded, "For being the youngest in this room". Upon sitting, I realized that I was indeed the youngest person in the room. I suppose the other attendees were asking themselves why someone as young as me would attend a gathering to talk about death.
Death is an aspect of life that is deemed tabooed in many cultures around the world, especially true among the Hispanic culture. This perception of death can bring about unexpected consequences for the family of the deceased. Today, the process of burying a loved one generates significant monetary losses, from the death certificate to the funeral, it is the family that must shoulder the responsibility for these costs that can at times rise to upwards of $10,000, if not more.
Various members from the church Iglesia de Dios of Kingston say that it is common for family members to send their deceased loved one back to their native land, for example, to Mexico. The cost of sending a corpse itself can cost up to $8,000. But, how does the church assist families as they go through the process of death? They shared with me that the Church helps economically to the fullest extent possible, collecting funds from the entire congregation to pay for the corpse to be sent back to its home land. In addition, the church's support extends to "talking to the family to arrange funeral services and bid the body farewell from this earth. We also offer religious services," Pastor Ángel Triminio said.
However, churches do not aid with transactions such as writing a will, advanced directives, authorizing a health care proxy, or the POLST Paradigm (orders that identifies patients' wishes regarding medical treatment). It is not common for churches to aid in these services, but they do provide advice on how to perceive and cope with the trauma of death. As Pastor Triminio said, "I do not think anyone is prepared for death. We recommend that people get life insurance. That way, at least funeral expenses are covered should something happen tomorrow."
Pastor Roxana from the Church of God comments on whether the Hispanic community of the Hudson Valley is prepared for death. "I would say no, as a Hispanic. No one is ever prepared for death. We prepare for every other occasion but death is rare. The Hispanic community is not well informed in regards to establishing a will; 99% of people with whom I work with do not have a will. Why? For one, they don't think they are going to die, that possibly they will die from old age and hence are not concerned. And second, simply from lack of information".
"For example" Pastor Roxana explained, "my mother owns enormous pieces of land in Peru, all in her name. We tell her to sell them so that she may enjoy her earnings or make a will. She replies, but I am not going to die yet". In addition, adds the Pastor, "there's a saying among Hispanics that if we talk of death we are calling her. For this reason we avoid talking about death. It is tabooed".
But on the Day of the Death we talk about it, right? The Pastor responds: "That's another tradition. It is a remembrance of the dear and loved ones. We believe that through our thoughts we keep our loved ones alive. But the day of the death is a day to celebrate -- we don't go beyond this thought or tradition. It's simply a day for mommy, daddy, granddaddy. No more thought. That is it. We ourselves formed barriers to keep us from going beyond, so as to not truly face the reality of death".
The Circle of Friends for the Dying
It is important to talk about death to prepare ahead of time and not leave the burden on those still living; also to strip death of its taboo status within the Hispanic culture. While the churches provide support through their religious teachings, they do not provide their congregation with needed logistical channels. The recently established organization in the Hudson Valley, Circle of Friends for the Dying (CFD) seeks to promote the acceptance of death as natural, holding conversational meeting and educational workshops on the subject.
This organization is part of an international movement that began in Europe in 2004 called Death Café. It consists of meeting up in small groups to talk about death in an informal but respectful setting. These conversations grant an opportunity for participants to share their experiences of death and ask questions.
For example, most people only know burials that use a metal urn, or wood, which is then deposited in cemeteries, primarily in concrete structures — this process is often a huge expense. Natural burials have been the custom of the millennia. In this type of burial, the body is deposited in a wooden urn or wrapped in a cloth to make its decomposition into the soil possible. These options are cheaper and less harmful for the environment, and in addition the people in charge of preparing the deceased are not exposed to toxic elements such as formaldehyde, which is used to delay the decomposition of the body.
The conversations held at the CFD cover many aspects of death, ranging from old age preparation, medical insurance, funeral expenses, cremation, and writing a will. In addition to providing support in regards to living in the present, being happy while living, and not fearing death. These meetings are held around a cup of coffee and cakes and the conversations are guided by facilitators who lead participants in reflecting on life and the transition into death. These monthly 90-minute meetings occur in different places in our region are free and open to the general public without the need for reservation. The Death Cafe is for all types of people, regardless of age and demographic.
My First Death Cafe
When I sat at the table with my group I was received with much affection and curiosity. The table sat six people, with five tables filling the space of the entire room, each seating the same number of people. On my table was a couple, two friends, and a woman who traveled from out of state and by chance knew of this meeting. We started the conversation by introducing ourselves and sharing why we were in attendance. All the answers were diverse: some had loved ones who were dying, others had lost all their loved ones, and others just wanted to know more about how to prepare for that day. The conversations were respectful, and a supportive environment was immediately established. At the end of the 90-minutes, we all felt a deep mutual connection. For me, it was one of the deepest conversations about death that I had ever had. When we said goodbye, some eyes held tears.
This organization wants to bring the theme of human mortality back to the community so it is seen as an emotional process, where family affection is important and not just something to be isolated and institutional as it is today. If every individual and family alike is prepared for death, it would be a calmer process and be more focused on one's emotional response rather than coping with economic aspects. To this organization, death is not taboo, but rather part of life, something that will inevitably happen to us all. If people can talk more freely about death, perhaps it can inspire a more enthusiastic view of living without the fear of death.
Circle of Friends for the Dying is also in the process of opening a home for those who have only three months or less to live, so as to provide them with a comfortable and safe space with support services. The patient does not have to pay because the costs are covered by the funds the organization earns. The hospice home has been newly purchased and is in need of repairs before it can open its doors to the public. The vision is to provide the dying individual with a serene, dignified, and respectful place where they may be accompanied by their family and volunteers of the home.
Death Cafés and the home for the dying are initiatives aiming to bring forth more education and support for coping with death. Most of the people who attend these Death Café workshops and meetings are middle class and white. In fact, looking around, I was the only Hispanic person there. This organization has so far not been very successful in attracting a diversity of ethnicities and groups of different economic classes. The organization wants to start having Death Cafés and workshops that are in Spanish, or at least bilingual, so that these resources are more accessible to other communities. For CFD, it is important that every type of person is present since we are all going to die. One of the founders of this organization, Barbara Sarah, shared her desire to extend these resources to the Latino community. There are several services available to help guide this process, and there is growing awareness that there must be more options for people who do not speak English.
Barbara thinks we should all feel empowered about our death, that is, if one knows the institutional process and completes the appropriate forms, one can feel more in control over one's own life. She thinks we all need to discuss death, especially with our families so that they are cognizant of our desires. For many who have not yet arranged the procedures required at the time of death, and have no insurance or savings, their family will be indebted due to the funeral costs. Therefore, in order not to burden the family with more economic weight, it is important to study and prepare the necessary costs and forms well before the time comes.
We are all going to die, it is part of our cycle as humans. The opportunity to talk about death can also help you feel that you are not alone in these sentiments, and feel the supportive community constructed around this issue.
The Conversation Has Already Started
It is also important that there is a conversation within the Hispanic community to prepare, not only emotionally, but also logistically, and economically. The conversation has begun in the Facebook group called "Juventud Sin Fronteras," with the question: Have you thought about the preparations for your death?
Here are some of the 34 comments they received the first day:
Fabiana Marisa Lavcevich
: I do not think about that, but I have told my children to not lock me up in that home, and to look for a Hindu funeral home, cremate me and throw my ashes in the ocean.
Adelio De Jesús Ramírez
: Either way it takes money to cremate a body. Excellent point, I think we should prepare for that moment. Unfortunately, as Hispanics, I don't think we focus on the future, and very few people save for funeral expenses. I know only a few who have insurance for funeral expenses. We must be prepared for that. That way we would not see those little boxes in supermarkets famously asking for aid when someone dies. It would be good to save money while alive for that moment of death.
Sandra Alcala
: Wow, a very important question. I've never really thought about it before.
Julian O Ángeles
: A very important subject that we never worry about. Personally, I am looking for life insurance that covers funeral expenses because I would not like to leave my family with this expense, because life can end in a second!
For more information regarding the CFD:
http://www.cfdhv.org
To complete documents associated with planning:
http://www.caringinfo.org/i4a/pages/index.cfm?pageid=3289
For pre-death care information: http://hvhospice.org
*Translated into English by Daniel Godinez and Olivia Sherman
back to top
COPYRIGHT 2016
La Voz, Cultura y noticias hispanas del Valle de Hudson
Comments
Sorry, there are no comments at this time.