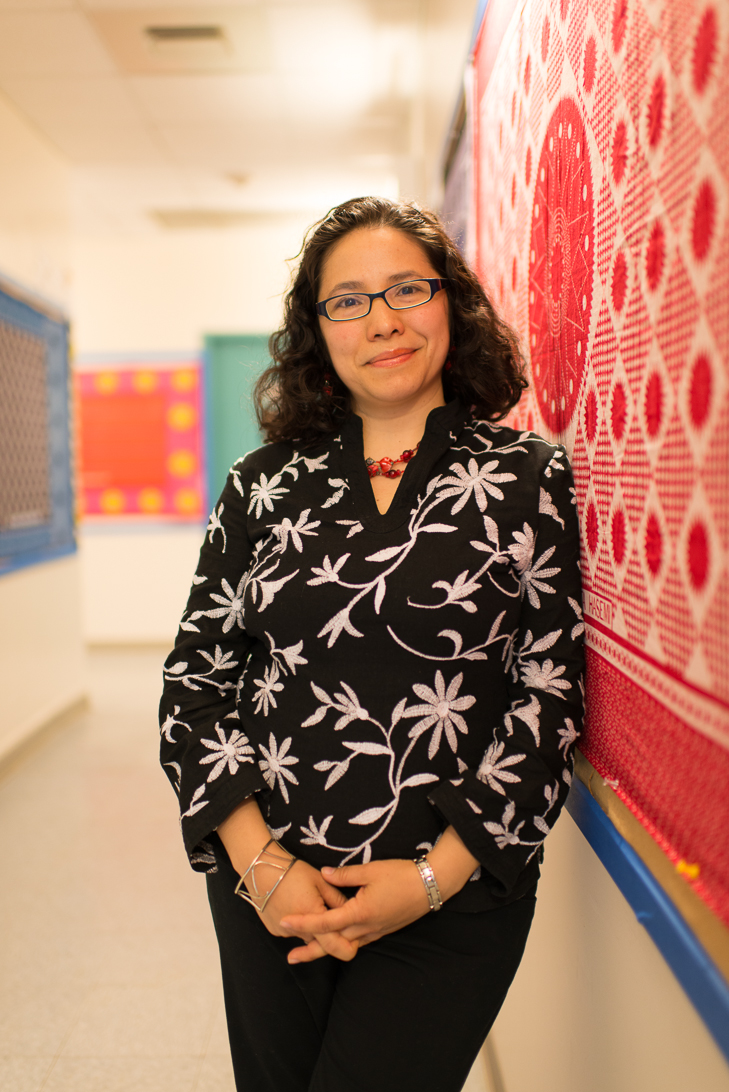 Growing together
December 2016
I came to this country 13 years ago, and for the past 12 years I have been making La Voz magazine. The perks of getting older (someone may say) are that this decade has been one of constant growing and learning, as it is for any immigrant seeking to progress. What did I learn? That in this country of opportunity, first you have to learn how everything works, because the system isn't so transparent that with just one glance you can be sure of what direction to take. I'm referring to all types of systems, from education to health, to politics and business. That's why we have to learn, be informed, and educate ourselves and others.
I am a professional journalist from Argentina. When I came to the US, I already had 6 years of experience working for different mass media, and independent media in Buenos Aires, and 2 years for newspapers in Galicia, Spain. In 2004, Emily Schmall and I started La Voz as a student run project at Bard. Back then the magazine came out quarterly, had only 8 pages, and we printed 500 to 1,000 copies every time, black and white. But it was a good seed project and people at Bard took notice of it.But you have to start somewhere. At that time, I became a transfer student at Bard, took over the project after Emily graduated, and I graduated from Bard in May 2005. I made a proposal to Leon Botstein, Bard's president, to anchor La Voz at Bard and made it my job to evolve it into what it is today. I was hired as the managing editor of La Voz in September 2005.
Today, with the help of student workers, and volunteer community members, we print 5000 copies of La Voz every month, to an estimated 25,000 readers, in 450 stops in our delivery routes in Dutchess, Ulster, Orange and Columbia counties. In 2014 La Voz turned 10 years old and we started printing in color. Over the years, La Voz and I have received many awards. And all of it with a minimal budget, and relying on a network of volunteers, freelancers, and student workers in training, all of which I coordinate. And we also sell advertisement, by the way.
A lot has happened since the beginning of La Voz: I got divorced, I married again, I completed an MBA degree at NYU, I had two children (one who is now 4, the other just 1 year old), became a US citizen, and voted for the first time in the November elections of this year, among other highlights.
La Voz is entering its 13
th
year of existence and I know it is the right moment, both personally and historically, to grow. After the elections, the Latino population in the Hudson Valley, in the state of New York, and across the country, will be among the first to experience the changes in the United States. La Voz needs to be there to help Latinos in the Hudson Valley navigate and be active, if needed, when those changes come to be.
Accepting the status quo is not part of my blood, my upbringing or background. We need to use whatever tools we possess (i.e. education, network, time and/or money) to help improve the part of the world where we live. In my case, I do it through my passion for communications.
La Voz needs to grow its readership, reaching into more areas within the counties that we cover, and to other counties in the Hudson Valley region. We also need to grow in terms of content, since there is no other magazine in Spanish in our Mid-Hudson Valley region; we have a great responsibility to keep our readers well informed, to
do media for the public good
.
I know very well that I can't do it alone, I know that I will need your help. Would you like to partner, be an advisor, advertise your business, make a tax-deductible
gift
(to Bard/La Voz) or collaborate in any other way? Please, email me to
[email protected]
to continue the conversation. Let's keep growing together. It can be done!
Happy Holidays, and we'll see you again in February!
Mariel FioriManaging Editor
back to top
COPYRIGHT 2016
La Voz, Cultura y noticias hispanas del Valle de Hudson
Comments
Comentario: Good morning Mariel, Though we have never met in person I have followed La Voz since its inception - first as a concerned citizen and then as the Executive Director of a not for profit that serves our diverse Spanish-speaking Hudson Valley citizens. At times when we had the ability we paid for ads in La Voz. We no longer have that luxury to changes in funding but we can help by providing short articles on accessing health care and health insurance through the NYS of Health Marketplace and the Community Health Advocates program. Let's touch base before the end of the year! Many thanks for all you do, Caren Fairweather, MISN
Posted: 12/6/2016