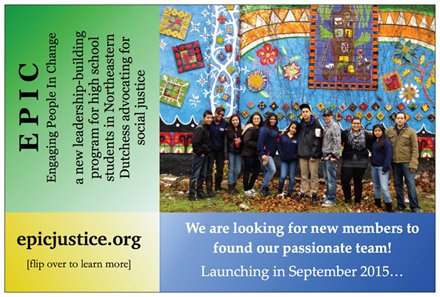 Actualidad
EPIC, Leadership training for young activists

September 2015
Millions of immigrants from around the world live in the United States, and the majority of them continue to live in the shadow of their rights due to their legal situation in the country. Thanks to the interest of young high school students in helping their communities in the northeast of Dutchess country (including Pine Plains, Millerton, Amenia, Millbrook, Dover, and Wingdale), they'll be able to fight for social justice. As of this September, the doors of EPIC (Engaging People In Change) will officially open.
Abby Nathanson, director of the EPIC program, inspires teens to integrate themselves into the group and bring attention to various petitions within their community. This is done with the end goal of, upon reaching adult age, helping these kids to have more courage and strength to start a successful professional career and not be afraid to speak in public, enriched with leadership skills.
"The foundation comes after working more than three years in Youth Arts Group (YAG), a Newburgh movement made up of young people who have achieved a lot for themselves, their latino family members, and other immigrants. Personally, I've always been a social activist and I can't keep still, and it was with the help of lots of big-hearted people like the members of the Millbrook Episcopal Church that we formed EPIC. There have been years of struggle, but finally we're here and I trust that we're gonna make a lot of noise with interesting propositions to lend support, for example for the education, health, and art of families of agricultural workers," expressed Abby.
The director of EPIC was accompanied by Carlton, a young member of YAG and new member of EPIC who commented: "It's valuable to have professional training at our age. I invite young people to fight for social justice and learn artistic skills, but the principal thing is to serve others. It gives us energy to know that we did something good for someone else and that we inspire other students. We left our legacy in a documentary called "Dreamers" and we can continue to build EPIC.
Carlton and Abby Nathanson kickstart this dream, who's principal objective is to see young people raise their voice in their community so they'll not have to live with the fear of being separated from their families due to their immigrant status.
"It's sad to see that over time there are still undocumented families being separated. Many are American students, but with parents of other nationalities who don't have the opportunity to defend themselves. I hope that the members of EPIC triumph with good ideas. This isn't for life, and so every year we'll be accepting applications so that the organization can continue with new members and the highly qualified ones stay can stay in front. Young people need the support of adults and to feel protected to get the courage that each one has inside them. Students will be responsible for choosing the issues they want until they meet their goals and enrich their leadership which will help them in the job market in the future." said Nathanson.
To be a member of EPIC you need:
To study in high school, be between 14 and 18 years old, be a part of one of the five rural communities of Northeast Dutchess: Amenia, Dover, Pine Pains, Millbrook, or Millerton.
To not discriminate due to race or religion.
Have the courage to learn the tools of leadership.
For more information visit: epicjustice.org or facebook.com/epicyouthactivists
Contact Abby at (206) 963-2689
*Translated into English by Sebastián Antón-Ojeda
back to top
COPYRIGHT 2015
La Voz, Cultura y noticias hispanas del Valle de Hudson
Comments
Sorry, there are no comments at this time.