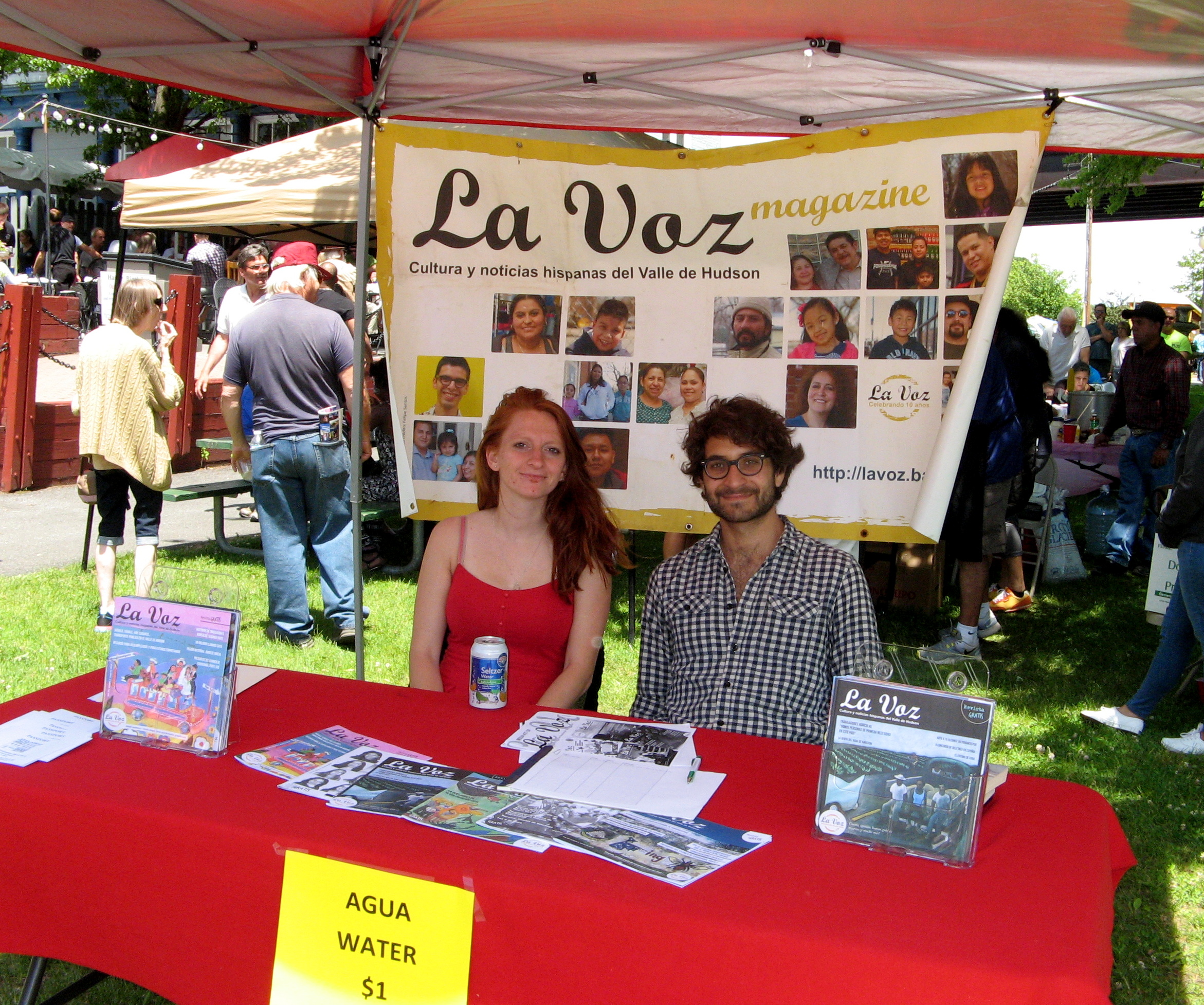 Celebrating Immigrant Gifts and Heritage in the Hudson Valley

May 2016
Successive waves of immigrants have kept the Hudson Valley demographically young, enriched our social and cultural fabric, and are critical to our economic prosperity. Two major celebrations of immigrant contributions to the region will take place in Kingston — one in May and the other in June. Both are free and open to the public. Keep on reading to learn more.
From May 7 to 29, the first annual "Immigrant Gifts to America" program will focus on ways immigrants enrich our culture through the visual and performing arts. It will take place at the Arts Society of Kingston (ASK), 97 Broadway, near the Rondout waterfront.
The collaborative production will spotlight paintings and sculptures of more than a dozen local immigrant artists. Many of those same artists will also share in a storytelling event their experiences of being an immigrant in our region. Immigrant life will also be shared in a series of films, a workshop exploring a secret suffering many immigrants experience called "migratory mourning," and a lecture about the life and works of renowned late Woodstock immigrant "outsider artist" Joseph Garlock.
The second event, from 1 to 5 p.m. June 5, will be the fourth annual Kingston Multicultural Festival, at T.R. Gallo West Strand Park, on the Rondout waterfront. That event will feature live ethnic music and dance, multicultural handicrafts, children's activities, food, and drinks. The children's activities will include arts and crafts, games, singing, and storytelling.
Reher Center for Immigrant Culture and History
Both events will be presented by the Reher Center for Immigrant Culture and History. The center is a project of the Jewish Federation of Ulster County that highlights the region's shared immigrant past, while extolling the role immigration plays in shaping our region's evolving identity. This includes Latin American immigrants of today.
"These are two wonderful ways of honoring immigrants and celebrating immigrant culture in our communities," said Reher Center Chairman and Ulster County Historian Geoff Miller.
"One of the remarkable things about the Hudson Valley is that nearly all of our families originally came from someplace else," he added. "Immigration is part of our regional DNA. It's something we can all take pride in."
The center is restoring a century-old former bakery, next door to ASK, that was owned and operated by two generations of the Polish Jewish Reher family who had immigrated during harsh anti-Semitism in Poland within the Russian Empire. The family ran the Reher Bakery from 1908 to 2004. The bakery building today still has original ovens and preserved apartments upstairs where the family lived.
When its restoration is complete, the building will house the Reher Center, which will have an exhibition hall, library, archive, and retail area.
Immigrant Gifts to America
"Immigrant Gifts to America" is presented by the center along with ASK and the James Cox Gallery at Woodstock.
"We're so proud our first 'Immigrant Gifts' exhibition will showcase so many wonderful works of talented immigrant artists in our community," said Barbara Cohen, who conceived the program last year and shepherded its development.
In addition to the works of Garlock, "Immigrant Gifts" will spotlight artwork by José Acosta (Cuba), Gülnar Babayeva (Azerbaijan), Leo Busschaert (Belgium), María Elena Ferrer (Venezuela and Spain), Franz Heigemeir (Germany), Marianne Heigemeir (Ukraine), Gabrielle Margulies (Austria and England), Sevan Melikyan (Turkey), Philip Monteleoni (Italy), Naoko Oshima (Japan), Tony Piscitello (Italy), Julia Santos Solomon (Dominican Republic), Vindora Wixom (Romania and Germany), Manizhe Zahedi (Iran) and Hongnian Zhang (China).
Garlock (1884–1980), the featured artist, was a Russian Jewish shoemaker who immigrated with his future wife, Anna, to New York City in 1902, during the same period of harsh anti-Semitism that brought the Reher family to Kingston. The Garlocks later settled in Bloomfield, New Jersey, where he eventually opened a fruit and vegetable market.
In 1949, Garlock, who was then widowed, often visited his daughter Rose in Woodstock, near Kingston, where he became inspired to paint and sculpt. He avidly created artwork until 1963, when palsy stopped him. Garlock died in 1980 and Rose died in 1995.
Rose's sister, nieces and nephews later discovered hundreds of original pieces of art by Garlock stashed away in an old stone woodshed next to Rose's Woodstock cabin. Veteran art dealer James Cox examined the works and said they were extraordinary examples of outsider art that merited study and exhibition. Outsider art is created by self-taught makers who have little or no contact with the mainstream art world. In many cases, their works are discovered only after their deaths.
All the "Immigrant Gifts" artwork will be displayed at ASK and available for sale. The exhibition's gala opening will run from 5 to 9 p.m. May 7 as part of Kingston's citywide "First Saturday" evening of gallery receptions. The artwork will remain at ASK through May 29. ASK is open from 1 to 6 p.m. Tuesdays through Saturdays and will be open during "Immigrant Gifts" events on other days. The former Reher Bakery will also be open for tours during "Immigrant Gift" events.
Here is a list of the events:
May 7, 5 to 9 p.m., Gala Opening
May 12, 7 to 10 p.m., Film: "Harvest of Empire," a documentary exploring how U.S. actions in Latin America contributed to today's immigration crisis; followed by discussion
May 15, 3 to 4 p.m., Presentation: The life and art of Joseph Garlock, by Woodstock gallerist James Cox
May 19, 7 to 10 p.m., Film: "Entre Nos" ("Between Us"), a true-life drama about a new-immigrant Colombian mother's quest to provide for her two young children in the New York City borough of Queens after her husband abandoned them; followed by discussion
May 22, 1 to 4 p.m., Workshop: "In the Presence of the Absent," about a pervasive but little-known suffering many immigrants experience called "migratory mourning," by migratory mourning expert María Elena Ferrer
May 26, 7 to 10 p.m., Film: "Brooklyn," a moving story of a young Irish woman who immigrated to 1950s Brooklyn, lured by the promise of America; followed by discussion
May 29, 3 to 5 p.m., Storytelling: "New World, New Voices," personal stories by local immigrant artists, coached by professional storyteller Lorraine Hartin-Gelardi
Kingston Multicultural Festival
The festival on June 5 "will be a fun-filled afternoon, celebrating our diversity together," said Miller.
Participating groups will represent the people of several Latin American countries, as well as Africans, African-Americans, Native Americans, Eastern Europeans, Jewish-Americans, and Americans of Greek, Indian, Irish, Italian, Japanese, Spanish and Ukrainian origin or ancestry.
Participants include:
Amadou Diallo (African drummer)
Choreo Dance Studio (Irish step dancing)
Caprice Rouge (Balkan, Roma-Gypsy and klezmer music ensemble)
Eduardo Parra (Argentine guitarist)
Hellenic Youth Dance Troupe
Hudson River Maritime Museum
Humanamente (cultural diversity management)
Jewish Federation of Ulster County
La Voz magazine
Latino Committee of Kingston
Mid-Hudson Japanese Community Association
Mid-Hudson Mexican Folkloric Group
New Progressive Baptist Church
Sahana Natesan (Kuchipudi classical Indian dance)
Spirit of Thunderheart (Native American drumming)
Tsvitka (Ukrainian dancers)
Ukrainian National Women's League of America, Branch 95
Ulster County Italian American Foundation
Event organizers recommend that you bring blankets or folding chairs. Seating is informal.
If it rains, the event will be held at the Andy Murphy Midtown Neighborhood Center, 467 Broadway in Kingston.
Support for "Immigrant Gifts" comes in part from Art Times, HealthAlliance, Hudson Valley Federal Credit Union, Klock Kingston Foundation, Westchester Medical Center Health Network and private donors.

Support for the festival comes in part from Basch & Keegan, Bob's Discount Furniture, Klock Kingston Foundation, Stewart's Shops and private donors.

Both projects are made possible with funds from the Decentralization Program, a regrant program of the New York State Council on the Arts with the support of Governor Andrew Cuomo and the New York state Legislature and administered by Arts Mid-Hudson.
back to top
COPYRIGHT 2016
La Voz, Cultura y noticias hispanas del Valle de Hudson
Comments
Sorry, there are no comments at this time.