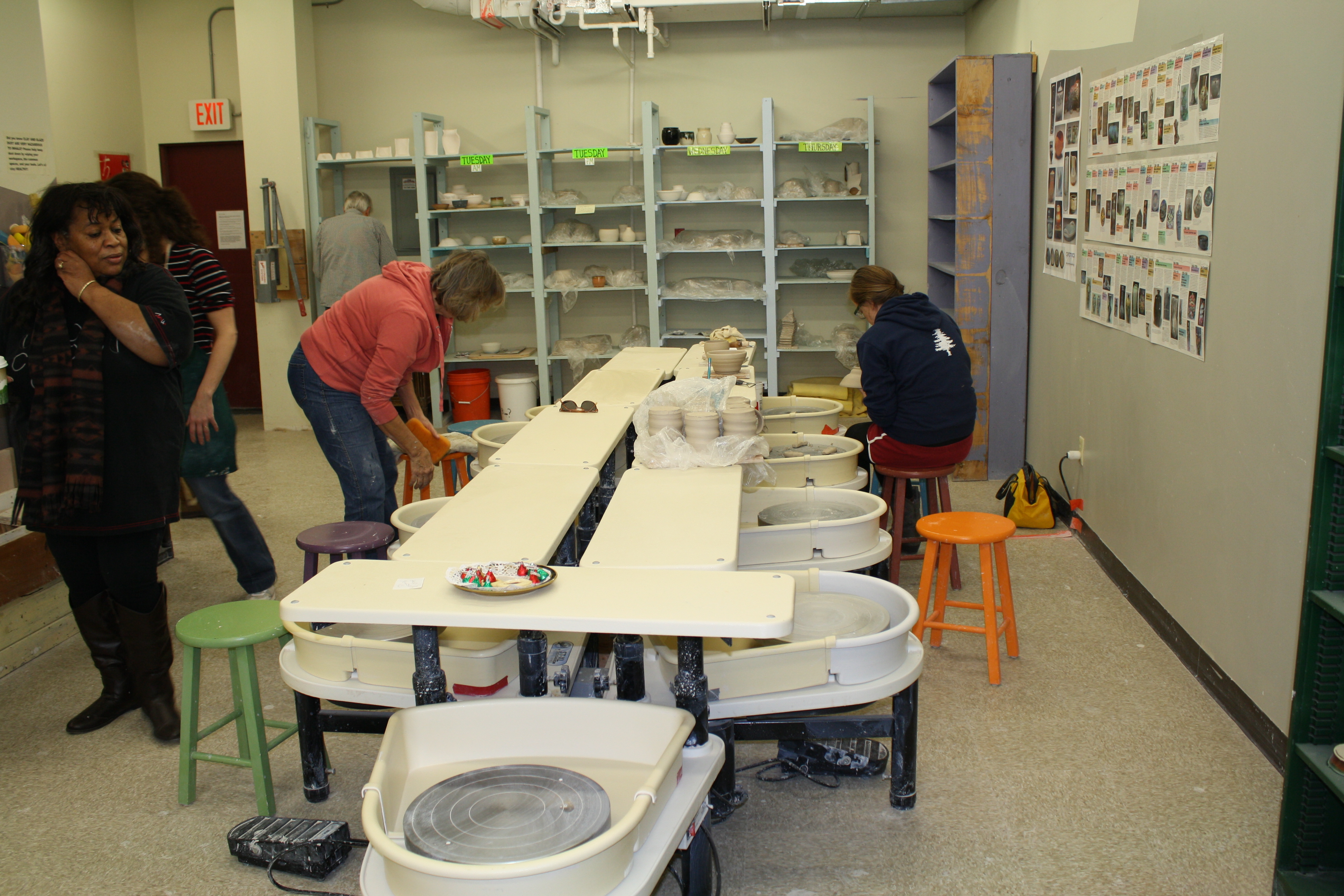 Buen Gusto
Art within reach
February 2015
As I walked through the picturesque streets of Poughkeepsie, some monoliths and colorful pieces of pottery caught my attention and that of many passersby. Through a window, I could see some people at the back of a room sitting in front of a potter's wheel. With a lot of dedication and concentration, their hands shaped an inert mass of clay into a work of art. Seeing these images reminded me of that famous scene from the movie "Ghost", and the song started ringing in my head "ooohhhh, mylooooove, mydaaaarling" (RighteousBrothers, UnchainedMelody), pretty romantic, am I right? With this I began to wonder how difficult it would be to learn to sculpt and shape clay myself, so I decided to find out and share the information with you.
The place I'm writing about is Art Centro, which opened in June of 2013 and is located on 485 Main St. On the ground floor of the building there is a blue pottery workshop which is open to the public. Both the workshop and Art Centro are directed by Alexis Feldheim. I can't forget to mention that when I started asking for information about the place, I was delighted with Feldheim's warmth and attention. She has that kind of personality that makes you feel uninhibited and like you are among old friends.
Alexis Feldheim, originally from the Bronx, arrived in the Hudson Valley 11 years ago. She studied to be a teacher in special education at Bank Street College in the city of New York and while she taught for a period in her career, she was not satisfied: "I felt that my dream was to make art". She studied studio photography at Fordham University, and then went to SUNY New Paltz to study pottery. After two years as assistant director at Hudson Valley Pottery, she came to Art Center in Poughkeepsie; "it was very important for me to support my family, I felt a gut feeling to make art", she notes.
Juve Santiago: For you, what is art? (When I asked this question Alexis sighed very deeply and she replied with a smile).
Alexis Feldheim: Art for me is a way to understand my place in the world, it's a way to research and explore my ideas and process life.
JS: - How would you describe this place?
AF: It's a paradise, a place of creativity for yourself and also a place to meet new people and socialize. I have seen many benefits when people use their own hands and focus on making a piece of pottery- they relax and smile.

A native of Brooklyn with Dominican parents, Mercedes Martínez is the assistant director of Art Space as well a teacher. She explains: "I worked as an assistant attorney in Brooklyn, but since childhood I was always interested in art, in part due to my mother's family: all the women work making ceramics and necklaces. Later, I wanted to follow my dream and have a low stress job. So I decided to do what I like, this activity leaves me peace, tranquility, I have no stress. Money has changed a bit, but for me it is more important to be happy. "
JS: - For you, what is art?
MM: For me it is a way to express feelings, use imagination. I think for young people it's extremely important to keep the mind occupied and not be on the street looking for trouble.

I was passing through the workshop when Norma Vizcarrondo, a student of Art Center, smiled at me and greeted me in Spanish. I asked her why she decided to take this class, and she said: "I decided to start the New Year with an activity that calms me, and to make things with my own hands, things I can use and give away. In my first class, which was today, I made a cup. I'm really glad I could do something like that- I want to start this year off healthy and this cup I will use for my fruits and vegetables. "
As I walked around the workshop, I realized how relaxed the students were. They were always on the lookout to help Alexis and Mercedes, whose expertise doesn't make anyone feel any pressure; on the contrary, their presence and the atmosphere is very comforting. While surfing the web, I came across some very interesting articles about art therapy. I found that this style of art is one of the top 10 techniques of art therapy to combat stress and other psychological afflictions. http://www.psychologytoday.com/blog/the-healing-arts/201002/the-ten-coolest-art-therapy-interventions.
Different opportunities
Art Center invites you to express your own creativity. Fares and schedules are very accessible, and the director Alexis Feldheim notes that they also have a volunteer program.
Volunteer Program: If you are interested and cannot or do not want to pay, you only need to commit to four hours a week, and you can use the space for free. The only thing you have to pay is a voluntary contribution for baking pieces. Alexis says that as a volunteer you can make four pieces of pottery and only pay $20.
Community Clay Day: Classes and activities are free on this day. You can do whatever you want with the clay- the sky is the limit. The schedule is: every third Friday of the month from 6:30pm to 8:30pm and every third Saturday of the month from 1:00pm to 3:00pm. There will be teachers available to help you the whole time, and a donation amount of only $4 per piece to cover baking costs.
If you thought you had no choice but to be in your boring home this winter, you were wrong. What could be better than making art?

*Translated into English by Michael Kuckyr and Mehgan Abdel Moneim.
back to top
COPYRIGHT 2015
La Voz, Cultura y noticias hispanas del Valle de Hudson
Comments
Sorry, there are no comments at this time.