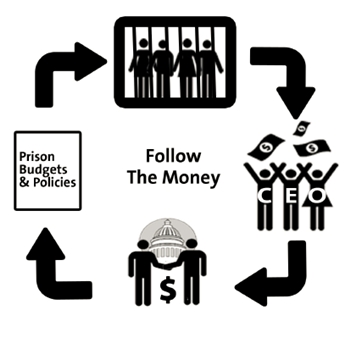 Sweet Deal, But For a Few
Private prisons and immigrants
March 2014
The company CCA, Corrections Corporation of America, introduced the first private prison in the country in 1983. Thirty years later, the industry of private prisons and detention centers for immigrants are a source of great controversy. How is it that, despite allegations of poor conditions and abuse of detainees, these companies continue to thrive?

The federal government and many states pay companies to operate prisons and detention centers. The amount of money the company receives depends on the number of detainees: to keep an inmate costs $ 166 every day, that is, more than $ 60,000 US dollars per year per person. The federal government pays nearly two billion dollars to private prisons, each year. The nearly two billion dollars comes from tax money.

Detention centers for immigrants have been a particularly lucrative business for companies like CCA and GEO Group (which are constantly working to stop immigration reform). This system works in a cycle. Companies hire people to seek investment policy; money funded prisons and a percentage of the profits are invested in other politicians to support private prisons and strict laws against immigration.

With two billion profit generated by detention centers, it is surprising to discover how little is invested in maintaining private prisons and care of detainees. There are a multitude of cases and witnesses who testify to the horrible conditions in private prisons. Reports abound of insect pests contaminating the food of detainees. An investigation of ACLU (https://www.aclu.org/prison-profiteers) found that juvenile prison guards Walnut Grove, Mississippi, sexually abused detainees repeatedly. Another report from The New York Times details how a SWAT team attacked and moved detainees to solitary confinement after a non-violent hunger strike protesting abusive policies and practices of the authorities.

The national immigration forum published a study (http://www.immigrationforum.org/images/uploads/mathofimmigrationdetention.pdf) which revealed that there are about 430,000 immigrants detained in private prisons each year, and on any given day there are 32,000 detained immigrants. Of all detainees, only 11 percent are considered violent. So how is that in the last four years, more people have been convicted for immigration offenses than any other federal offense?

The issue is complex but much can be attributed to different programs instituted by the government that have criminalized illegal immigration. The "Streamline" operation, established in 2005, instead of examining the individual cases of each immigrant, orders federal criminal charges for those who have crossed the border. The operation removes the right to due process for arrestees with federal charges. Most people in detention centers are considered peaceful, awaiting their deportation trial. And not only the circumstances that put immigrant in detention centers are unjust, but also they suffer poor conditions and abuses by guards.

There have been many lawsuits against the CCA and GEO Group companies for violations of human rights that occur in their prisons. However, these companies have been around for more than thirty years and are still a lucrative business - George Zoley, CEO GEO Group, has an annual salary of six million dollars. Politicians who contract with private prisons are benefiting from donations. They are influenced by these corporations to take extreme positions against immigration reform. The cycle perpetuates this way, and the prison industry is earning billions per year, taking advantage of the thousands of immigrants imprisoned for dubious reasons to remain in poor condition.


*
Thanks to Cory Fischer-Hoffman and her radio show Prison Voices Project at WGXC whic provided valuable information for this article, http://www.wgxc.org/archives/7203.

*Translated into English by Tomas Guerrero.


La Voz, Cultura y noticias hispanas del Valle de Hudson
back to top
COPYRIGHT 2014
La Voz, Cultura y noticias hispanas del Valle de Hudson
Comments
Sorry, there are no comments at this time.