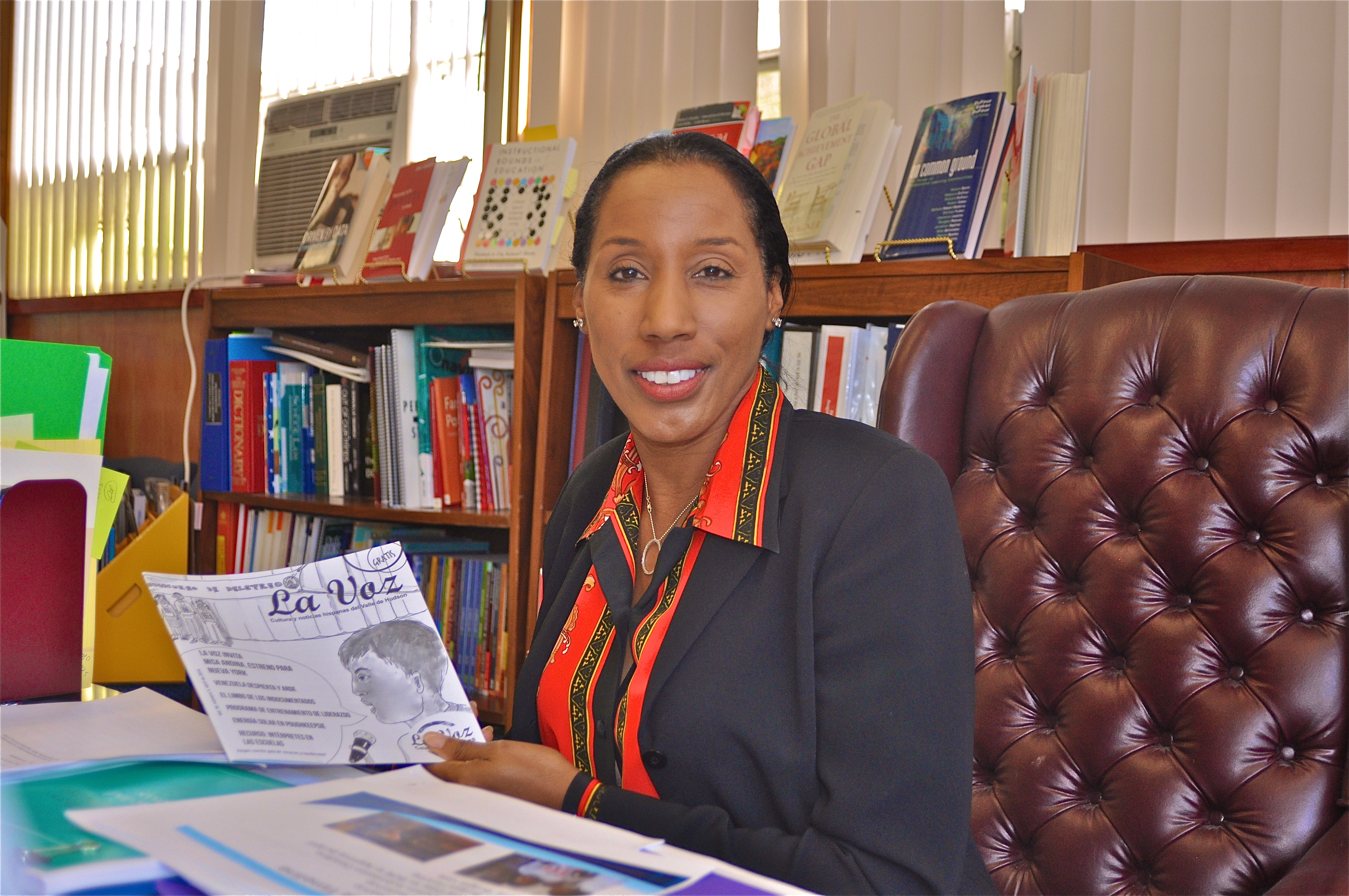 Actualidad
Shoring Up Poughkeepsie's Schools
Putting out fires and igniting hope
July 2014
For many years, New York Yankees reliever Mariano Rivera, from Panama, was known as El Apagafuegos [a person or object that puts out fires or is able to mitigate conflicts] because he would come in during the seventh inning of a game that was already lost. He managed to block the opposing team's offense and motivate his teammates to win, inning after inning, game after game.

Since the beginning of the school year that ended this past June, Dr. Nicole Williams has been the superintendent of the Poughkeepsie City School District. Like Rivera, she too has come to put out a fire – in this case, a fire raging in the Poughkeepsie public schools, where fewer than half of the students who enroll end up graduating.

Although it will take time to see the fruits of her efforts, Williams has already started to gain control over the disaster of students dropping out, and the first victories have been manifested in "each child, every day, and in every classroom."

All of these changes called for countless plans and strategies that Williams implemented during her first year in Poughkeepsie. One of the key plans was increasing motivation for more than 400 teachers, who are responsible for "fulfilling the promise to deliver high-quality education" to the nearly 5,000 students in the seven schools that comprise the district.

It hasn't been easy for Williams, who speaks Spanish, though she traces her roots to the Anglophone Caribbean [islands in the Caribbean formerly ruled by England]. Williams, an education administrator, grew up in the northern part of New York State and lived in Europe, Puerto Rico, and various parts of the U.S. She previously worked in the St. Louis Public Schools district in Missouri, where she oversaw the education of 27,000 students.

When she got to Poughkeepsie, Williams discovered that the school district she would run was ranked within the 10 percent of the lowest-performing districts, out of the total of 700 districts in New York State. To make matters worse, the middle and high schools in Poughkeepsie, the largest in the district, are in the 5 percent of the worst-performing ones in the state.

With Poughkeepsie ranking so low in terms of schools and districts, the challenge for Williams, who graduated from prestigious Harvard University, isn't just putting out fires. Since she landed on the scene, it's been up to her to reinvent an outdated, crumbling system.

Getting the lay of the land
Since she arrived, Williams has spent hours outside her office, which seems more like a command post for planning wars and battles; the walls are covered with blackboards showing statistics and graphs that follow the daily changes of each school in her diverse district. Twenty-eight percent of students are Latino, 58 percent are African American, 12 percent are white, and 10 percent are learning English as a second language.

During her first days and months on the job, Williams visited schools, met the teachers, greeted students, chatted with parents, visited universities and some businesses, and worked with the board of education. The aim was to become familiar with her environment and build an inclusive, diverse team in order to strengthen the quality of education for the students in her care.

Once Williams put her team together, she started developing an ambitious plan that, if achieved, would take the Poughkeepsie City School District out of the 10 percent of lowest-performing schools and place it in the 10 percent of the highest-performing districts in New York State by 2020.

In a press release, Williams – who earns $182,000 annually and is in charge of a school budget of more than $80 million a year – said that in order to foster a pro-college mentality and high expectations among the student body, she devised a comprehensive plan in which her administration promised to:

improve the timing and type of instruction in each school;
teach critical subject areas, such as math and science, strategically on a daily basis;
carry out frequent evaluations to monitor and improve education; and
give teachers and principals responsibility for being educational leaders

Including parents in the strategy
School officials are now being asked to pay attention, keep track of students' daily attendance, discipline, teaching, and education in general. But how do we know that students are learning? How do schools respond when students don't master a subject at the expected level? Current school authorities have high hopes and goals for pulling Poughkeepsie schools out of the educational hole there were left in by the previous superintendent, Dr. Laval S. Wilson, who held the position for seven years.

Williams knows it won't be easy to revive a school district that has seen better days since it was founded in 1843. To that end, she is looking for allies in the public and private sectors, and above all among parents.

Many people say that education starts at home, and that students who have been instilled with discipline, respect, and the desire to achieve high ideals will be a positive part of any school they attend. The role of parents doesn't necessarily end at home, but extends to schools and boards of directors. In the case of Latino parents, whose children make up 28 percent of students in Poughkeepsie public schools, it is critical for them to become involved with groups which make decisions about their children's education.

In an interview with La Voz, Williams was straightforward and asked the community to share their concerns, ideas, and hopes with her. She acknowledged that bilingual education programs don't exist in the district, but said that if a sizable number of parents request bilingual classes for their children, she would explore the possibility.

Williams spoke about the systems already in place in each school for parents and school authorities to communicate with each other. The school district's website also allows parents to submit their comments and concerns to Williams (in English or Spanish), which she promises to respond to.

Williams is working toward achieving her longed-for goal: to fulfill the promise of providing the highest-quality education to every child, each day and in every classroom, and to put out that fire (once and for all, and in the style of Mariano Rivera), which has been consuming the minds of Poughkeepsie public school students for years.

Website of the Poughkeepsie City School District: poughkeepsieschools.org

Phone: (845) 451-4900

You can hear the full interview with Dr. Williams
here
and
here




La Voz, Cultura y noticias hispanas del Valle de Hudson


*Translated into English by Emily Leavitt, for Voices of New York, voicesofny.org/2014/07/dr-nicole-williams-poughkeepsies-new-school-superintendent/
back to top
COPYRIGHT 2014
La Voz, Cultura y noticias hispanas del Valle de Hudson
Comments
Sorry, there are no comments at this time.