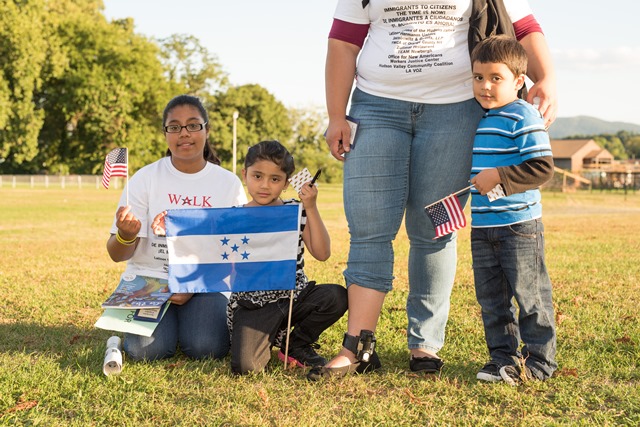 Why we march
October 2014
Ligia Mejía, a Honduran mother of two young children, Ciara and Jesus, came with them and her husband Jose Carcamo, to the border of the United States and Mexico in Texas on January 6. There, the family was quickly arrested by immigration, and released on probation. For the past three months, Ligia and her husband have had GPS monitor bracelets strapped to their ankles, something that embarrasses them and imprisons them in the city of Newburgh.

As you know, by crossing the border illegally, people risk being arrested and detained by the immigration police before being deported. Due to the high cost of detention for the government (up to $100 per day), and given that the crossing is just a civil infraction, ICE uses its power of discretion and doesn't detain everyone (that is, ICE might only detain those who pose a risk for society like convicted felons). People who are free still have a deportation order, but are able to find legal help on their cases, and seek to change their luck. Some of those who are released at the discretion of ICE, carry a GPS monitoring device. Thus, ICE ensures that people will appear in court, increases compliance with removal orders, and reduces the number of fugitives.

"I do not know when they will take it off," says Ligia, who has yet to find legal counsel that she can't afford (the minimum that a lawyer will charge to review her case is $3500), and she has no job; while her monitoring appointments with officers are piling up every week. "I do not know why they put it on" continues Ligia, who could perhaps find a free lawyer in the city of New York, but she is not allowed to leave the city of Newburgh.

Ligia's case is not unique. In 2012 (the latest statistics available), ICE, the immigration police, had 23,034 foreigners placed in the intensive supervision program, an alternative to detention that has been in effect since 2004. The vast majority of these people were later deported. But Ligia says she will not return to Honduras: "We do not want to go back because we have had death threats from gang members, because the mareras wanted to recruit my husband to work with them," says this mother, who with her husband ran a business of secondhand clothing and sweets in their home country. Their children go to school and they have a court date on December 12, but the couple still does not know how to fix their situation.

I met Ligia and her family on Wednesday, September 17, in the city of Newburgh. She wanted to go on the Walk With Us Immigration March and Rally, organized by a coalition of groups united to give voice to the suffering of many ignored immigrants. Why did we walk that day? Because our representatives, at all levels, are inactive in passing a comprehensive immigration reform that does not separate more families; remain inactive in authorizing driver's licenses for those without a social security number in the state of New York to make the streets and highways safer for all in the state; remain inactive in signing an executive order to stop deportations and expand DACA to at least five million people; and remain inactive in passing the DREAM Act for the state of New York to help undocumented youth to continue their education, and thus make a better economic contribution to the state that will benefit us all.

How will the candidates who ignore all these issues win elections? One of the repeated chants on that quite sunny afternoon of Wednesday, September 17, Citizenship Day in the United States, was "We are not one, we are not a hundred, we are millions, count us well!"
back to top
COPYRIGHT 2014
La Voz, Cultura y noticias hispanas del Valle de Hudson
Comments
Sorry, there are no comments at this time.