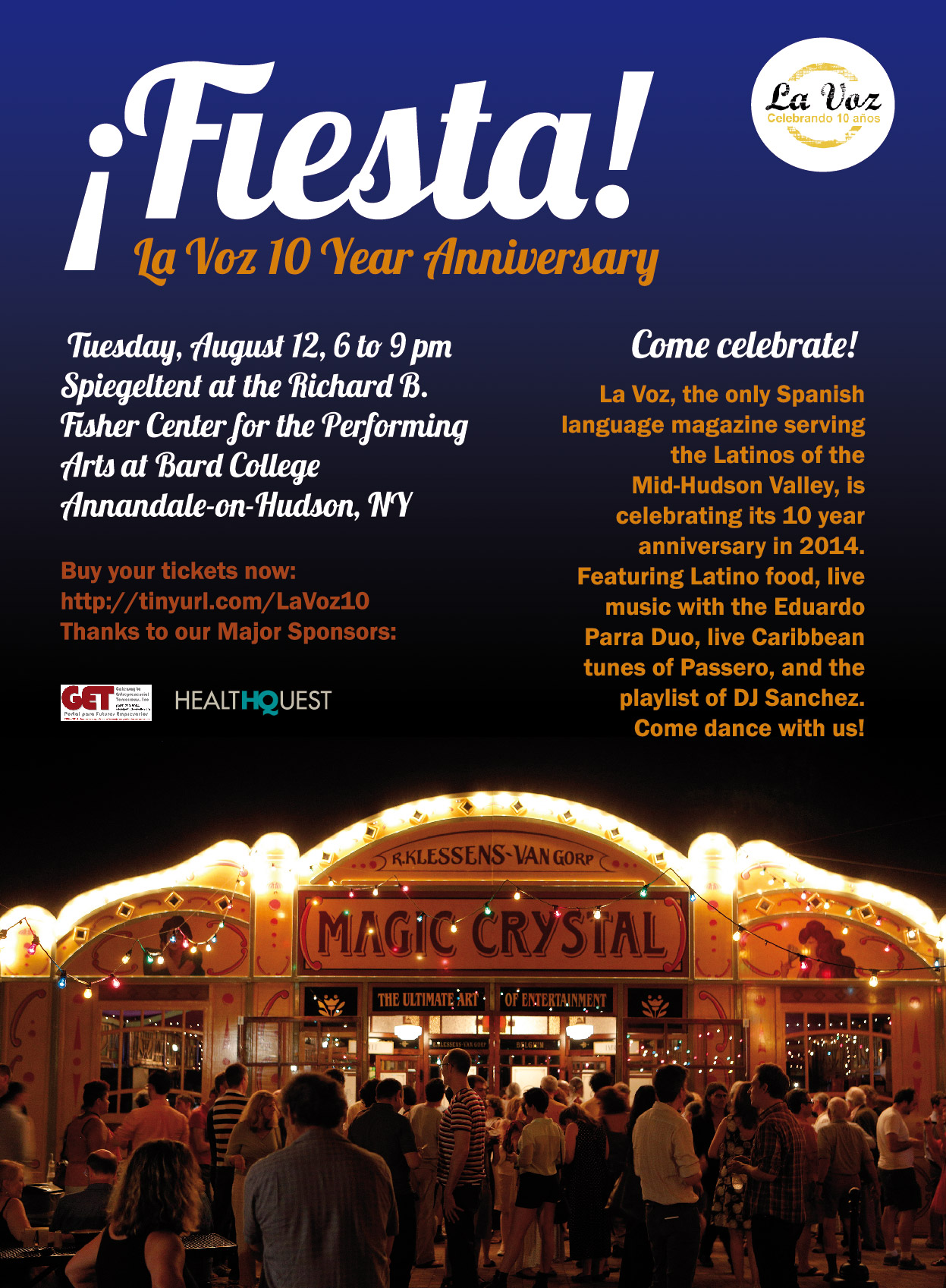 Come to the Party!
August 2014
From the musicians and volunteers to the cooks, readers, writers and of course, the La Voz "Inspirational" award-winners, the day we've all been waiting for is almost here. I'm talking about the party celebrating the first ten years of La Voz Magazine, the only Spanish language magazine serving the Latino communities of the Hudson Valley.

On August 12, 2014, at 6 pm, we will be hosting a party to celebrate these first ten years at the fabulous
Spiegeltent
located at the
Richard B. Fisher Center for the Performing Arts at Bard College
, Annadale-on-Hudson, New York. Latino food will be served and the evening will feature performances by the Eduardo Parra and Adam Tully duo, Passero Caribbean band and DJ Sánchez. Come dance with us!

Special guests such as Elva Margarita Corbatón, Peter González, Enrique "Rob" Lunski Ph.D., Evelyn Elizabeth Garzetta and Antonio Flores-Lobos will be recognized for their inspirational work. Our readers know of Elva and Peter's La Voz stories from our June issue, which featured interviews with both of them regarding their lives and especially their community work in Poughkeepsie and Newburgh, respectively. Our July issue featured a profile of Rob Lunski from Gateway to Entrepreneurial Tomorrows (GET), a non-profit organization which is also turning 10 years old in 2014. This month, we introduce you to our last two La Voz awardees: Evelyn Elizabeth Garzetta and Antonio Flores-Lobos, the one a social worker and the other a journalist and radio host. Artist Héctor Simonetti was commissioned to paint a portrait of each one of our awardees and it is these portraits that now make up our magazine's August cover. Let´s celebrate!

And speaking of art, our party will feature a mini art auction of work by local Latinamerican artists. Thanks to Arts Mid Hudson, party-goers will be able to see and purchase work by Elisa Pritzker, Néstor Madalengoitía, Pablo Shine, María Cristina Brusca, Felipe Santos, Héctor Simonetti and Araceli Muñoz. All these artists donated their works, from sculpture to photography and oil painting, to support La Voz. Now it's your turn to show your support!

Tickets are on sale now at the following link: http://tinyurl.com/lavoz10. They can also be purchased by calling the box office of the Fisher Center at 856 758 7900. With the $75 entry ticket, guests will be served Latino food, complimentary drinks and enjoy live music and dancing. All proceeds from this event will go directly to benefit La Voz Magazine, a non-profit organization (located at Bard College, a 501 (c)(3) non-profit). All funds raised will support our mission for many years to come. There's nothing better than dancing for a good cause!

Another pleasant surprise at our party is photographer Javier Salinas who will be taking special photos so our guests will have a nice souvenir of the party which will not happen again for many years. Truly, this is a unique celebration.

La Voz and the Spanish-speaking readers of the Hudson Valley have been fortunate that a university like Bard College decided to support this thoughtful and independent press project. Although Bard is the main benefactor, it is not the only one of this cause; sponsors, foundations, private donations, contributors, and volunteers that each month give life to this publication also deserve recognition. We are very grateful to all of them. And we want to also thank you for celebrating our 10th anniversary on August 12!


Mariel Fiori
Managing Editor




La Voz, Cultura y noticias hispanas del Valle de Hudson

back to top
COPYRIGHT 2014
La Voz, Cultura y noticias hispanas del Valle de Hudson
Comments
Sorry, there are no comments at this time.