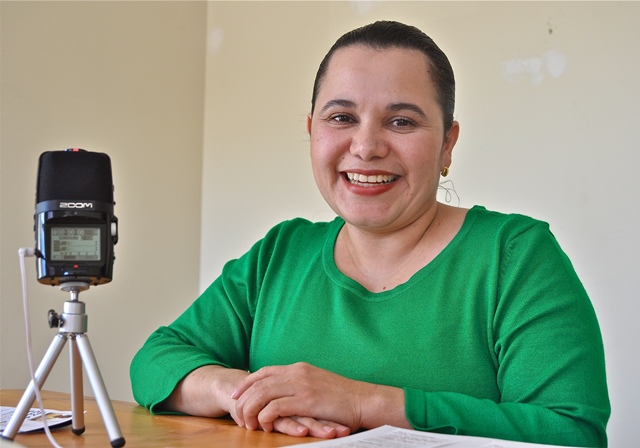 Sueño americano
Elva Margarita Corbaton: the roulette of life
June 2014

At the library, some see her teaching computer classes in Spanish. In the community, others see her recruiting Hispanics to attend English classes. At her church, some see her singing in the choir, and others see her answering questions from parishioners, or passing information by phone or email. This is how intense and interesting life is for the Mexican Elva Margarita Corbaton, who has decided to live in Poughkeepsie and to thank her community for everything that she was given.



But her life was not always like this. In fact, she spent five years of her life in Wappinger Falls, as a homemaker and taking care of her dogs, a German shepherd that she brought from Mexico called Chacha, and a Labrador called Nana.
It took five years of transition, after arriving from her native city Tepic, Nayarit, where she used her degree in business administration to take care of a boutique owned by her family. She arrived to the United Sates in a plane, unlike most of her compatriots. Her life was pleasant and she did not have the need to leave her land, friends, family or car. But, as the song says, "when love comes by, in such a way," people have no choice but to follow their destiny, and Elva Margarita was not the exception. And so she arrived to the Hudson Valley, following the love of her life, her husband Miguel.
In those five years as a new immigrant, the Mexican, who had no car, learned to enjoy the housework, which she was unaccustomed to. "Life," says Elva Margarita, "is roulette and as my mom told me, one should be a complete woman and be willing to learn new things and adapt to change."
But everything has its limit and one day, she and her sister Lupita, who had also arrived here with her husband, ventured to take "the truck" that passed by a few blocks away. They did not know where it was going, and they had no interest in finding out either, they just wanted to leave the monotony, passivity and confinement of the home and see the outside world. The bus left them in a shopping center, known as The Gallery. In that moment, they discovered a whole new world, and the rest is part of this story!
Helping oneself, to help others
Corbatón eagerly began to find out information as to where she could learn English, because, by the way, back in Mexico she knew just about the minimum to speak it. That was how she arrived to Literacy Connections, an institution where while she was learning a new language, she also volunteered, gaining not only more knowledge but also the trust of those who worked there. "I watched my English tutor, Robert Lewis, and others, all volunteers, giving so much of them to help us navigate our best in this new country. In fact, that love and support they gave me, gave me impulse and confidence to move forward and see how I could be more helpful and give a little bit back."
From there she was recommended to the Poughkeepsie Public Library when this institution was looking for a bilingual person to help them, not only to serve as a liaison between teachers and students, but also to recruit Hispanics for the now successful "The Learning Plaza," which offers English and computer classes.
Now every Wednesday, she teaches a computer class in Spanish. But she does not like to be called a teacher because; as she says "I'm just sharing what I know."
By bringing information about what is offered in the library, Elva Margarita Corbaton found the church Santa Maria. And offered as a volunteer there too, not knowing that she would eventually be offered a job as a receptionist and secretary of the church.
Now, like many of her compatriots, the Hispanic has two jobs, and little free time, which she enjoys spending as part of the choir in church, walking her pets, decorating her home and especially spending time with her family.
La Voz Recognition
When she received the news that she was nominated for being an Inspiration for La Voz magazine, she felt unworthy of such recognition because for her, those who are really inspiring are the women with children that have to get up early to feed them and go to work daily. "I really have been blessed, and I am very grateful to God for all he has given me."
The reality is that Elva Margarita, who sees her mother as a fundamental part of her inspiration, has become an essential and inspirational person in her hometown in Poughkeepsie. She is definitely a source of all information that Hispanics want, in church or in the library, whenever they need to know about a doctor, a lawyer, or the types of services offered by different city agencies and county.
As Secretary and Receptionist:
St. Mary Church of Poughkeepsie
231 Church Street
(845) 452-8250
As Facilitator and Teacher:
Poughkeepsie Public Library
93 Market Street
(845) 485-3445 Ext. 3321
*Translated into English by Julieth Núñez.



La Voz, Cultura y noticias hispanas del Valle de Hudson
back to top
COPYRIGHT 2014
La Voz, Cultura y noticias hispanas del Valle de Hudson
Comments
Sorry, there are no comments at this time.