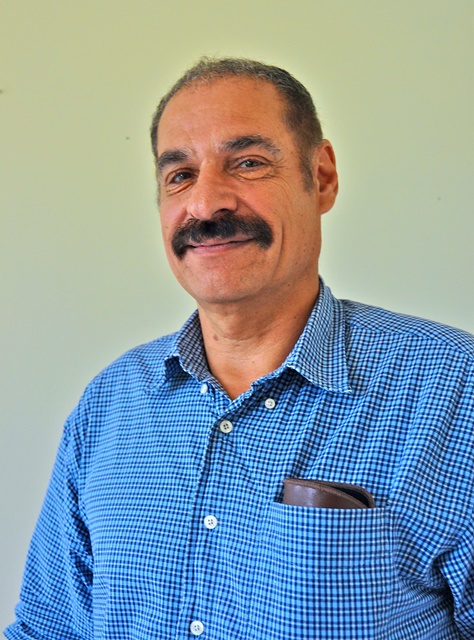 Sueño americano
Peter Gonzalez: For those who come behind
June 2014

For the past thirteen years the organization Latinos Unidos of the Hudson Valley has been promoting Hispanics' purposes, organizing sports tournaments, immigration workshops, cultural events or news forums. Behind all these events, which have benefited thousands of Hispanics, has been the current president of the group; Peter Gonzalez, who has inspired generations to serve their communities.
Of Puerto Rican descent, González was born in New York City, and although he has lived for years in Wappinger Falls, he claims his heart is in Newburgh, where he runs the organization Latinos Unidos.
What we know little about this committed community leader is that he spent 14 years of his life as a kindergarten teacher. But it was not until he became the link to the School District of Newburgh that he realized the Hispanic community needed an organization to help recently arrived Hispanics to the Hudson Valley, many of the new arrivals without knowing any English. "I saw how many Hispanics came to Newburgh schools, and their parents needed translators or lawyers, but there was no one to facilitate that information to them," said the Puerto Rican.
After 18 years in that position, Gonzalez retired and went to work as a volunteer in the formation of the organization Latinos Unidos, which is now located at the Armory Unity Center building in Newburgh, where they take care of about 30 cases monthly of Hispanics seeking for help, in issues that go from employers who do not want to pay them their salaries, filling out forms for child support, or translating school documents, to dealing with complains of harassment, among others.
In the city of Newburgh, the Hispanic population has surpassed that of the other ethnic groups, and according to the 2010 U.S. Census, Latinos represent almost 50 percent of the total population.
The Puerto Rican likes sports, and carefully follows the major leagues, and the professional leagues of ice hokey, more specifically the Mets and New York Rangers. For a time, along with his Peruvian assistant, the Puerto Rican coached a team of ice hockey, and convinced English speakers that Latinos from tropical lands, understood just was well this Nordic sports.
Another of his passions is to become a "snow bird" and visit his Mexican and Canadian friends who gather every winter in Puerto Vallarta, Mexico. It is a ritual of retirees, which Peter has adopted, like many other Americans, like migrating birds, fleeing the cold winter in places with more pleasant temperatures.
But for Peter there is nothing like spending time with his three children and the family, especially Jack, "the baby" who made him a grandfather, ten months ago. Every week, he stops doing what he has to do to travel to Kingston and spend time with his grandson.
Meanwhile, his commitment to the community remains strong, though he regrets the lack of funds to pay the rent, internet and telephone, necessary to run the office of Latinos Unidos of the Hudson Valley, Inc. Sometimes he has to put money from his own pocket to keep the organization operating. "It's a very important work for the community and it must not be stopped. That's why we're always looking for new members and funds, regardless of whether they speak Spanish or are Hispanics or not. All are welcome," he added.
And as if that was not enough, Peter who has been and educator for 32 years, also coordinates the "Homework Child Program," which offers students help with their homework. Gonzalez acknowledges that there are many parents who do not speak English or do not have the time to help their children with homework.
La Voz is not the first nor the last to give a recognition to him as an inspirational leader of our community. He deserves this award for his work as a teacher and community leader who thinks about expanding Latinos Unidos and by doing so expanding his services to the area Poughkeepsie.
Contact Information
Latinos Unidos of the Hudson Valley www.LatinosUnidosHV.org, (845) 565-4812, Monday – Thursday from 10:00 am to 1:30 pm.
*Translated into English by Julieth Núñez
La Voz, Cultura y noticias hispanas del Valle de Hudson
back to top
COPYRIGHT 2014
La Voz, Cultura y noticias hispanas del Valle de Hudson
Comments
Sorry, there are no comments at this time.