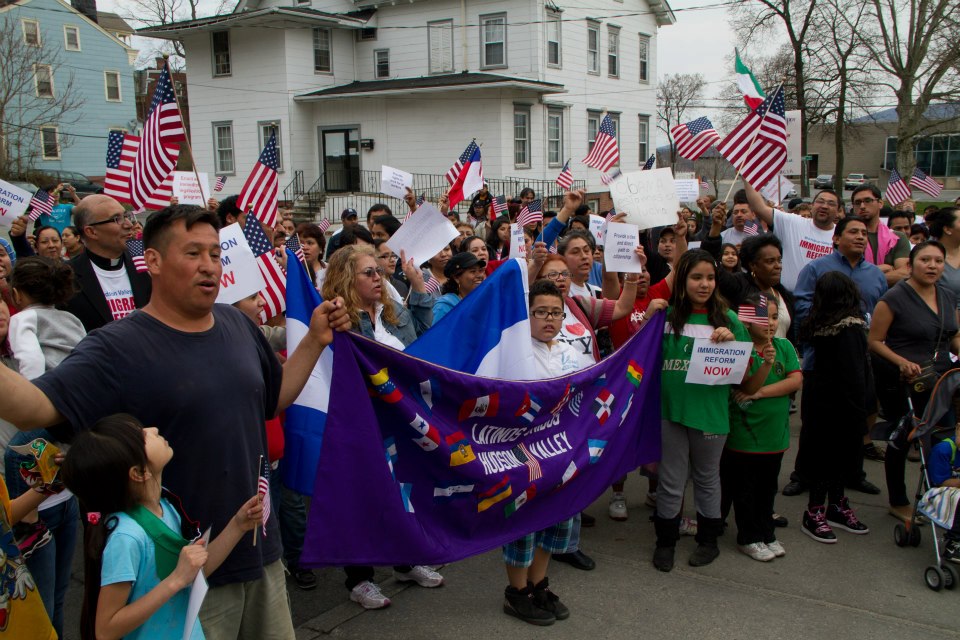 The Political Voice of Those Who Can't Vote
September 2013
Out of the 53 million Latinos that live in the United States (17 percent of the total population) only 23 million Latinos are eligible to vote. This means that there are still approximately 29 million Latinos in this country who don't have the right to vote. Both documented and undocumented immigrants are in the same situation, where they have no voice to shape the future of politics in their area. Immigrants who are not citizens cannot vote in the United States regardless of their legal status. So, what voice do people who cannot vote have? What can a person who cannot vote do in order to push for change in the communities they live in? The answer to these problems lies within reach of every one of those 29 million people.
Before participating in the political life of the United States, Latinos must be seen not as foreigners but as members of this country. This acknowledgement is not a legal one but a cultural one, such that being a legal citizen is unnecessary for this first step. By being seen as active participants in their community, as people who promote growth and development, Latinos will start to be accepted as a part of society which is not only tolerable but vital and necessary.

One must be an immigrant, a person who wishes to be a part of the new American society and works towards this goal, rather than a migrant worker who wants to live in this country without being a part of its culture. This is the opinion of Gabriela Owen, President of Latin Democrats of Dutchess County, who thinks that "many times we think that to learn English is to abandon our own culture but this is not true. We win more for ourselves by being part of the community instead of separating ourselves because of the language. If one is not educated with respect to this, one cannot move forward."

As Daniel Buzi from the office of immigration of Catholic Charities says, "there aren't two distinct communities but a single one made up of Hispanics and Americans that have been here for a long time". This does not mean that we have to forget about our own cultures. We do, however, have to be open to the cultural change which a change of country requires. We cannot expect to be respected, protected, and accepted by American culture if we live here under a voluntary cultural isolation. If we reject American culture, it is inevitable that it will respond with rejection.

Due to all of this, it is important to take advantage of all the services that are being offered by non-profit organizations like free English and free U.S. history classes (Caridades Catolicas (212)-419-3700 and Latinos Unidos del Valle de Hudson (845)-561-1485, to cite just a few organizations out of the many that can be found in the pages of La Voz). "The most important thing is to educate the people about the importance of taking these free English and History classes" says Owen. Speaking the language and knowing the history of the country is necessary not just to get obtain citizenship but also to understand the basis of American society, to understand how it functions and what is are the responsibilities of its members, that is, what are the responsibilities of Latinos. With all this in mind, it is possible to talk about what are the means that immigrants have to help define their future of the communities they live in.
Contact your local government officials
According to Gerardo Gutierrez, an immigration lawyer, this is a great way to have your voice be heard, especially if your petition is strengthened by thousands others like it. You can find out who your local government representative is by searching online and can call their office or write them a letter. Gutierrez assures us that you do not have to be citizen to contact a representative to express your opinion, and that they have no way of knowing if the person who contacted them is a citizen or not. You can contact your representatives to give them your opinion on any legal or governmental matter, not necessarily relating to immigration or legislation. When calling or writing a letter to a representative, there is no cause for alarm, you can rest assured that you are not committing any crime or felony but rather exercising your right to freedom of expression.

If there is an important issue for many people in your community, you can write and send a petition to your representative with the signatures of all the people supporting the issue. The more signatures you are able to get, the stronger the petition will be and the higher the chances that it will be addressed. Getting signatures and sending them to a representative is not a crime and you are entitled to do it. Make an effort to send well written petitions, preferably in English. You should not use aggressive or hostile language, and you should include the reasons why your petition should be attended. If you send a petition from a specific organization, make sure you clearly state which organization is sending the petition and where they are based.
Attend and express your opinion at local governmental meetings with governmental candidates

This is another suggestion made by Gutierrez, who says that in many small towns and cities around the nation there is a tradition of holding Town Hall Meetings with the intention of meeting together with governmental representatives to discuss relevant issues affecting the community. These meetings provide an opportunity for people to voice their concerns and discuss issues in order to try to find solutions. As with the letters and phone calls, Gutierrez assures us that a person does not have to be a citizen to participate in these meetings and nobody will ask if the people at the meeting are citizens or not.

Similarly, you can attend the campaign rallies of electoral candidates and speak openly about the changes you would like to see, should they win the elections.

Another way to be heard is to write letter to editors of local publications for them to publish in the opinion section (La Voz accepts letters from its readers). This is a recommendation of americasvoiceonline.org, an organization which claims that a single letter to the editor is worth 20 phone calls.
Organizing or attending protests

This is the most assertive option. Participating or organizing a protest does not represent a legal risk if all the required rules and mandates are legally followed for this type of event, according to Buzi and Peter Gonzalez, president of Latinos Unidos of the Hudson Valley. In many instances a permit is required and people need to adhere to geographical limitations and statues imposed on the protest. Although this option requires more organization, it is also one of the most effective and direct means people have to expressed their opinion. There is no reason to be afraid or to expect arrests by immigration officials if all the rules are respected. In the case that a law related problem should arise, it is important not to be seen as a victim but as a community member and to be cooperative with the authorities.
Be part of a group where the representative has a right to vote and who can advocate for your cause with the local representatives

According to Manishka Kalupahana, counselor of international students at Bard College, there are many small local organizations that have a mix of documented and undocumented, Americans and international members. The members that are citizens can vote for the change and candidates that have a positive impact on his group. Some of these groups are the neighborhood associations and the parents associations, and through them change can be pushed in order to benefit the community. For example if there is a problem in your neighborhood, you can express your concern to the neighborhood association and have them bring the issue to your local representative. However, in order to participate in these groups you need to be seen as an active participant in the community, and not as someone who is just a visitor or an individual who lives in isolation from the neighborhood.

It is important that those who have the right to vote take advantage of the opportunity and help this large minority move forward. Those who do not have this right have to find other ways to be heard, such as the ones mentioned here. It is time for a political change, in which the Latin community gets credit for its hard work and its benefit to this nation. It is important that as Latinos, we give our best face, to always be the best we can be, especially now that there is hope for an immigration reform.
AND NOW WHAT?
Desicive moments of the immigration reform


These are some of the local organizations involved in the immigration reform who are always looking for participants and volunteers for their campaigns, protests, and events.

Centro de Justicia para los Trabajadores de NY (http://www.wjcny.org/, 845-3321-6615), Somos la Llave del Futuro, Inc.(http://www.somoslallave.org/, 845-675-8045),
Citizen Action of NY (http://citizenactionny.org/, 845.802.0199) and Latinos Unidos of the Hudson Valley (http://www.latinosunidoshv.org/, 845-565-4812).

While Hudson Valley Community Coalition (http://www.hvccoalition.org/Links_We_Like.html) and New Yorkers for Real Immigration Reform (http://thenyic.org/NYRIRcampaign) are focused at the regional and state levels.

Moreover, you can like La Voz Facebook page, to be updated about events and opportunities in the Hudson Valley https://www.facebook.com/LaVozHudsonValley



*Translated by Emilio Peña.



La Voz, Cultura y noticias hispanas del Valle de Hudson
back to top
COPYRIGHT 2013
La Voz, Cultura y noticias hispanas del Valle de Hudson
Comments
Sorry, there are no comments at this time.