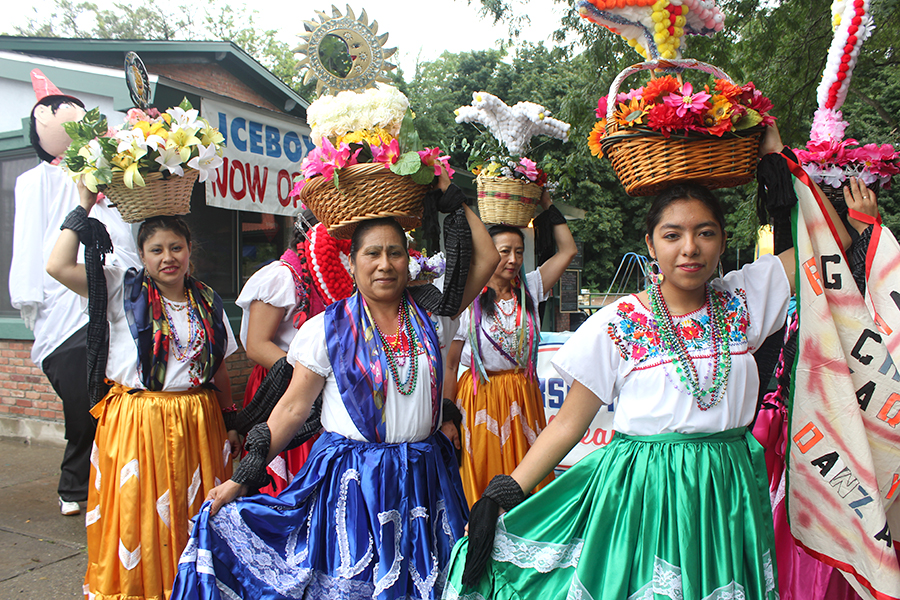 Usos y Costumbres
Oxacan for a Day
5th Guelaguetza 2013 in Poughkeepsie
July 2013
Around 50 dancers from four different groups of the tri-state area, wearing more than 100 colorful costumes (44 of them donated by the Mexican government) present 12 traditional dances, including the favorites such as the Danza de la pluma (Feather Dance) or Flor de piña (Pineapple Flower), on a stage in front of the Hudson River, organized in a span of 5 hours so that over 1500 audience members can enjoy them. This is the fifth annual Poughkeepsie Guelaguetza, promising tradition, culture and flavor so we can all be Oaxacans for a day. To find out who is behind this festival and why it´s happening, read ahead.
They say it all started in 2003, when a group of women from Poughkeepsie's Saint Mary's Church led by
Rosa López
wanted to present a folk dance. Instead of hiring dancers, an expense they had dealt with for religious events in the past, this group of women decided to stage the dance themselves. Rosa Lopez says: "it seemed to me that it would not be so difficult to start a dance group and in 2003 we began to invite people to dance with us." By 2004, they made some
marmotas
, enormous paper mache dolls used as props in the dance, which "we made between my cousin Evencio López and I. They came out a little coarse but they were cute," Rosa recalls.
Rosa (who was born in La Guadalupe Trinidad Zaachila, Oaxaca, Mexico) and her group of women had the idea to invite teenagers to participate in the Danza de la pluma (one of the most representative dances of the state of Oaxaca), but since "the teenagers didn't really know the culture, none of them wanted to do it. They were all ashamed to dance." How did they get the dancers? Rosa explains: "I understood that it would be very difficult to instill in these young people something they had never seen. I spoke with their parents and told them that in order to make their children love the culture of Oaxaca, it had to be shown to them, and so it was the parents who had to dance. We didn´t have a teacher yet and we met at David Castellanos' house and started to rehearse in his patio. Word got out that a Danza de la pluma was being put together and a young man, Heric Eloy Martínez, showed up and it was he who showed us the dance."
"Because I like to dance!" This is the first thing Heric Eloy Martínez says when you ask him why he got involved with the Guelaguetza. This dancer, born in Zaachila, had danced on the stage of the Guelaguetza Auditorium in Oaxaca de Juárez since the nineties, in five consecutive Guelaguetza festivals. "It is a very international and important event for our state, Oaxaca, and it is very beautiful because every region of the state is present," explains Heric.
The word Guelaguetza is of Zapotec origin and it designates the action of offering, sharing or giving. Also known as Lunes del cerro (Monday of the Hill), this recent festival (it started to be celebrated in 1906) is carried out the two Mondays closest to the 16th of July, which is the day of Our Lady of Mount Carmel (Virgen del Carmen) according to the catholic calendar. Groups from each of the eight regions of the state of Oaxaca (Costa Chica, Cañada, Papaloapan, Mixteca, Sierra Sur, Sierra Norte, Valles Centrales and Istmo Tehuantepec) participate in this celebration, proudly wearing glamorous costumes, each attesting to the traditions of its region. To Heric, the Poughkeepsie Guelaguetza is important because it allows him to make his culture known to others: "The Guelaguetza is an event that I love a lot because it is there that I can represent my Zapotec heritage, my indigenous culture," he says.
The Dreamers
After getting the dancers and a teacher to show them the moves, the next difficulty was obtaining the costumes which have to be embroidered by hand and are accompanied by an enormous feather headpiece (penacho), and thus entail a price of about $1000 each. "Thank God, with support from the church and the enthusiasm of the parents, each dancer was able to buy their own suit," Rosa recounts, and in December of 2008 the first Danza de la pluma was staged, run by the Grupo Folclórico de Poughkeepsie (Poughkeepsie Folkloric Group).
In 2009 Felipe Santos joined the group saying, "Let's put together a Guelaguetza!" according to Rosa. This is how Felipe, Lucio Aguilar and Rosa "joined the group of dreamers" who made a great effort in order to hold the first Guelaguetza in Poughkeepsie in 2009 (even paying for some expenses out of their own pocket).
And why was the Oaxacan Felipe Santos interested in putting up a Guelaguetza in Poughkeepsie? He answers that when "I lived in San Agustín Yatareni, in the Valles Centrales region of Oaxaca, I didn't know about the cultural wealth that my state has. I immigrated to the United States when I was 15 and I was here for many years without taking an interest in absolutely anything. But when Rosa López invited me to participate, I fell in love with my traditions and started informing myself about them, seeing how beautiful they are. That was when I became seriously devoted to sharing my new experience of Oaxacan culture in the Hudson Valley. Additionally, this is a connection with others and the cultural heritage that I want to leave for my children and the children of others."
Felipe's passion for sharing his recently discovered culture is, apparently, contagious. More and more people and organizations have been joining the Poughkeepsie Folkloric Group in order to help make each annual Guelaguetza festival the best it can be.
An example of this is Eloy Gutierrez, from the Valles Centrales region of Oaxaca, who doesn't dance but who has been in contact with the Mexican Consulate in New York and joined the Poughkeepsie group in 2010 after an invitation by Felipe. Thanks to his connections, the 2010 festival included the attendance of the second consul and in 2012 with that of Carlos Sada, the general consul, originally from Oaxaca. After watching the festival and being very impressed by it, he helped facilitate the purchase of 44 regional costumes donated to the Poughkeepsie Folkloric Group through the federal government of Mexico, the citizen's council of San Sebastián Teitipac (through Feliz Gutiérrez) in the state of Oaxaca, the house of culture, Conaculta and a subsidy from the Mexican Cultural Institute of the Mexican consulate in New York.
In addition to his job with the consulate's community service program, as of 2011 Eloy has helped in asking local businesses and restaurants for help and donations in order to feed the dancers and volunteers during the festival. To him, the most important part of the festival is "to participate in my Oaxacan culture, to meet all the people who have lent us a hand, especially Americans and people of other nationalities. We feel proud to have all these people collaborate with us and provide us their support."
More organizers
Each year the support of people and organizations not directly related to the artistic side of the festival (which is still in the hands of the GFP) is more and more visible. The 2013 Guelaguetza is organized by the GFP, with the coordination of Somos la Llave del Futuro, Hudson River Healthcare, La Voz magazine (Bard College), Hudson River Housing, Middle Main, Hudson Valley Patriots for Immigration Reform, Poughkeepsie Public Library, Dutchess County Arts Council, and Catholic Charities.
Jenny Coronel, of Hudson River Housing and the project of Middle Main revitalization became involved in the organization of the Guelaguetza in 2010 when Felipe asked her boss, Elizabeth Celaya, to help them get a permit and spread the word in the press about the festival. Jenny, from Ecuador, was drawn in to it by the amount of people that were involved in it and the "capacity of these people to highlight the culture of Oaxaca and Latin traditions. I think it is very important to create spaces for things like this to happen, and if we can help in doing so, why not?" says Jenny. Since then she has helped in the coordination of the event, lending a hand with the administrative side of things such as building a budget.
The case of American Polly Adema, is very similar. A folklorist of the Dutchess County Arts Council, she offered her help to the festival organizers after seeing the beautiful costumes, the procession and the complex dances.
"When I see cultures and traditions going from one country to another, to an unknown country, and people try to incorporate them and preserve them, I am filled with life!" exclaims the Caribbean Wilfredo Morel, a sculptor working with Hudson River Health Care, and since 2011 (after an invitation from Polly), in charge of helping obtain the necessary funds to carry out the festival. For the future, Wilfredo hopes that the Guelaguetza keeps receiving community support, but that it is also "officially recognized and thus receives support from the state and country because it is worth it."
Rosa now dedicates her time to other church activities but she feels satisfied because, as she puts it, "I see in our children that our goal—that they love our culture—has been accomplished. I now see that they dance out of pleasure, not because their parents make them do so, but because they want to, because we took on the task of teaching them."
Grupo Folclórico de Poughkeepsie and Somos la Llave del Futuro present:
La Guelaguetza 2013
August 4th, 2pm-7pm
Waryas Park, Poughkeepsie, NY
Featuring the Grupo Folclórico de Poughkeepsie,, the Ballet Folclórico de Nueva York , Grupo folclórico de Newburgh, and Eloisa Garcia with the Diosa del Maíz group.
Additionally: Dance workshop, costumes and history of the Guelaguetza open to the community, led by Oaxacan teacher Eduardo Aguilar Martinez in early July at Barret Clay Works, 485 Main Street, Poughkeepsie. For more information visit:
https://www.facebook.com/pokguelaguetza or call (845) 380-7358
*Translated by Andrés Martínez de Velasco



LA VOZ, Cultura y noticias hispanas del Valle de Hudson
back to top
COPYRIGHT 2013
La Voz, Cultura y noticias hispanas del Valle de Hudson
Comments
Sorry, there are no comments at this time.