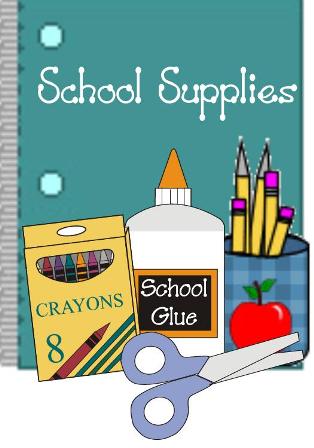 Asking about school supplies/ Preguntando por los materiales
Asking about school supplies/ Preguntando por los materiales escolares
September 2009
Ms. Jiménez (mother): What will Amanda need for English class this year? [¿Qué necesitará Amanda para la clase de inglés este año?]
Ms. Miller (teacher): She will need pencils for writing, a notebook for [Ella necesitará lápices para escribir, un cuaderno para
taking notes, and a case for storing supplies. tomar apuntes, y un estuche para guardar los materiales.]
1. Review the vocabulary below./ Repase el vocabulario de abajo.
School Supplies/ Activities
Pencils "PEN-sils" [lápices]

Coloring "CAL-or-ing" [pintar/ colorear]

Eraser "i-REIS-er" [goma de borrar]

Drawing circles "dra-ing CIR-cals" [dibujar círculos]

Pens "PENS" [plumas/bolígrafos]

Measuring "ME-lliur-ing" [medir]

Notebook "NOT-buk" [cuaderno]

Writing "RAI-ting" [escribir]

Folders "FOL-ders" [carpetas]
Cutting "KA-ting" [cortar]

Case "KEIS" [estuche]
Storing supplies "STOR-ing sa-PLAIZ" [guardar materiales]

Scissors "SI-sors" [tijeras]

Erasing "i-REIS-ing" [borrar]

Crayons "CRE-ins" [Crayolas/crayones/lápices de cera]

Running "RA-ning" [correr]

Glue "GLU" [pegamento/cola]

Exercising "EX -er-sai-zing" [hacer ejercicio]

Ruler "RUL-er" [regla]

Gluing "GLU-ing" [pegar]

Compass "COM-pis" [compás]

Drawing angles "dra-ing EN-gals" [dibujar ángulos]

Calculator "CAL-kiu-lei-tor" [calculadora]

Keeping papers "ki-ping PEI-pers" [guardar papeles]

Protractor "PRO-tre-ctor" [ transportador]

Calculating "CAL-kiu-lei-ting" [calcular]

Sneakers "SNI-kers" [zapatillas/tenis]

Taking notes "tei-king NOTS" [tomar apuntes]

Sweatpants "SWET-pents" [pantalones de deporte]

T-shirt "TIY-shirt" [camiseta]
2. Copy and complete this chart with school supplies and activities for each class, following the examples./
Copie y complete esta tabla con los materiales escolares y actividades para cada clase, siguiendo el ejemplo.
| | | | |
| --- | --- | --- | --- |
| MATH "meth" [matemática] | ENGLISH "ING-lish" [inglés] | GYM "llim" [gimnasia/ed. física] | ART "art" [arte] |
| -A ruler for measuring | -Pencils for writing | -Sneakers for running | -Crayons for drawing |
3. Practice the dialogue./ Practique el diálogo.
Ms. Jiménez: What will ______ need for ______ class this year? "Wat wil … nid for… cles this yir?"
Ms. Miller: She will need _____for _____ , _____ for _____ , and _____ for _____. "Shi wil nid … for…, … for…, end … for …."





La Voz, Cultura y noticias hispanas del Valle de Hudson
Comments
Comentario: nice post, bleach 357
Posted: 1/25/2012