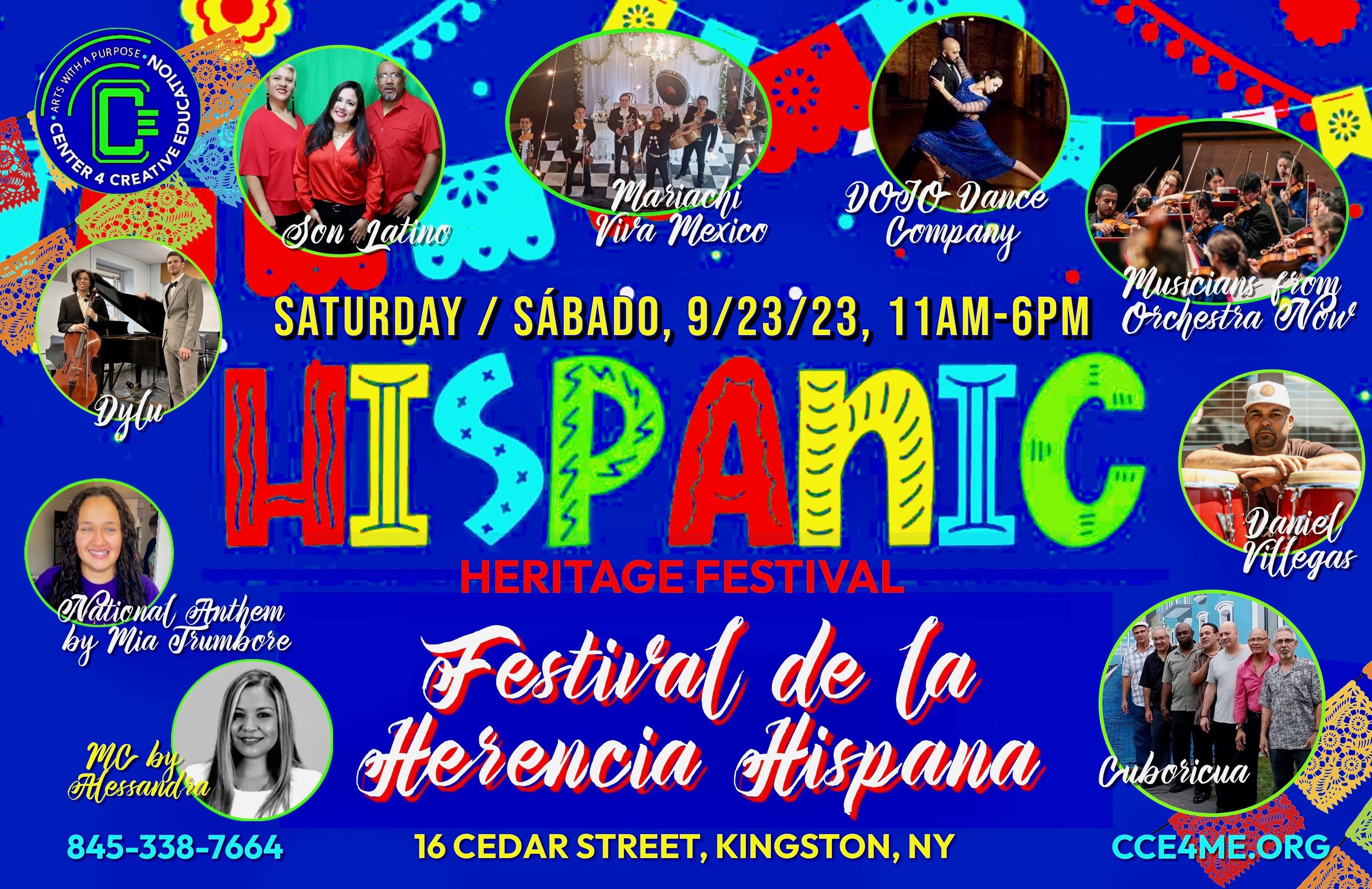 Buen gusto
Hispanic Heritage Festivals in the Hudson Valley

September 2023
September 15th was chosen as the starting date of Hispanic Heritage Month in commemoration of the independence of several Latin American countries, thus marking a symbolic link between the shared histories of the United States and its neighboring nations. With the aim of honoring and celebrating the history, heritage, cuisine, and achievements of Hispanic culture, the Hispanic Heritage Festival arrives in Kingston on Saturday, September 23rd, from 11 am to 6 pm, at 16 Cedar Street. More details below.
Sugely Melenciano, Outreach Coordinator at the Center for Creative Education (CCE), shares about the Hispanic Heritage Festival they are organizing in Kingston for September 23rd. "The festival began three years ago, sparked by the need to represent Hispanic Heritage Month in Ulster County, specifically in Kingston," said Melenciano. She added that she and David Sosa were the driving forces behind the idea of this festival at CCE back then. About 1000 people attended the festival last year, and they expect the numbers to continue increasing. Melenciano, along with Puerto Rican singer Alexandra González, frequently attend community events and ask people: "What would you like to see for the next edition of the festival? What kind of artists/music would you like to hear?" They invest a lot of time in listening to people's opinions to ensure the festival continues to capture the community's interest.

This year, at this free and family-friendly festival, the following artists will be performing:

Son Latino, Mariachi Viva México, Dojo Dance Company by Maia Martínez and David Salvatierra, musicians from Bard College's TON Orchestra, Daniel Villegas, Dylu, and Cuboricua. "We could accept more artists for future events like Esparcir Amor in November" Sugely comments. Additionally, they are still accepting vendors, food trucks, or organizations that want to set up a booth at the event, cce4me.org. "I hope the festival continues to grow for many years, so that people can continue to benefit from and enjoy it" concludes Sugely Melenciano.

More Hispanic Heritage Month Celebrations
Viva la Independencia de México y Centroamérica
Saturday, September 16th, starting from 12 pm, at Liberty Street, Kingston.
Featuring Mexican dance Clara, Braulio Jiménez, Daniela and Alexandra, Grupo Nueva Imagen, Dueto Pación, Sancocho Band, Grupo MGH. Organized by David Sosa, Jeanne Edwards, Liberty St Neighbors, Clinton Avenue Church, and Nereida Jiménez & family.

3rd Latinx Parade and Festival in Hudson
Sunday, September 17th, 2 - 6 pm. Henry Hudson Riverfront Park, Ferry Street, Hudson. The parade starts at 1 pm on Warren Street, where you'll find music and food from various countries, traditional art and clothing, countries competing for the most pride, and more! The parade ends at Henry Hudson Riverfront at 2:00 pm, with the festival until 7 pm and a party until 11 pm.

México's Grito de Independencia and Hispanic heritage
Saturday, September 23rd, 12 - 8 pm, at 2 Washington St, Newburgh.
The Fiestas Patrias group invites you to celebrate for free and with your family (alcohol not permitted) with: The legendary Sonora 100% Dinamita, Braulio Jiménez (the official Vicente Fernández impersonator), Lorely Chávez, Estrella Galarza, Daniela y Alexa, Inti-Ñan Ecuadorian folkloric group, Grupo Folclórico Raíces Mexicanas, El dueto Pación, Juancito Fabián, Sonido Skymer, and the candidates for Hispanic Heritage Queen. Space available for vendors, inquiries at 845-926-2441.

Latinos in Local Politics
Thursday, October 12th, 6 - 8 pm. MPR, Campus Center, Bard College.
La Voz magazine presents a panel with Latinos working in local politics, explaining the advantages, disadvantages, and responsibilities of being called "Latinos in politics." There will be representatives from different parties and information about civic engagement. Free and open to the public.

*Translated into English by Karen Ruiz León

La Voz, Cultura y noticias hispanas del Valle de Hudson
Comments
Sorry, there are no comments at this time.