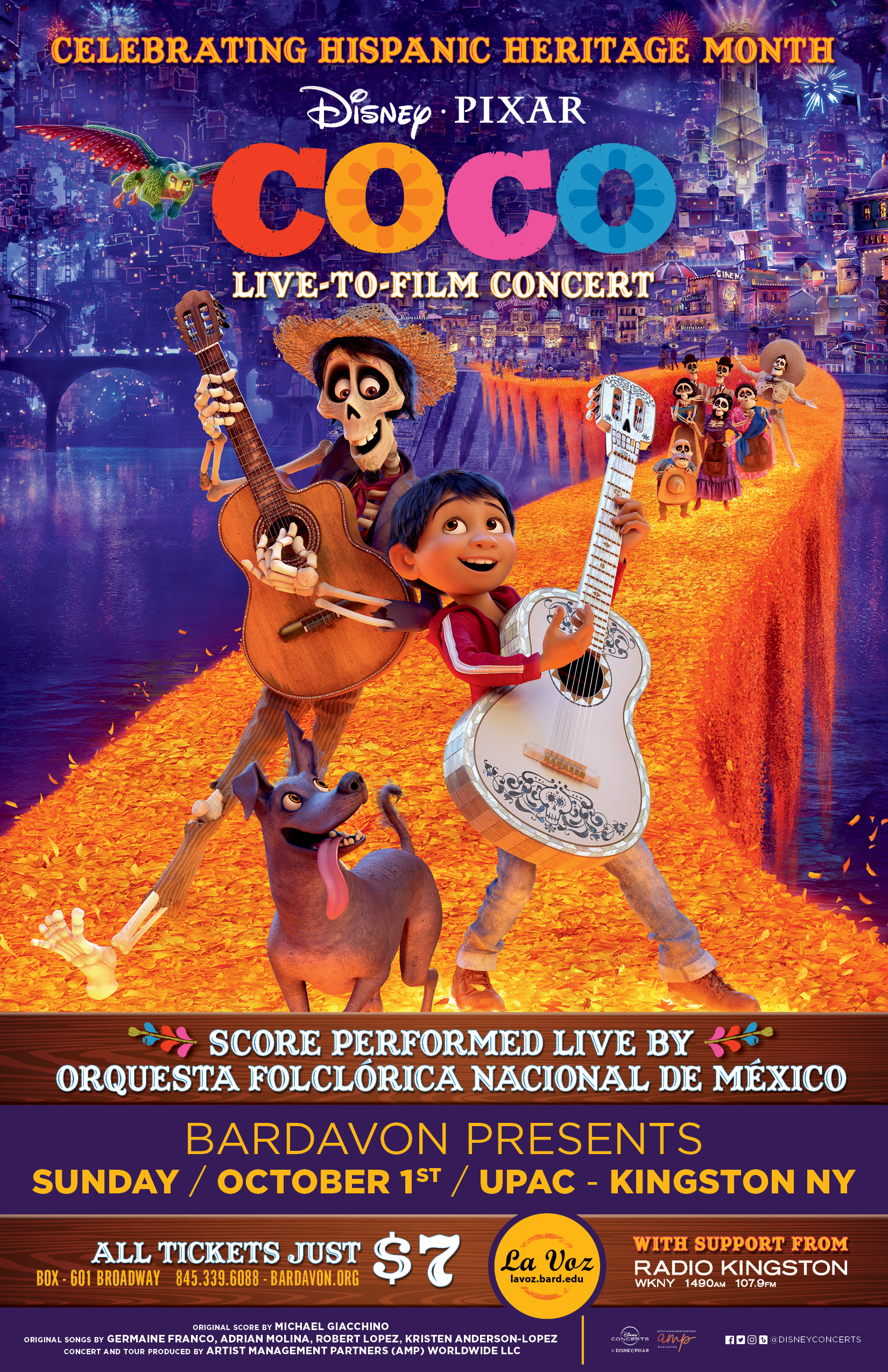 Buen gusto
Experience the magic of Disney like never before: "Coco" visits Kingston

September 2023
Bardavon and La Voz magazine with the support of Radio Kingston proudly present Disney Pixar's Coco, with a full movie screening featuring the musical score by Academy and Grammy Award-winning composer Michael Giacchino, performed live by the 20-member National Folk Orchestra of Mexico. The event will take place at the Ulster Performing Arts Center (UPAC) in Kingston.
This experience promises to take the audience on an unforgettable journey through Mexican music and culture, combined with the magic and charm of Disney. The film follows Miguel, who despite his family's generations ban on music, dreams of becoming a skilled musician like his idol, Ernesto de la Cruz. Desperate to prove his talent, Miguel finds himself in the dazzling and colorful land of the dead, following a mysterious chain of events.
The Orquesta Folclórica Nacional of Mexico led by Silvia Lozano will bring the essence of Mexican culture to Kingston with their upcoming concert at UPAC on Sunday, October 1st, at 3 pm. Esther C. Lozano, the director of the organization, shared details about this unique presentation in an interview with La Voz.
In this concert, the orchestra musicians will accompany the screening of the movie "Coco," performing the film's soundtrack live. For Lozano, this is an opportunity not only to present the movie's music but also to immerse the audience in the richness of Mexican culture: "We want people to learn more about our culture in terms of instruments and feel the essence and identity of Mexicans," she explained.
The orchestra is composed of Mexican musicians based in Mexico City, who blend elements of symphonic and folk culture to create a unique experience. This tour, starting on September 28th in Charlotte, will encompass 44 dates in different states of the United States, including New York, New Jersey, Pennsylvania, Virginia, Los Angeles, Arizona, Texas, and Florida.
Esther C. Lozano shared her excitement about bringing Mexican culture beyond borders. "We are thrilled to convey who we are in Mexico: our music, our instruments, our people. When people enjoy that show, we also get excited because we are successfully transmitting that essence of Mexico to the audience," she expressed.
A creative version of the score was developed, incorporating pre-Hispanic instruments, and it was presented to the composers. This version stands out for merging pre-Hispanic instruments with those from the colonial era, creating a unique and distinctive sound that evokes Mexico's rich history and culture. This orchestra, composed of skilled musicians, masters a wide variety of Mexican folk music genres and styles, such as mariachi, jarana, son, and huapango, among others.
The National Folk Orchestra of Mexico employs a variety of instruments, from traditional pre-Hispanic drums like the "Huehuetl" and "Tepobaztli" to flutes and "Ocarinas" from the same era. Additionally, they use guitars, violins, double basses, and other string instruments dating back to the colonial period, creating a surprising and unique blend of sounds.
Celebrate Hispanic Heritage Month and enjoy "Coco" in concert with your family in Kingston! Tickets are only $7 and available at the Bardavon and UPAC box offices – Tuesday to Friday, 11 am to 5 pm. Bardavon: 845-473-5288 (35 Market St, Poughkeepsie), UPAC: 845-339-6088 (601 Broadway, Kingston), or email
[email protected]
. Also available on the website:
bardavon.org/show/disney-pixars-coco-in-concert/
*Translated from Spanish by Karen Ruiz León
La Voz, Cultura y noticias hispanas del Valle de Hudson
Comments
Sorry, there are no comments at this time.