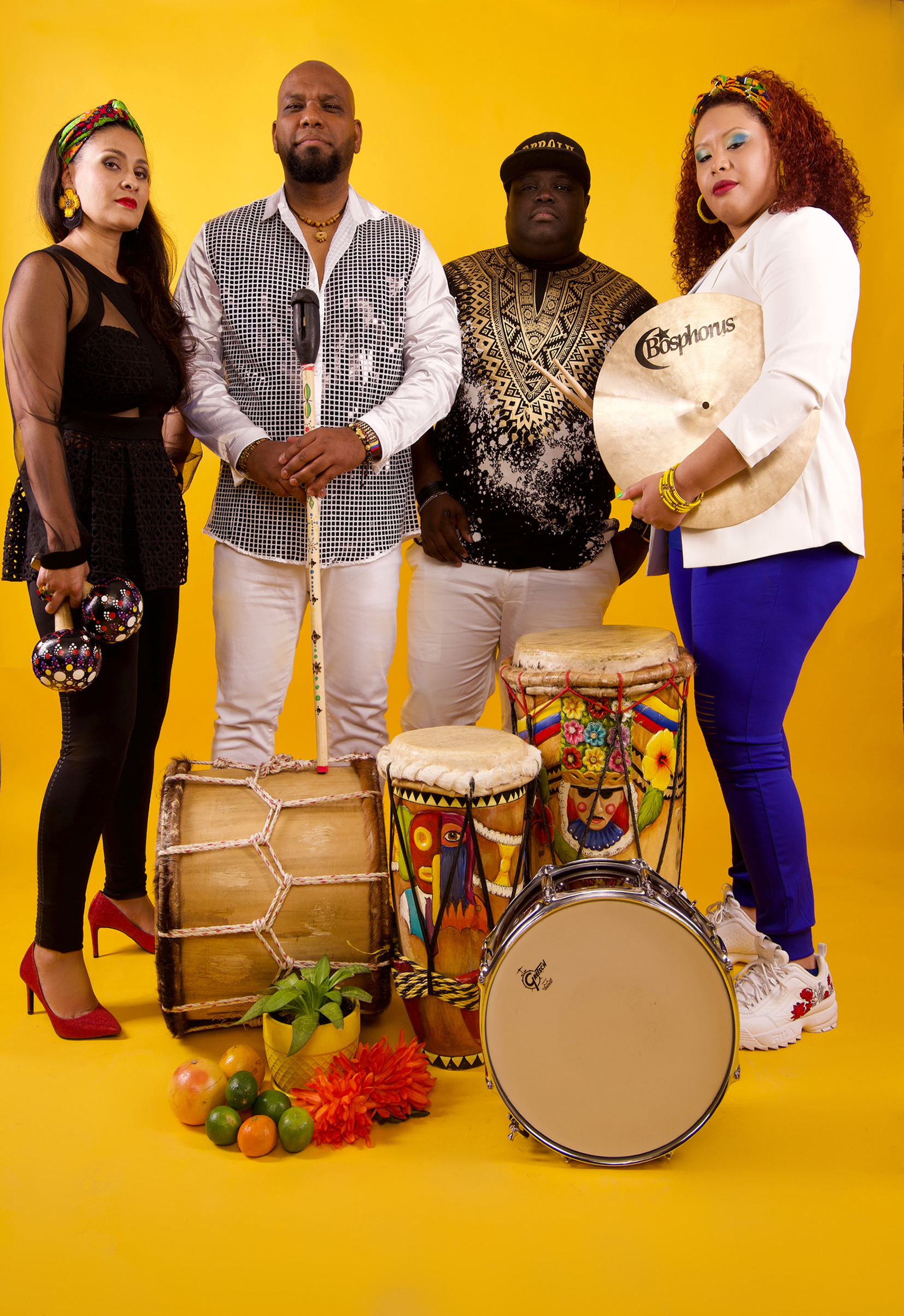 Buen gusto
The Rebolú of La Voz
Celebrating the 19 years of the magazine a toda música
June 2023
The Rebolú of La Voz comes with full force! Join us in celebrating the 19th anniversary of the La Voz magazine with a special fundraising event at Bard College's beautiful Spiegeltent, including live music and dancing from our beautiful Hudson Valley Hispanic cultures, delicious food for sale, and silent auction.
Mariel Fiori recently interviewed Rebolú's singer and musician Johanna Castañeda in her program La Voz con Mariel Fiori on Radio Kingston to learn about the history of this group and more.
Mariel Fiori: How did the group Rebolú come about?
Johanna Castañeda: This idea came up with Morris Cañate and Ronald Polo who is the musical director, singer, and composer. They have known each other since they were about 10 years old, from Colombia and have worked in music for many years. And once they moved to the United States, they started to create the idea here and write songs and formed a band.
How did you get involved with the group?
I met them in 2006 when they were just starting to record their first album. We met in a band and well, they invited me to sing there and since then I started to be part of Rebolú, not only as a singer but also to help with the manager part to organize us and to be able to promote the band. I realized the tremendous potential that this had, and I thought that we had to organize ourselves and show it to the world.
How many members are there in the group?
We are eight members. Four of us are the founders, let's say, and the ones who are working on this project so that it gets more exposure, and people can know more about us.
What is Afro-Colombian music and what differentiates it from other rhythms?
Afro-Colombian music is the Caribbean music of Colombia. It is the music of the northern coast of Colombia, represented by the most popular rhythm that Colombia has which is the cumbia. So, our group tries to keep the autochthonous things like the instruments, and what we do we fuse it a little bit with more modern things like the electric guitar and the bass. We try to make people enjoy it, we have a powerful sound, but always keeping the native roots, instruments, and rhythms.
What is Bullerengue?
It is a traditional rhythm that is used on the coast for ceremonies. More or less religious ceremonies in which they are presenting young girls who are becoming women. So, it is usually sung by women, it has a choir of usually more than five women, it also has a call and response way of singing, so there is a singer who calls and a choir that responds. It usually takes a group and a large group. It also has a specific dance, and this dance introduces the young girl to the community by becoming a woman. The rhythm is very slow, smooth, and cadenced, but it is beautiful.
You mentioned Colombian cumbia but there is cumbia in all the countries of America, I think it is the rhythm that unites us all. Do you feel that way when they perform?
Yes, of course! Cumbia is something that became popular all over the world so many years ago. Originally from Colombia, but there are many Colombians who left Colombia taking what they knew with them. And they shared it in Mexico, which was one of the first countries where Colombians arrived with their instruments and formed groups abroad. The cumbia rhythm became popular so long ago and it helps everybody, and Colombians even more because it is something very autochthonous.
How is the public's reception?
From all the trips and festivals, we have done, we have gone to Switzerland, Austria, to all the states of the United States and it is incredible to see that the audience is not necessarily only Colombian. We see people from all over the world and the reception is very positive. We interact a lot with the public. We love that they know where this music comes from, where these instruments are from, what part of Colombia, and it's a focus that we give to every show. We teach them to dance and sing choruses. We also have some little steps where we say, "Let's all dance". It's something very unique and people enjoy it to the fullest. It's music that makes you get up and move your feet.
You have already released several albums.
Yes, we have four albums that have already been released in the last 15 years. We are working on our fifth album, which is going to be released this year and next year. So yes, we already have five albums that we made with a lot of love, a lot of inspiration, a lot of stories that have been told because Ronald, the composer, is very inspired by the life around him. From his family, from his friends, from his memories in Colombia. And all these memories he represents in the songs he writes.
Do you also cover classics? Like which ones?
Yes, we do representative covers, like "Colombia tierra querida" since it is so representative of us Colombians, it's almost an anthem! It's a cumbia that talks about Colombia, so of course, people represent themselves a lot in that song. There are also other songs like "Fiesta en corraleja" and other great songs to dance to. We also have people who ask us specifically, they tell us, "I have this song and I would like to remember it".
How do you prepare for the tours?
Well, I'm the manager and I'm the one who usually organizes most of the work. Thank God we have very good communication with everyone and it's a matter of organizing it. For me communication is super important, to be able to communicate with them, to be clear on all the details. But on the trips, we have a great time, we have great moments and even songs come out of these trips, of these stories because obviously stories happen on these trips, anecdotes happen. The truth is that we have a great time traveling together.
Do you like to dance salsa and tropical rhythms? This is an excellent opportunity to participate in a dance class taught by
Elizabeth Liotta
, certified teacher of Afro-Cuban rhythms and part of the La Voz team. No previous experience needed, just come have fun with us and learn new salsa steps that you can use later in the evening at Rebolu's concert!
Saturday, June 17 at Spiegeltent
7:00 to 10:00 pm, doors open at 6:30 pm.
Annandale-On-Hudson, NY 12504
Admission: $30 (general seating or standing) and $40 (reserved front circle)
All proceeds benefit La Voz magazine, based at Bard College, a non-profit organization. For donations and sponsorships, write to
[email protected]
.
Thank you to our sponsors
Radio Kingston
Hudson Valley Credit Union
Sun River Health
MVP Healthcare
Hudson Valley Hospice
SUNY Ulster
Nuvance Health
Tickets:
https://tickets.fishercenter.bard.edu/3022/3023
La Voz, Cultura y noticias hispanas del Valle de Hudson
Comments
Sorry, there are no comments at this time.