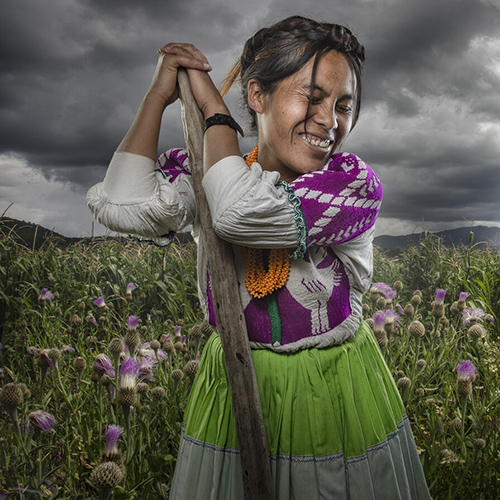 Oaxacan Cultural Week in Poughkeepsie
July 2022
Beginning July 16, the City of Poughkeepsie will kick off its Oaxacan culture celebrations with free art, music, food, and dance events available to the entire community, culminating in the La Guelaguetza festival.
The Free and Sovereign State of Oaxaca is one of the 31 states that together form the United Mexican States and is known mainly for its cultural production and its indigenous populations. Among more than 16 groups represented by the state, the Zapotec and Mixtec groups are the most represented. Ellie Charwat, organizer of the event and founder of the Poughkeepsie-Oaxaca Friendship Committee, comments that when she was a teacher, many of her Mexican students were from Oaxaca, so the community was already here and after a trip in 2019, she decided to create a connection between these two communities: "I came back with a letter signed by the mayor of Oaxaca, and we created the Poughkeepsie-Oaxaca Friendship Committee to support the local community."
Now, starting July 16, that culture is coming to Poughkeepsie with a series of free events for the entire community:
July 16:
At the Poughkeepsie Underwear Factory (8 Cherry Street), from 1:00 - 4:00 pm, "A taste of Oaxaca" is coming, a gastronomic event led by Enrique Montaña and traditional music by Miguel Angel and Cozobi. You will learn what Guelaguetza means, what its origin is and what is behind this tradition. To sign up, call (845) 337 0263.
July 29 - August 5:
At the Trolley Barn (489 Main St., Poughkeepsie), an exhibit of authentic Oaxacan textiles called "Tzalotl, Weaver's Wings" will feature indigenous clothing and fabrics. 2:00 p.m. - 5:00 p.m.
July 29 - August 5:
As an accompaniment, she also opens "Art in a Suitcase: Women Creators of the World" at the MASS: Design Group (289 Main Street), where 6 women artists are presented in various mediums: photography, ceramics, oils, and watercolors. 2:00 p.m. - 5:00 p.m.
Both exhibits will launch on July 29, 4:00 - 6:00 pm with typical Oaxacan food at the Poughkeepsie Trolley Barn. The curator of the exhibitions, Nora Isela Ortíz Muro, will give a talk on August 3 at 5:00 pm.
There will also be craft workshops from Fall Kill Creative Works and exhibits at the Adriance Memorial Library, dates to be announced on the Poughkeepsie District Public Library page.
August 4:
La Cabañita restaurant (763 Main Street) will have an Oaxacan lunch and talk about mezcal at 12:00 pm.
August 14:
Finally, don't miss the 12th festival of La Guelaguetza with music, food, and dance to celebrate Oaxacan culture. 1:00 p.m. - 7:00 p.m. at Waryas Park, Poughkeepsie.
Ellie Charwat also mentions that "There are a lot of people in the Hudson Valley who don't know about this culture, and I want them to know about it. I also want the Hudson Valley Oaxacan community to feel pride in their culture."
Come with us to celebrate the culture of Oaxaca, do not miss it!
Sources:
https://poklib.org/oaxaca-week/
https://www.dcrcoc.org/events/details/oaxaca-week-in-poughkeepsie-10489980#
La Voz, Cultura y noticias hispanas del Valle de Hudson
Comments
Sorry, there are no comments at this time.