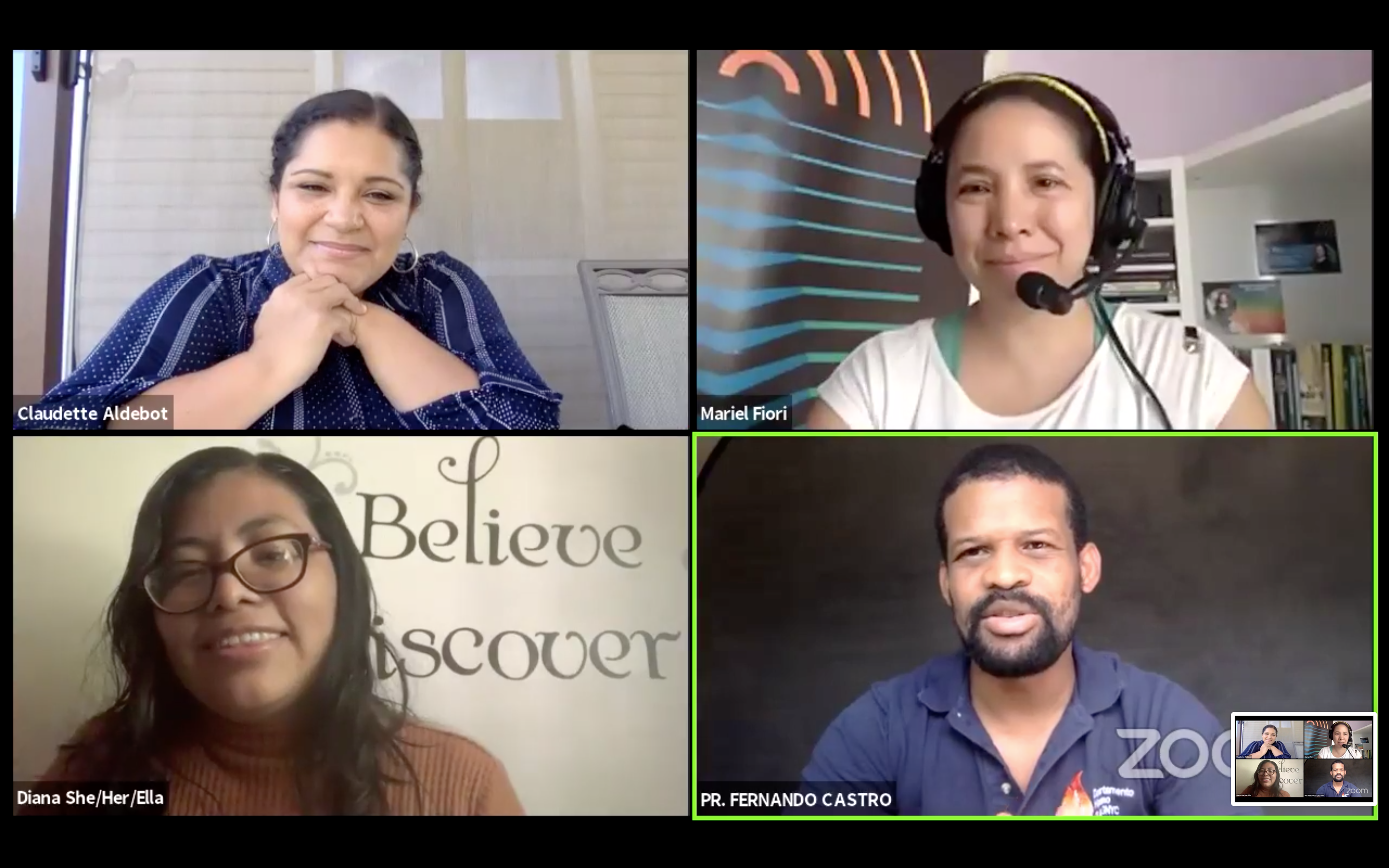 Actualidad
Claudette Aldebot: "I tell Latinos that we have to educate ourselves, racism affects us all"
October 2020
Between the first and second round table discussions on racism and how those of us who are not Afro-Latinos have to face this reality that many of us come hauling from our countries, I read the book by Iljeoma Oluo, So you Want to Talk about Race, and I started Ibram X. Kendi's How to Be an Antiracist, both best-sellers from the New York Times, very informative, widely recommended and available in Spanish. Every day it becomes clearer that we have to educate ourselves on the history of racism in this country and look directly at our own prejudices acquired from colonial times. No one is born racist
Here is a brief summary of the second round table on this topic, which I hosted on my program
La Voz con Mariel Fiori
on Radio Kingston with Diana Sánchez, Mexican, activist and dreamer with United We Dream, member of the Movement Yonkers Sanctuary, and Hudson Valley Community Coalition; Claudette Aldebott, Honduran, Director of equity and inclusion programs Bard College; and Pastor Fernando Castro, Dominican, of the Adventist Church of the Poughkeepsie Seventh Day.
His work with communities
Pastor Fernando Castro:
I serve as a pastor of a
Spanish-speaking Seventh-day Adventist Church
. I have a lot of contact with African Americans, who consistently attend church. Incidentally, during this whole coronavirus crisis, we have had the opportunity to deliver about 5000 pantries on Thursdays at our mother church from Poughkeepsie. We have been distributing 300 pantries to families that are 85% Hispanic or Latina, and another 15% divided between English speakers and African Americans. So basically our work is to serve the community and in the midst of crises at any moment we strive to try to be close and support them. A few months ago, around the incident with George Floyd, a march was organized in Poughkeepsie. The meeting point for the start of the march was our church, and well we were supporting the protesters, and though there were many people, we got supplies like snacks, water, among other things, and we marched with them peacefully giving them our support, understanding the times that we are living through. The African American community has been suffering through this for years. One of my best friends is African American, and he frequently shares with me and tells me about his history. He narrates everything they have lived through and I can feel and understand that they want justice, they want the dignity to be treated with respect. Every human being deserves to be treated with dignity and respect.
What the Spanish-speaking community must understand
Claudette Aldebot:
As an immigrant woman and Latina, educating myself has been very important, and I want to tell the Latino population that racism hurts us all. So that feeling that you are alone or it is just a problem "for blacks" is not true. Actually it affects us all because at the end of the day we can see in our own communities that usually where black people live, Latinos also live, and at the level of educational and health accessibility, we are not too well off. So we don't have much time to lose or to give up because the census has already showed us that we are many in numbers, but we have to unite and that begins with education, because what is not known, is not understood. At the University, I work with many African Americans and Latinos, and I live their pain with them because we live in a country where white supremacy affects all of us who are part of this minority. We are swimming in this. We are discriminated by the ways in which we think, by the ways in which we do things, and among minorities always there is a comparison of who is worse off and that that's also wrong. We have to leave these things behind because at the end of the day we are all suffering. Right now we are in a global pandemic and those who are suffering most are minorities, black and latino. We are all together in this, and like they say, today for you tomorrow for me. To the Latinos I say, we must educate ourselves. We have to mobilize, but together.
Diana Sánchez:
I'm glad you're talking about education because honestly, from my experience of having grown up here, we did not learn much about African American history, so we came to learn everything as adults. Yes, slavery happened many years ago, but that did not stop the mistreatment of the black community. Right now, blacks and Latinas continue to be incarcerated in the state and around the country. The prison industry has grown, and activists have fought hard to advocate for African Americans and tried to change the rules that allow black people to be incarcerated so easily. These authorities have come to our communities and taken people, like young boys and put them in jail really young, from around 15 years old, and I speak from experience because they have taken families from my community and put them in jail and once they return, they have their home or labor rights taken away. So these boys fall in a system where they want to work, but everything is working against them. There is another problem now too: incarcerating undocumented people. We know that in Louisiana, many private jails have opened in communities that cross the border and they keep them there for years, and even hold children. We're talking about children who are coming from a different country, separated from their parents in jails and this has been a constant fight. César Chávez and Martin Luther King supported each other mutually. There are telegrams that if you look for them, they speak of the support that Martin Luther King had for César Chávez and they both believed in the same thing. It is a story where the Hispanic and black community have always fought together because we know that if civil rights had not happened we would not be in the same schools. We would not be eating in the places where we eat, we would not be even voting. So it is important that we educate ourselves because it is necessary to learn from that.
Fernando Castro:
From home, dear friends and parents, I tell you that the role that you play with your children in education is fundamental. For example, a good lesson is the following: my skin is brown, but when I am in the doctor's office and they draw my blood, the blood is red, just like the blood of even the whitest men. In the end, skin color does not make me inferior to another person and that is where racism gains strength, because racism wants to make others feel inferior because of the color of their skin, because of the ethnic group to which they belong to, or anything else. If families educate values such as respect, or if they are taught to treat each individual as we would like to be treated, we can create the foundation for a better world. The job of families is to create conditions so that the history of abuse and rejection does not repeat itself in the future. The answer is in education.
Fernando Castro:
I have two experiences that marked my life. One was that when I was in high school, I was the best art student, and my mind's ability to create something that didn't exist was said to be off the charts. So I signed up to participate in a state art contest, and it occurred to me to make a painting of someone representing the Dominican persona. I remember I put a flag behind, and then in front, there was a person with open arms with a torch. The school principal looked at the perfect art together with the research group. However, I was forbidden to present my work. I was disqualified simply because the person I painted was dark-skinned. "The finish of your work is surreal, just perfect. It is the best we have seen in the entire history of our school, but we are not black, and that is why we cannot publish your work". It was frustrating for me because when you look at the history of my country, Dominicans are a mixture of black and indigenous people. As a result, after a week, I got home, grabbed a rope, and tried to commit suicide because I literally felt cut off from society. I thought I was worthless. I felt that I belonged to a community, but at the same time, I was not part of it. Here is the detail: in the United States, Latinos, African Americans, and blacks are part of a community, but sometimes there is no option to feel that they are part of it because they put us aside, and that is something that we have already brought from the past, and when something happens that reminds us of that, we explode with rage, with fury, and this is what had happened recently with the African American community for so many years since slavery, even when in 1863 Abraham Lincoln abolished slavery. On the other hand, in my own experience in this country, I have seen how we discriminate against each other as a community...
Listen to the full conversation here:
Or watch the livestream here
More resources
Movies: Thirteenth Amendment, Selma, Stories crusades (The Help) Listen to the column What we don't they had the teacher Maritza del Razo every two weeks, on Fridays at 10 am at La Voz with Mariel Fiori at Radio Kingston, 1490 AM, 107.9 FM, and on internet at RadioKingston.org Guide to the Poughkeepsie Library poklib.org/books-more/the-antiracist- starter-kit
La Voz, Cultura y noticias hispanas del Valle de Hudson
Comments
Sorry, there are no comments at this time.