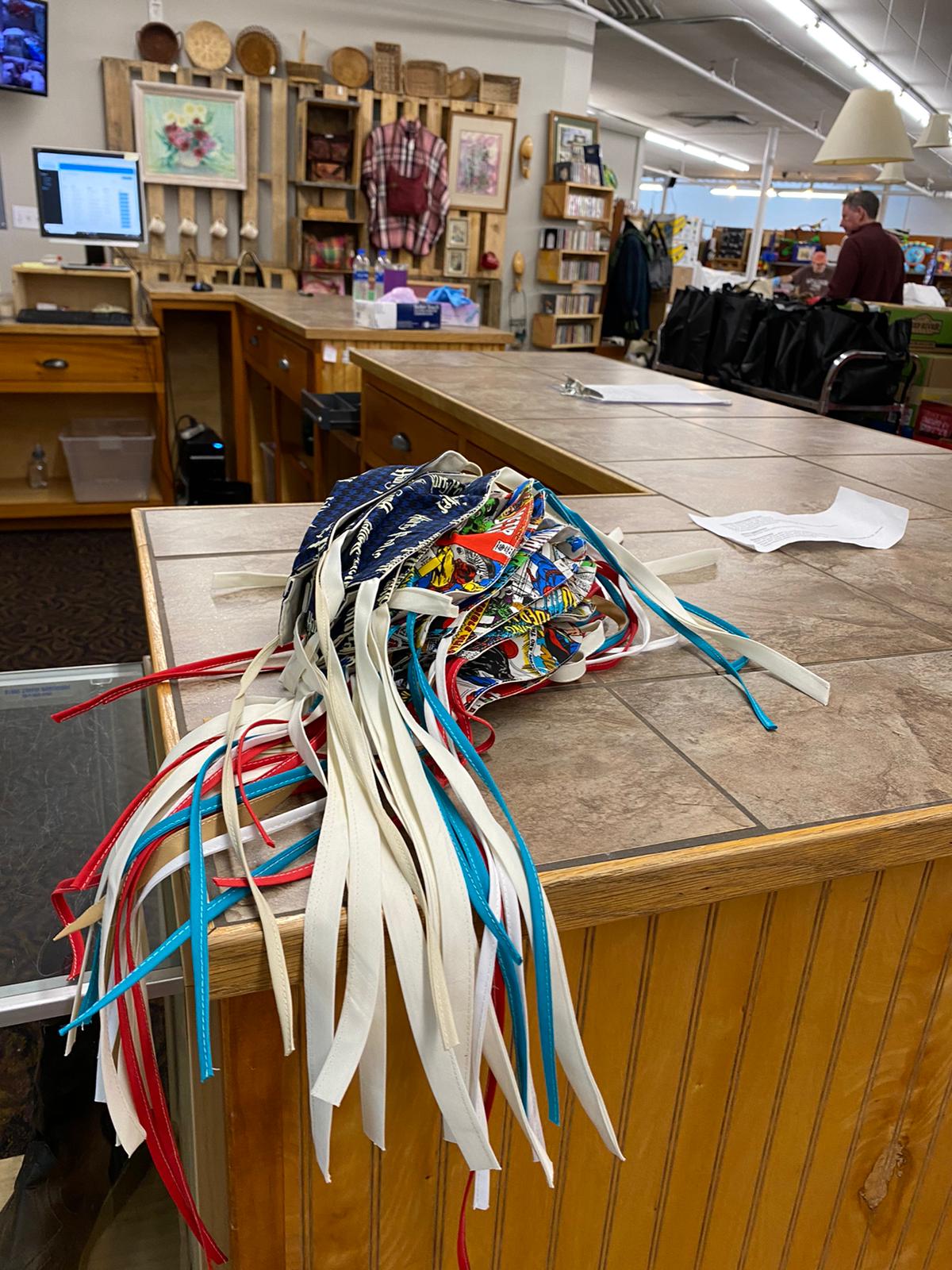 Helping Hands
Women Sew Thousands of Cloth Masks During Quarantine
April 2020
When Governor Cuomo called on businesses to exploit their creativity and look for
ways to help battle COVID-19, even if they are not businesses that are directly related to the health area, seamstresses Rocío Silva and María Cabrera exploited their creativity to help the community during the pandemic.
The shortage of masks has left workers defenseless, from the health system to people who work in supermarkets; to all the personnel who have proven essential more than ever and who day by day run the risk of encountering the invisible enemy, who has caused so much damage, and yet they still go out and worek. This situation has also affected the public, especially those most vulnerable to the virus: the elderly, pregnant women and people with a compromised immune system. For this reason, the generous hands of María and Rocío, along with their equipment and sewing machines, have not stopped manufacturing masks trying to alleviate this crisis in the community, inspiring more solidary actions and showing that sometimes the heroes don't wear capes, they sew them.
María Cabrera, owner of Maria Cabrera Alterations & Tailoring in Kingston began this work after having to close her business due the outbreak of coronavirus cases in the state. "I felt a great fear and uncertainty, because I did not know how to continue with my business", says María, but upon learning of the great need for masks, she decided to act: She immediately called her team, made up of two workers, and began to work. In one week they had already produced around 1,500 masks, donating them to health centers (mainly the Health Alliance, a local hospital in Kingston), the Kingston Police Department, nursing homes and more people and institutions that needed them.
Teamwork
"The concern I had about maintaining my business faded and was replaced by a new concern that goes further. Now it's collective, and therefore the actions we take must be collective: while my team and I are sitting at the sewing machine for about 12 hours a day, my sister Carolina (a stylist who has also had to close her own business) makes the deliveries of the face masks, looks for the materials and helps me answer emails and calls and has not stopped helping, the Ulster Chamber of Commerce does its part giving this work to know and trying to help us by asking for donations, the restaurants Locals send us food ... This is teamwork," says María.
Cabrera says in
an interview with Mariel Fiori on Radio Kingston
, that she hopes that
more suitable masks to deal with the pandemic will soon be available, but she has received many calls and emails from people who do not have protection and really need it, and "having something is better than nothing". María looked for the best possible way to make them so that they effectively fulfill their function and she says that it has been an evolutionary process, improving since they began to manufacture them. The face masks consist of three layers of washable fabric with an opening for a disposable coffee filter.
"It is a lot of work and it is exhausting, but the level of satisfaction we feel when helping, taking advantage of the fact that we can do it through sewing, is incredible," says María, "at the same time, it breaks my soul to see the level of despair and concern that exists. As long as I have fabric and tools to continue sewing, I want to continue helping."
Cabrera pays her team for her work hours, which represents a heavy burden for her, since she pays them while her business is closed and does not generate sales. If you want to buy one of her facemasks or help through donations, visit:
masks-by-maria.myshopify.com
or send an email to
[email protected]
. "We can all help in something, from something as simple as staying at home," is Maria's message.
The upholstery that sews masks
Meanwhile in Newburgh, Rocío Silva from R. Ramos Upholstery Inc., tells us how her
upholstery adds to this movement: "One Friday, a friendly doctor came to my store to look for elastic to make masks. She told me that she and her sister had to sew their masks because they did not have enough. I didn't know this was happening. It is alarming that these important personnel do not have the protection they need," says Rocío.
Izamar, who works on the premises with Rocío, listened to this conversation and proposed to start making masks to help alleviate the situation, looked for the materials and got to work. In less than a week, Rocío, together with Izamar and Claudia (her mother), managed to make more than 600 mouth masks, donating them to different hospitals, nursing homes, friends, companies and people who need them. Silva highlights that, "In times of war, I believe that seamstresses have always been essential in supporting those at the forefront of the struggle"
"We have the necessary material and the willingness to do them," says Rocío. She also says that many of the masks were made from material left over from work done for the Broadway production Harry Potter and the Cursed Legacy, as it fulfilled the necessary conditions to be used.
"This is a community effort: I know of several local seamstresses who have been dedicating their time to this cause that, after all, is ours ... and everyone's,"; says Rocío who, seeing so many united efforts, be it in her community itself or outside it, she feels increasingly motivated and inspired to continue helping. "The day that no more masks are needed, that day is going to be the happiest day of my life," she added.
But there is a problem: as is also the case with María, her store is closed and does not generate income. The difference is that Rocío's team is made up entirely of volunteers. If you want to help Rocío and her team continue making masks, call or write a message at 845-662-4276. "If there is one thing I have learned from this experience, it is that we need to think more about others, we must be more empathetic and supportive. We are fighting a very different war: it is a war against an enemy that we cannot see; therefore, we must be vigilant and take the necessary measures to protect ourselves, our families and others," Rocío asserts. She also stresses that, "The worst enemy is within ourselves and it comes out when we become selfish and want everything for ourselves without thinking of others, like when we go to the supermarket and take all the toilet paper." It is true that for many it is difficult to make a donation at this time, but when all this happens, remember that we have a great dressmaker who sells wedding dresses in Kingston, called María Cabrera, and with the excellent upholstery service from Rocío Silva, in Newburgh, they decided to help the community in times of crisis without asking for anything in return. Let's support local businesses strongly.
Resources
If you want to learn how to make your own mask, you can see a tutorial recommended by María at

this

link.

In addition, Joann Fabrics & Crafts at 1385 Ulster Avenue in Kingston has been

donating materials for making mouth masks and instructions and making 5 masks. For more

information, call 845-336-5419.

The organization Artists for Soup also sets an example of solidarity by donating masks to the

communities with which it works in Nicaragua. Based in Millbrook, Artist for Soup is a

nonprofit organization that works with Nicaraguan families, providing them with biointensive

gardening education for the food security of communities. For now, Artists for Soup has ceased its regular operations, but its team and community continue to work making masks just as María and Rocío do. In addition, they donate soap and use their resources to create content dedicated to promoting the hygiene measures necessary to prevent coronavirus. Due to the current immense economic difficulties, the AfS team expects a change in their income and fears that this issue will affect the continuity of their work in Nicaragua. If you are able to support this project, you can do it at

this

link.
La Voz, Cultura y noticias hispanas del Valle de Hudson
Comments
Sorry, there are no comments at this time.