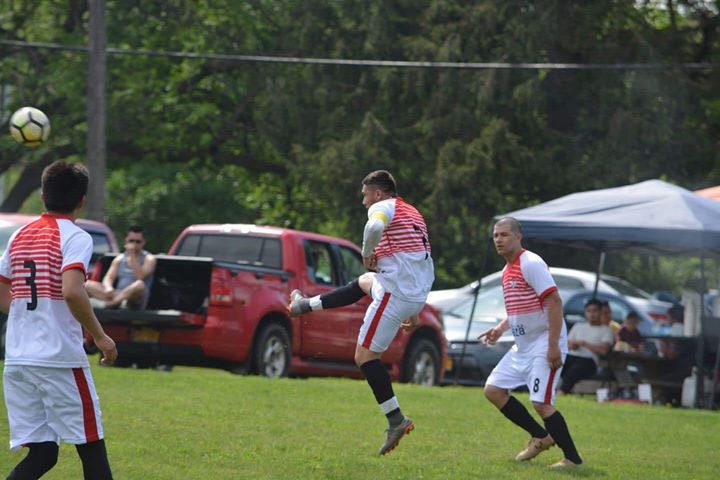 Usos y Costumbres
Running for Faith
August 2019
Even at six in the afternoon, one could hear the call-outs between players, the cries from the audience, and the deafening scream of GOAL! that every Latino knows, fears, and seeks. "Part of my job has been connecting people," says Adelio Ramírez, Director of the Cup of Faith Tournament. "Seven-one!" screams a voice from the bleachers after the third goal in their team's favor, evoking that shame suffered by the hosts of the 2014 FIFA World Cup against Germany and unleashing an infectious laugh among the audience.
"They say faith is the certainty of what awaits and the conviction of what is not seen. "So we called this place the Field of Faith because the things we do, especially as Latinos, require a lot of sacrifice," Adelio comments regarding the tournament, which began over five years ago in an open field behind a church among the local neighborhood families. Today it hosts a crowd of youthful people flocking to a manicured field, with food and music and people bearing the desire to enjoy good soccer.

The event takes place every Saturday in Kingston. Teams come from as far as Poughkeepsie, and by now sixteen teams compete in the regional tournament (Atlas, Chivas, Valeriano, Dover, Catskill United, Jaguar, Hudson United, La Furia del Petén, Tigres, Monterrey, Atletico FC, Puebla, Centroamérica, CD Isidro, La "S", and Galaxy). But it's not hard to join in on the fun: "There's no age limit, but the minimum to play is seventeen. If the kids are sixteen, the parents need to sign a waiver. And there's no limit. You could be fifty, sixty, it's until whenever you can," adds Adelio.

And it shows, since in the team line-ups you see both family-men and teenagers playing side by side, running after the ball. And this should inspire, Adelio believes: "Those older ones that are fifty or so play better than some of the young men, giving us an example of how to play. I'm barely thirty-nine and I don't want to play anymore, and these old geezers are proving to me that I still can!"

Coordinating the event between referees, teams, and cooks complicates scheduling, but Adelio believes the cultural exchange that happens at the tournament lessens delays: "Our way of life has to be the way it's imagined here. In this fifth tournament, we were finally able to overcome the time barrier. We've learned because in this business one never stops learning."

Adelio overlooks their progress with pride and happiness. He has high prospects for the tournament, hoping that in the future other cultures will join, including non-Hispanic players: "Football is merely a dialect, a language. Here, it doesn't matter if you speak Spanish or English. Football is football. That's a language we can all speak."

But there's still other walls the players must jump over, struggles that are much more specific and familiar to some Latinx people, such as immigration: "Here there's players that come from professional teams but don't have the opportunity to play because they lack a piece of paper. It makes me happy to see them here because they came to a country of opportunity, but on the other hand, it also makes me sad because our nations are losing the most valuable thing, which is our youth, our talent. There's a story behind all of them, but when they come here they encounter the language-barrier and the walls put up by a piece of paper. Sadly, it's this way."

Even then, Adelio carries on full of hope, convinced the country will, at some point, realize their mistake: "I believe that if the United States doesn't appreciate this human talent present here, then I don't know what they're thinking. Like we say in Guatemala, we gotta squeeze the juice out of 'em!" Until then, however, we shall enjoy a good football match, speaking that language we all know, the one that doesn't require us to write it down on paper, and instead only looks for the faith found behind a pair of legs chasing after a ball.


For more information:
facebook.com/Campo-de-Fe-1094863270571369

Translated from Spanish by Nohan Meza
La Voz, Cultura y noticias hispanas del Valle de Hudson
Comments
Sorry, there are no comments at this time.