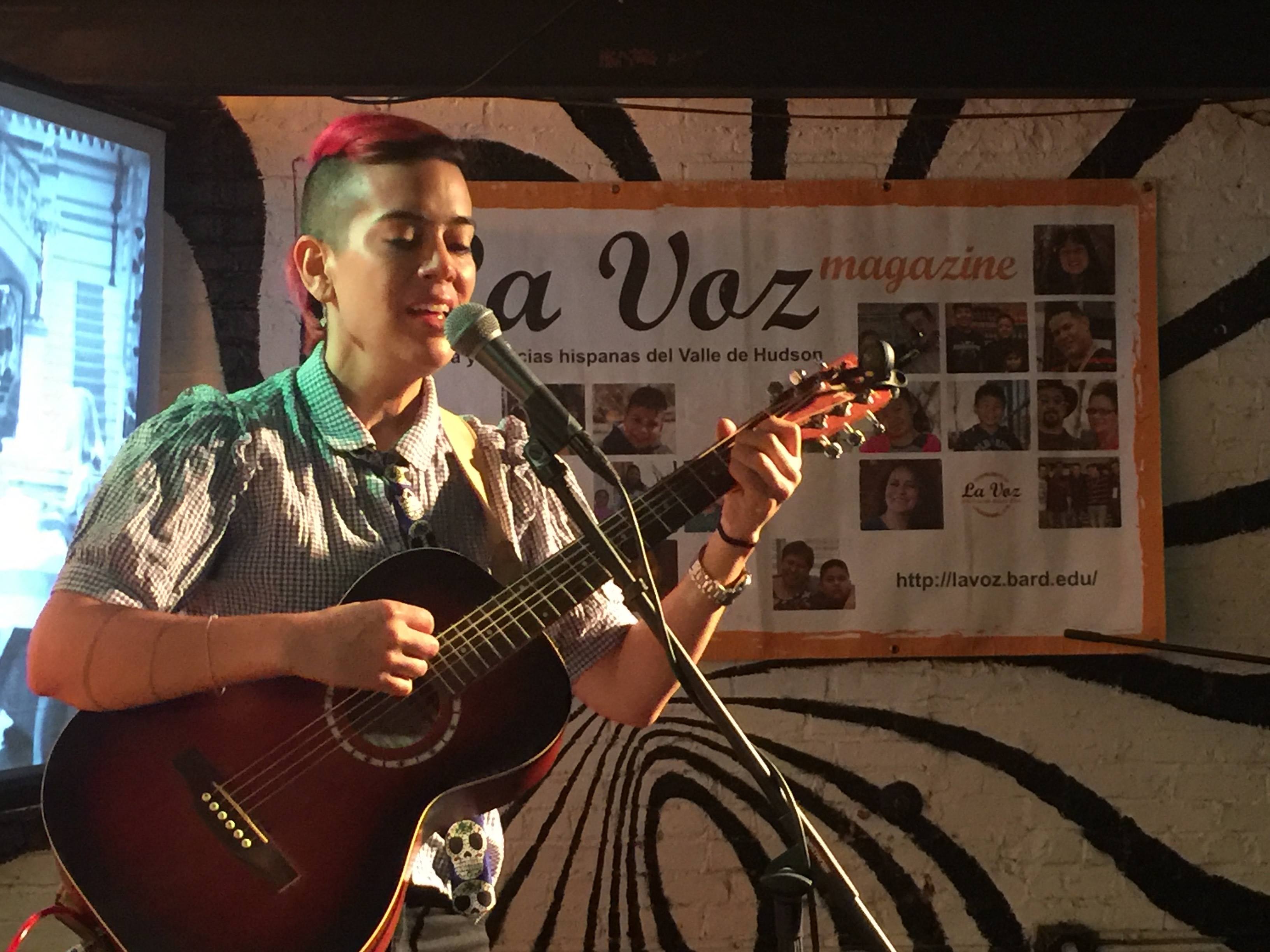 Thank you for so much love

November 2018
When on Saturday, November 3rd around 3 in the afternoon, in the midst of the Day of the Dead celebrations at Old Dutch Church in Kingston, with the five members of the Grupo Costa Mix getting ready to play cumbia from Puebla; the fourteen musicians of the Rosendale Improvement Brass Band and Social Club, whom after having played and rejoiced us for more than an hour, outside and inside the church, now rested and ate the delicacies from the taquería Mi Pueblito, that had a stand installed there selling tamales, Mexican chocolate drink,
tostadas,
mole sauce dishesand more; with the singer-songwriter Elías Krell playing live in that moment; with a mega Day of the Dead altar made by Alberto Flores and with a life-sized skull image of Pedro Infante, created and donated by artist Rick Jones; with Jesús Estévez and wife selling traditional Mexican clothes; with Maritza del Razo, Elva Corbatón, Isabel Schneck and Tracey Holland of the Mobile Reading Corner and the Spanish Spelling Bee leading the children activities; with La Voz Bilingual Media Fellow, Inés Chapela, doing a little bit of everything; with the students Freddie Hernández and Anamaría Álvarez attending the table for La Voz magazine; with Víctor Hugo Grajales, director and technical producer, Jorge Camacho, prop coordinator and sound operator, and Toby Campion, author of
Pedro Infante: Cien años pienso en tí
, the three putting together small theater where 140 people could fit right there, next to a raised black wall right by all of these activities that were unfolding; someone came and asked me: "Do you organize all of this?" What do you think I replied?
I told this person, and others that approached me with similar questions: "Well, I direct the La Voz magazine, today I can't say I'm organizing this, the only thing I'm doing today is receiving the love of all of these people that support us".
Truth be told, to set up an event like this, which served to raise funds for La Voz (part of a non-profit organization) and to celebrate culture, and it wasn't't just one event but four events (between October 28 and November 3 we had four cultural activities with more than 400 attendants in total: an art reception with live music and dance, two presentations of Pedro Infante:
Cien años pienso en tí
, and the market of Day of the Dead that I described above) can't be done by just one person, of course. It requires a team, a team conscious of La Voz's crucial mission to inform and inspire our Spanish-speaking readers of the Hudson Valley and the region of Catskill. Local printed, independent journalism in Spanish is not something you find every day, it is not a given, it has to be made with effort. Nevertheless, we do it with love and passion for the communication and our community, in which we belong.
Taking advantage of this being the month in which we celebrate Thanksgiving, from La Voz we give thanks to the organizing team: Manuel Blas, Toby Campion, Inés Chapela, Mariel Fiori, Alberto Flores, and Antonio Flores-Lobos. We also thank them for the unconditional support to ID Studio Theatre, Radio Kingston, Keegan Ales (the art remains hanging from its walls until the end of the month to benefit La Voz), Old Dutch Church and Bard College; and the donations of the Adams Fair Acre Farm, Bard Club Fund, Bard College Farm, Carol Amper, Lidia Cordero, Deirdre D'Albertis, Edward Campion, Germán Jaramillo, Grupo Folclórico of Poughkeepsie, Jim Brudvig, Linn Carey Mehta, Pilar Roca, Richard Renner, and Seed Song Farm. Of course, we thank our sponsors: Bread Alone, JC Calderón Architecture, the restaurants Cancún, Casa Villa,
La Cabañita
, Mi Pueblito y Santa Fe, Bard Center for Civic Engagement, Color Page, Hudson Valley Farm Hub, Mount Saint Mary College, MVP Health Care, O positive, RCAL, R-volución Radio, RUPCO and Ulster Savings Bank.
By the way, in 2019, La Voz celebrates its fifth teen years. We hope to keep counting on all of you, dear readers, to continue promoting art, culture and information in our community.
Thank you for so much love.
Mariel FioriManaging Editor
La Voz, Cultura y noticias hispanas del Valle de Hudson
Comments
Sorry, there are no comments at this time.