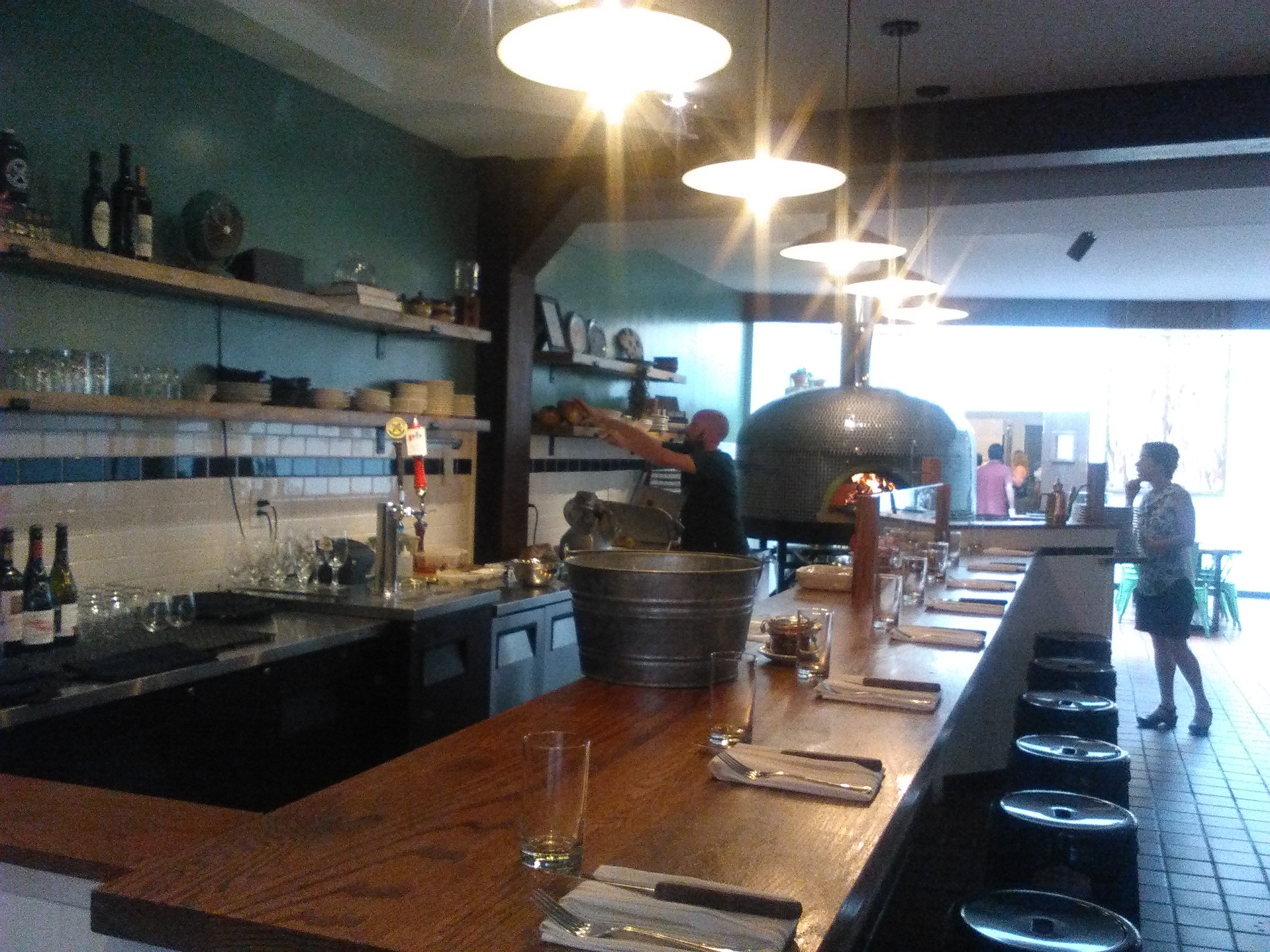 In the Hudson Valley, 'Workers Here are Very Worried'
September 2017
In early May, immigration agents (ICE) entered a house in the city of Hudson and detained its residents. One of the people who lived there was not present at the time and had to leave Hudson to avoid being taken. His name is Alex and he worked at Oak Pizzeria Napoletana, a new restaurant in the city.
Alex "worked with us since we opened," said Juliana Santos, the eatery's co-owner. "He had to leave the area to avoid being detained by ICE. Alex was the only person who was fortunate not to be in the house when ICE arrived. We had a good relationship because he was part of our team. The raid happened at the worst possible moment because we were just getting ready for the summer, the busiest season, and we were forced to replace a key employee."
Oak Pizzeria Napoletana is not the only restaurant in the Hudson Valley to have gone through this. There have been numerous cases, such as that of the El Mexicano restaurant in Hudson Falls, which had to close after 28 immigrants were detained there in May and June. According to an article published by El Diario on Aug. 21 (…), El Mexicano was founded by the Vázquez family, who came to the United States from Puebla in 1983.
Closer to us, Leo Santos, one of the owners of Just for You, a Oaxacan restaurant in Kingston, New York, was recently deported despite petitions from the community to let him stay that were endorsed even by the city's mayor.
Even though ICE has not been able to detain most undocumented immigrants in the Hudson Valley (and lacks the resources to do so), these incidents illustrate the effects that the sudden increase in detentions can have on local businesses and the area's economy.
An essential population
According to a report published on March 2, 2017 by the Fiscal Policy Institute (FPI), undocumented immigrants contribute $40 billion per year to the economy of the New York State (or 3 percent of the GDP), and are 5 percent of the state's labor force. The report predicts that the state would enter a recession similar to the one endured by the country in 2008 if it loses this revenue. That is, every time ICE deports an undocumented immigrant in New York, it is hurting the state's economy in addition to breaking up families.
Some 817,000 undocumented immigrants live in New York State, 111,000 of them in Hudson Valley. After New York City, Hudson Valley is home to the largest number of undocumented immigrants in the state.
At a local level, the FPI report states that 30 percent of the area's undocumented people work in the service industry. Even though they are not officially citizens, they earn and spend the same way U.S. citizens do, contributing to the state's GDP.
The study also says that "it is likely that constant raids, house-to-house searches and checking on identification would have a tremendously disruptive effect on businesses."
The consequences of losing a chef
Oak Pizzeria Napoletana, which opened in August 2016, does all its cooking in a brick oven. For that reason, said Juliana, all greens need to be prepared in the morning before the oven gets too hot. All that work, in addition to preparing salads and pizzas, was Alex's responsibility. When Alex left, she continued, her husband – chef and co-owner Joey Álvarez – "was alone in the kitchen. We cut the menu a little bit and now work longer hours to keep everything running. I don't know if customers noticed any of this, except for the fact that the food took a little longer [to bring out]."
Aside from losing a key employee, Alex's absence had additional effects on the restaurant. "The other workers here are very worried. This is really bad for morale," said Juliana.
With this, Juliana and Joey's already stressful situation only became more intense. On top of being the managers of a new business, they are the parents of a 3-year-old girl. The restaurant is now operating normally, but Juliana said that they have yet to find a real substitute for Alex.
The issue of immigration touches Juliana professionally, but also personally. She was born in Brazil and came to the United States in 2000 to study culinary arts at the Culinary Institute of America in the Hudson Valley.
"When we talk about the immigrant experience, there is a focus on people who are undocumented. But 'undocumented' is a loaded word. There are probably many people from Canada here and other Caucasians, but they usually have a better experience… That is what infuriates me the most: Many people here do not have the same privileges I had. Now that we are employers, we want to be good ones."
Still, this is not a simple situation. When asked what she would do if ICE came to her restaurant, Juliana said: "I think that there is a lack of information about what is going on. Employers know what to do to hire employees, but they do not have the information to protect them. As an immigrant, even though I have somehow been through the system, I still don't know what I can do to help them."
She hired a man named Rigo. Some of them call him "the mayor of Warren Street" because he has worked at many Hudson businesses and knows everybody. The Latin American immigrant, who has lived in the Hudson Valley for 17 years, asked to not have his last name or country of origin published. He took us to the restaurant's basement to talk without risk of being heard by others.
"She is good. They are good people, good bosses," he said about his job at Oak Pizzeria Napoletana, "but I don't know to what extent they are able to help." When asked what he would need to feel safer, he said: "More knowledge about what can and cannot be done. I need more information."
What employers can do
The National Employment Law Project recently published a guide "What to do if Immigration comes to your workplace." You can access it
here
in English, Spanish, Chinese, Thai, and Korean.
Here are some main points of the guide:
During a raid:
ICE agents can enter the public areas of a business, but they do not have the right to stop, interrogate, or arrest anyone in these areas.
Without the permission of an employer or a judicial warrant, the agents cannot enter a private area. For this reason, it is a good idea to mark the public and private areas of your business with signs.
A judicial warrant is signed by a judge, and says "U.S. District Court" or "State Court." An administrative order says "Department of Homeland Security." Only a judicial warrant gives the agents the right to enter private areas of a business. An administrative order does not.
Although a judicial warrant permits ICE agents to enter all areas of a business, the employer is not obligated to help the agents. The employer does not have to tell the agents if a specific employee is currently at work, nor must they bring the agents to a specific employee.
The best thing that employees can do is to remain silent and ask for a lawyer. If they run for the exits, the agents can assume that they are breaking immigration law. It is important to remain calm.
After a raid
Write down everything that happened while ICE was at your business.
Talk to your employees' union, and let them know what happened.
Talk to your employees. Ask them what they need. If ICE is looking for a specific employee, you can offer them paid leave from work, severance pay (if they have to leave the area), a contribution to a legal fund, or a reference for future work.
Everyday
Train your employees so that they are prepared in case of a raid. Make sure they know what to do and what not to do.
Translated into English by K.Casiano from Voices of New York, https://voicesofny.org/2017/09/in-the-hudson-valley-workers-here-are-very-worried/
La Voz, Cultura y noticias hispanas del Valle de Hudson
Comments
Sorry, there are no comments at this time.