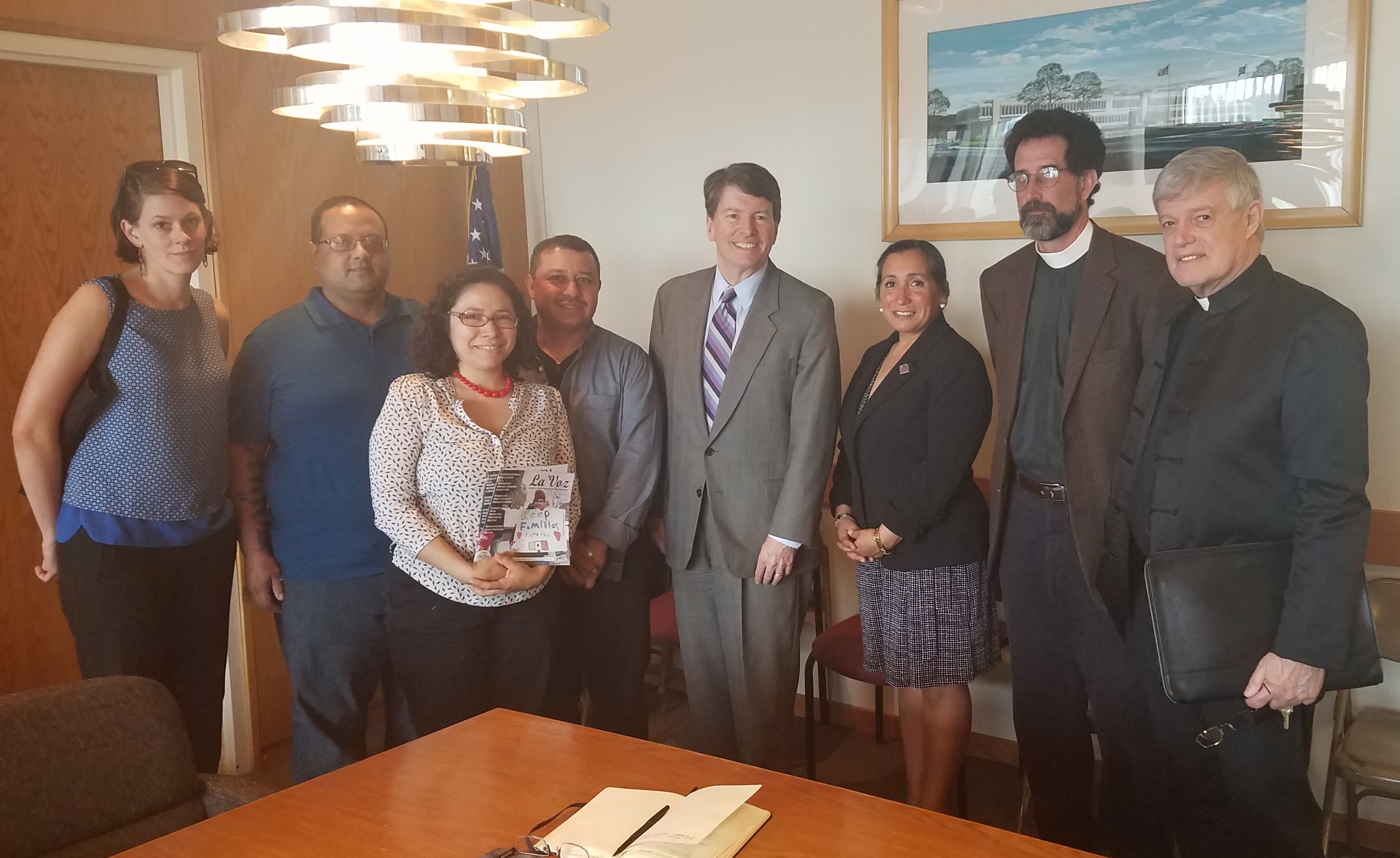 Talking about immigration with Faso
May 2017
As many know, the Congressman for district 19 (which includes Columband, Delaware, Greene, Ostego, Schoharie, Sullivan, Ulster and parts of Broome, Dutchess, Montgomery, and Rensselaer counties), Republican John Faso, has decided not to hold public forums with his constituents, but instead prefers meetings with smaller groups of people, that according to him, are more productive.
Faso is a career politician. He represented the 102nd district of the New York State Assembly from 1987 to 2002; he run for State Comptroller and for governor, but was defeated on both occasions; and he was a lobbyist too. In January 2017, he began his first term in Congress, and he was named to the Budget, Agriculture, and Transportation committees. Incidentally, he is in favor of repealing the Affordable Care Act (ACA or Obamacare) which brought him much criticism and protest in District 19.
On Monday, April 17th a group of concerned citizens ―Sandra Oxford, Fr. Frank Alagna, Fr. Richard Witt, Marco Ochoa, Emma Kreyche, Porfidio Vega and I― met with our representative John Faso to talk specifically about immigration. If there is any place where one can enact change to our current immigration laws, it is in Congress and our representatives can make it possible for us to do so. Faso co-sponsors various immigration bills, such as HR 496 BRIDGE, which would legalize the DACA program, but would not provide a path to citizenship. In other words, it would keep a class of educated people in a state of limbo without the right to vote in this country.
Another project, in my opinion better than BRIDGE, is bill HR 1468, called Recognizing America's Children Act, which would provide a path to citizenship for many young people that came to this country as children. This act is an important step, but it is not enough. We made it clear to Faso that we want a representative who supports comprehensive immigration reform that provides a path to citizenship for everyone, including the poor.
President Trump has asked for $3 billion to finance his executive orders to build more prisons for immigrants, to build a border wall, to hire thousands of additional border agents, and to be able to detain 45 thousand people per day in detention camps. We spoke with Faso about the fear in immigrant communities and the impact of immigration police. We also discussed the number of young Latinos that are reaching the age of 18, voting age, every day and we requested our representative not to approve Trump's budget proposal because we do not want our tax dollars to be used to terrorize people. Faso told us that he does not agree either with many aspects of the budget and that he continues to study it. So, he responded neither yes nor no to our request.
The Congressman did say he agrees with "normalizing" the situation of undocumented immigrants. In reference to the problem of building a border wall and reinforcing border security first, before considering immigration reform, he said that one can "walk and chew gum at the same time," which is to say that one can do both at the same time. He is interested in stopping gang violence and drug traffickers; and in terms of immigration reform, Faso said it would be similar to the bill proposed during President Bush's second term. When asked when he would do this, he did not know what to say.
Another bill that Faso co-sponsors is HR 281, Family Farm Relief Act of 2017, an inferior revision of the H-2A program that allows U.S. employers or U.S. agents who meet specific regulatory requirements to bring foreign nationals to the United States to fill temporary agricultural jobs. The main concern is that this bill would allow the exploitation of vulnerable foreign workers with annual jobs (instead of seasonal workers, and also lacking a path of citizenship) taking away working opportunities from citizens and permanent residents. "Curious," responded Faso, because a few weeks ago "I had 12 dairy farmers in my office and they asked me to sponsor this bill because it is necessary," one of them said he "pays $16 an hour" to his employees. It is enough saying that we differ on this topic and that Emma Kreyche from the Workers Justice Center will send a report being created about this.
To conclude, Faso said that he is interested in visiting the border in order to understand the problem more fully. Some members of the group promised to organize visits for him to the borders of New York, the geographic borderlines as well as the demographic ones. We shall see if Congressman Faso comes to understand this subject and hurries to work on an immigration reform, does not approve Trump's budget, and votes in favor of the law to legalize dreamers. This is all that we could do in thirty minutes, besides taking a photo and obtaining a tenuous promise to meet again.
I wrote all this in order to provide evidence that this meeting took place, to pave the way for more civic engagement with our representatives and, of course, in order to evaluate in due time what will become of these promises. I am also taking advantage of this medium to ask our readers: What questions do you have for your representative? Write to
[email protected]
and make your voice heard!
Mariel Fiori
Managing Editor
La Voz, Cultura y noticias hispanas del Valle de Hudson
Comments
Comentario: ComentarioMariel, muchas gracias! Senor Faso es no bien. Hablo poco espanol, porque quiero hablar "Bueno trabajo!". Estoy contigo! Laurel Lindewall
Posted: 5/3/2017