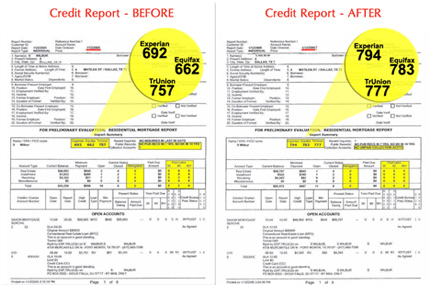 Suplemento educativo
Asking for Credit: Sample letter disputing errors on credit report
Solicitar un crédito: Modelo de carta para cuestionar los errores del reporte de crédito

March 2016
Dedicamos este número al último de los cuatro consejos que le brindábamos en el suplemento del mes pasado (Getting Credit: What You Need to Know / Conseguir un crédito: lo que necesitas saber).
Consejos para conseguir y mantener una buena puntuación de crédito (
credit score
):
1. Pague todas sus facturas a tiempo.
2. Solo solicite el crédito que necesite.
3. No utilice demasiado el crédito disponible.
4. Pida su reporte de crédito (credit report) una vez al año y cuestione los errores que encuentre.
Si tras revisar su reporte de crédito encuentra algún error, debe redactar una carta exponiendo la situación y dirigirla a una de las tres oficinas de crédito (en inglés,
credit bureaus
; son Equifax, Experian y TransUnion).
Incluya copias (
nunca los originales
) de los documentos que justifiquen su argumento. Le aconsejamos adjuntar también una copia de su reporte de crédito señalando directamente los puntos con los que no está conforme. Conserve una copia de la carta de disputa, así como de todos los documentos que cree necesario presentar.
Envíe la carta por correo certificado y solicite comprobante de recepción por parte del destinatario (
return receipt
) para poder asegurarse de que la oficina de crédito reciba su correspondencia.
Modelo de carta de disputa
[Date
Your Name
Your Address
Your City, State, Zip Code]
[Complaint Department
Name of Credit Bureau
Address
City, State, Zip Code]
Dear Sir or Madam:
I am writing to dispute the following information in my file:
[List item(s)]
I have also circled this
[these]
item
[s]
on the attached copy of the credit report I received.
This item
[identify item(s) disputed by name of source, such as creditors or tax court, and identify type of item, such as credit account, judgment, etc.]
is
[inaccurate or incomplete]
because
[describe what is inaccurate or incomplete and why]
. I am requesting that the item be removed
[or request another specific change]
to correct the information.
[Repeat paragraph when necessary]
Please find enclosed copies of
[if applicable, describe any enclosed documentation you are enclosing to justify your point, such as payment records, court documents]
supporting my position.
Please reinvestigate this
[these]
matter
[s]
and
[delete or correct]
the disputed item
[s]
as soon as possible. Many thanks.
Sincerely,
[Signature][Your name][Date of birth][Social Security Number] Enclosures: [List all documents you are enclosing]
Nota
Las tres oficinas de crédito ahora también admiten disputas en línea; de hecho, Experian solo las acepta por esta vía.
Para averiguar cómo realizar una disputa por internet, consulte la siguiente
web
(disponible en español e inglés).
La Voz, Cultura y noticias hispanas del Valle de Hudson
Comments
Sorry, there are no comments at this time.