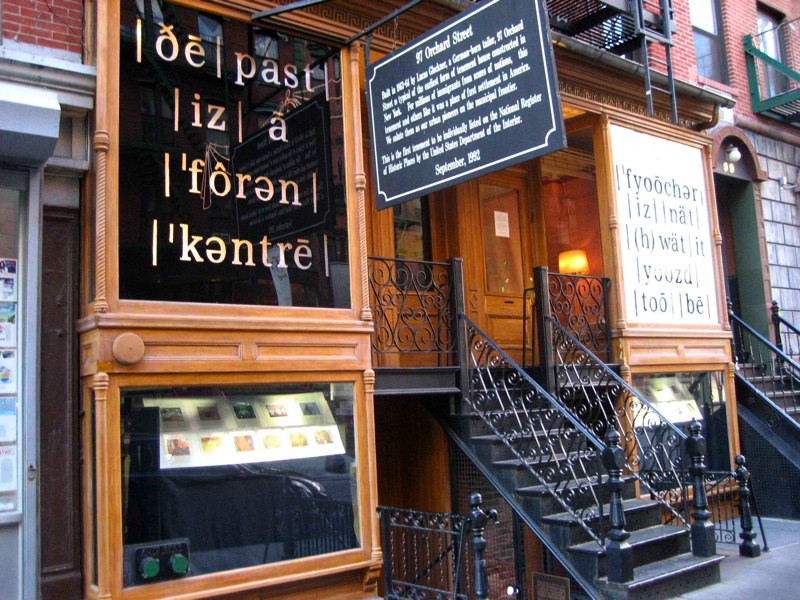 Suplemento Educativo
Pronunciando las Vocales del Inglés: Part I
Long and short vowels/ Las vocales largas y cortas
March 2009
En los últimos dos suplementos hemos resuelto el misterio de cómo pronunciar el "ed" en los verbos pasados regulares. Aquí empezamos con una de las preguntas más confusas sobre el inglés: ¿Cómo se pronuncian las vocales?
Hay 5 vocales escritas en el inglés, igual que el español, pero a diferencia del español, cada vocal escrita en inglés tiene por lo menos 2 formas de pronunciación. Estas formas de pronunciación se dividen entre las vocales largas y las vocales cortas. Primero, aprenderemos cómo pronunciar cada vocal en sus 2 formas. En el próximo suplemento, aprenderemos algunas reglas de ortografía para saber si la vocal es larga o corta.
Long Vowels sound like the name of the letter./ Las vocales largas suenan igual a la letra.
For example/ Por ejemplo: a in bake "ei" en "beik"
e in need "i" en "niid"
i in hide "ai" en "jaid"
o in road "o" en "roud"
u in cute "iu" en "kiut"
Short Vowels have a more open sound./ Las vocales cortas tienen un sonido más abierto.
Son sonidos que no corresponden de manera exacta con las vocales del español, y que varían entre los acentos regionales del inglés. La mejor manera de aprender estos sonidos es escuchando, mirando y repitiendo a un hablante nativo de inglés.
For example/ Por ejemplo: a in hat "jaet"
e in bed "bed"
i in kid "kid"
o in pot "pat"
u in luck "lk"/ "lak"*
*La "u" corta en inglés tiene un sonido semejante a la "a" en español, pero se pronuncia con la boca casi cerrada.

PRACTICE
Read the sentences below, focusing on your pronunciation of the underlined vowels./
Lea las oraciones abajo, enfocando en su pronunciación de las vocales subrayadas.
Long Vowels/Vocales largas
I need to bake a cake. [Necesito hacer/hornear un pastel.]
Go hide in a tree. [Ve a esconderte en un árbol.]
This road goes to the coast. [Este camino va a la costa.]
My dog is so cute. [Mi perrito es tan tierno.]
Kate makes great pages! [¡Kate hace unas páginas buenísimas!]

Short Vowels/Vocales cortas
The cat sat on your hat. [El gato se sentó en tu sombrero.]
Dad went to bed. [Papá se fue a acostar.]
His kids live with him. [Sus hijos viven con él.]
There's not a lot in the pot. [No hay mucho en la olla.]
The stuck truck had bad luck. [La camioneta atrapada tuvo mala suerte.]
Mom asked us to water the plants. [Mamá nos pidió que regáramos las plantas.]




back to top
COPYRIGHT 2009
La Voz, Cultura y noticias hispanas del Valle de Hudson
Comments
Comentario: Excelente. www.inglesparticularcompostela.es
Posted: 5/7/2015

Comentario: ComentarioHola, necesito 5 oraciones en Ingles con cada vocal
Posted: 2/18/2014

Comentario: necesito la definicion
Posted: 9/19/2013

Comentario: Muy buenas explicaciones la verdad , han ayudado mucho para entender mejor el ingles.. ya que reglas gramaticas asi no se encuentran muy seguido en libros mismos de ingles. Thank you very much!!.
Posted: 10/24/2012

Comentario: importantisimo thank
Posted: 7/22/2012

Comentario: Gracias, muy interesante la ayuda, aunque siempre habra más pregunta, porque no es muy facil desprenderse del español en el momento de expresar algo en inglés.
Posted: 6/6/2012

Comentario: bastante entendibles, estas son cosas q ni en clases las explican.
Posted: 2/26/2012

Comentario: hola, muy buena explicación, creo que la única.
Posted: 3/25/2011

Comentario: jajajaja mas fino es hablar en inglisssssss :) <3 :s
Posted: 2/3/2011