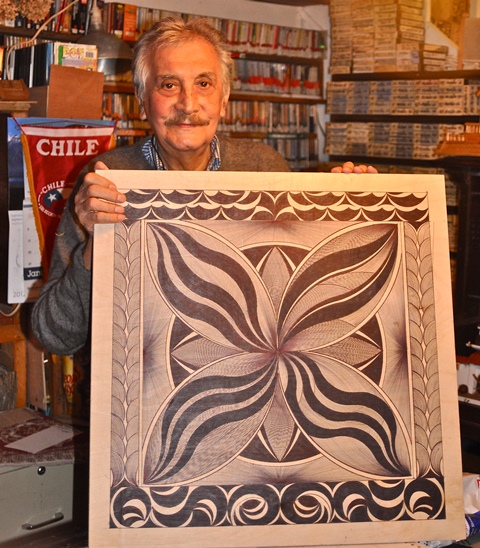 Manuel Guerra Mártis: From Chile to the Hudson Valley
October 2014
Some people go to college, graduate with a degree in a particular subject, and end up doing something different. Some work in a certain profession, but destiny carries them elsewhere, and they end up working in another field entirely. That's more or less the story of Manuel Guerra Mártis, an artist who one day left the bustling city of Santiago, Chile, for the calm, charming village of Ellenville in Ulster County.

However, that story – which takes place over eight decades – still hasn't ended. Every morning, after watering and chatting with his countless plants that decorate his home, Mártis goes down to the basement where his art supplies await him. They allow him to let his imagination run free to produce paintings that continue to be displayed in galleries in the U.S., Europe, and other parts of the world.

Yet life wasn't always rosy for Mártis, 81. He fled Chile in 1973 when the country was rocked by a coup d'etat that would end the democratic government headed by President Salvador Allende.

At the time, Mártis managed public relations in the office of a metallurgy company. Everything was going well for him, his four children, and his wife, but with the rise of Gen. Augusto Pinochet's military dictatorship, his company eventually went bankrupt.

Without a job, little hope of his family making progress, and living in a tense political climate, Mártis let his wife influence him; she suggested that he go to the U.S. and take advantage of the fact that his brother-in-law was already living in Spring Valley, New York.

He obtained a visa at the American embassy in Chile under the pretext that he was coming to the U.S. to participate in a few workshops given by the YMCA. He packed the bare necessities and sewed the phone number and address of his brother-in-law inside the shoulder of his clothing.

The first day in New York
Mártis eagerly landed at John F. Kennedy Airport in 1978. After surviving being questioned by immigration officials, he proceeded to go meet his brother-in-law; but he was in for an unpleasant surprise: no one was waiting for him at the airport. He wandered the halls, sometimes bumping into people who spoke other languages and dressed differently.

He went into a restroom, put down his bag, and wrote down his brother-in-law's address on a piece of paper. He managed to get to Spring Valley that same day, where his surprised brother-in-law was waiting for him – not that day, but the following one.

"But how did this happen – I thought you were arriving tomorrow!" This sentence is branded in his memory from that first day in the U.S. That was how his journey began in the land of Uncle Sam, and since Mártis came to find a job, the very next day he was working as a dishwasher in a restaurant.

It might have been destiny, or one thing leading to another, but when he wasn't even thinking about it, Mártis found out about a job at a resort and spa called the Granit Hotel, in the Shawangunk Mountains in the village of Kerhonkson. At his new job, he would no longer be a dishwasher but would be promoted to busboy, the assistant waiter who cleans tables, brings water and coffee, and collects tips.

It was there that Manuelo, as his Italian customers called him, or Manajah, as his Jewish customers called him, began sketching little lines on the backs of the restaurant's discarded menus of the day. At first he drew as a hobby to keep his mind off Chile, where his children, all younger than 12, were growing up.

He realized that his little drawings were gaining fame and admirers; and Mártis didn't simply make sketches or collect his drawings in a folder. Instead, he gifted them to his co-workers.

Mártis started learning from his innate talent, perfecting his artwork, and framing it. He spoke with his manager and transformed the restaurant into a gallery. While cleaning tables, he saw his pieces end up in the hands of customers.

Experts describe his art as "optical" and "folkloric." It's complex, surreal, and abstract; Mártis mixes paintings with drawings and sculptures with found objects, giving rise to optical and geometric illusions.

Distance takes its toll
Although Mártis survived several immigration raids at his job and increasingly saw a bright future ahead in his new country, he felt an emptiness that became more challenging to fill with the passing of time. There were no cell phones or Internet back then. Mártis received cassette tapes with the voices and raucous laughter of his family, in addition to letters up to 14 pages long.

On one of those gloomy days where nostalgia is no longer enough, he sat in front of his work and started daydreaming about being at a bus stop in his beloved Santiago, hoping that the next bus to come by would bring him home to his children, his wife, and the flavors of a traditional Chilean dinner, accompanied by the mouth-watering aroma of marraqueta bread.

His daydream led him to decide that he would not return to live in Chile, and that his family members – Marco, Rodrigo, Carmen and "Chico" – would come to him. They agreed, but couldn't obtain a visa to the U.S. However, Canada granted them a visa to visit Montreal.

While he made arrangements for them to come to Canada, Mártis happily bid farewell to his snoring roommates in the apartment where he was living and rented a house for his family. In the beginning, he waged a deadly war against armies of cockroaches, night after night. The day his wife and children arrived in Ellenville was one of the most emotional days of his life, without a doubt.

Today, all his children have graduated from college, some of them got married, others gave him grandchildren, and one went to live in Switzerland. At 81, Mártis still sighs when he talks about that day, when he was finally able to embrace his children after years of waiting, and eat the delicacies of Chilean cuisine that his wife continues to cook for him.

Mártis no longer has to clean tables except his own, but that doesn't mean he has retired. He gets up every morning, drinks his regular cup of coffee, eats breakfast with his wife, and waters and talks to his plants. Then he goes down to the basement to let his imagination run wild and lose himself in the world of art, the same one that has made his life more enjoyable over the past eight decades.

To learn more about Mártis, visit www.manologuerramartis.com


La Voz, Cultura y noticias hispanas del Valle de Hudson


*Translated into English by Emily Leavitt for Voices of NY, http://www.voicesofny.org/2014/10/manuel-guerra-martis-chile-hudson-valley/
back to top
COPYRIGHT 2014
La Voz, Cultura y noticias hispanas del Valle de Hudson
Comments
Sorry, there are no comments at this time.