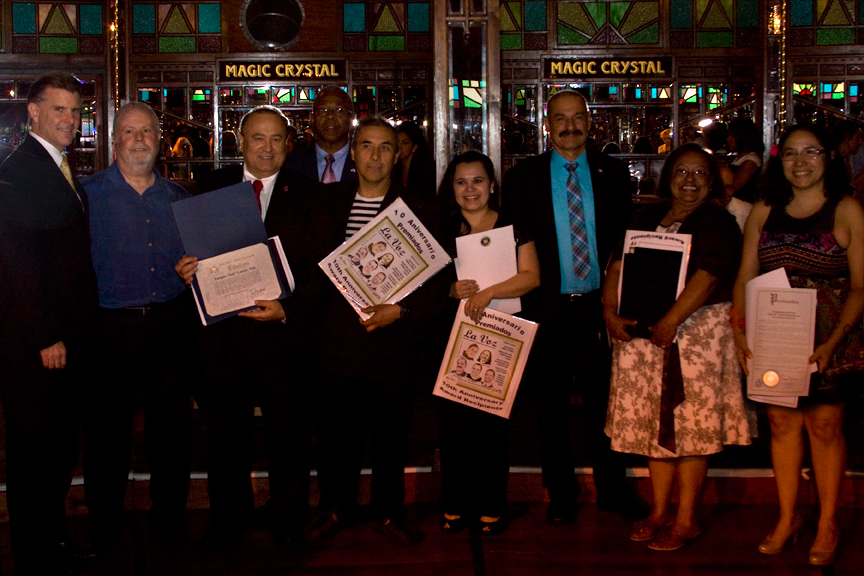 Recuerdos de...
Una gran noche
La fiesta de La Voz
September 2014
El 12 de agosto de 6 a 9 de la noche, la revista La Voz celebró su décimo aniversario en la bellísima Spiegeltent de Bard College, en Annandale-on-Hudson, NY. Más de 150 personas se dieron cita para festejar con comida, música y baile. ¡La fiesta fue todo un éxito! El evento sirvió también para recaudar fondos para beneficiar a la revista La Voz. No es tarde para hacer su contribución deducible de impuestos, click aquí: annandaleonline.org/bardgiving
Desde La Voz agradecemos a todas las personas y organizaciones que nos apoyaron en la celebración de los 10 años de La Voz. Patrocinadores del evento: GET Hudson Valley, Health Quest, Catholic Charities, Archdiocese of New York, Color Page, New York Life Insurance Company, Hispanic Market, Claudette Aldebot, RUPCO, Inc.
Muchas gracias también por su apoyo a Bard College, Araceli Muñoz, Arts-Mid Hudson, Central Hudson, Chartwells, Dylan Cassidy, Eduardo Parra, El Patrón Mexican Cuisine, Elisa Pritzker, Felipe Santos, Gabriela Owen, Comité Latino Demócrata del Condado de Dutchess, Greig Farm, Norman Greig, Héctor Simonetti, Hudson Health Plan, Humberto Rodríguez Maya, IBM, Japheth Wood, Javier Salinas, Los Hornitos Bakery, M & T Bank, Gisela Gómez, María Cerdán Dumas, Néstor Madalengoitía, Pablo Shine, Passero, Peggy Sisselman, Pilar Roca, Roca Floral, Broadway 611, Kingston, NY, Sasha Bush, Shirley Migas Desserts, Wilfredo Morel, Worker Justice Center of New York¡ y a todos los colaboradores y redactors de La Voz!
Estamos agradecidos por la oportunidad de celebrar a cinco personas especiales que nos inspiran por su trabajo en nuestra comunidad.



La Voz, Cultura y noticias hispanas del Valle de Hudson
back to top
COPYRIGHT 2014
La Voz, Cultura y noticias hispanas del Valle de Hudson
Comments
Sorry, there are no comments at this time.